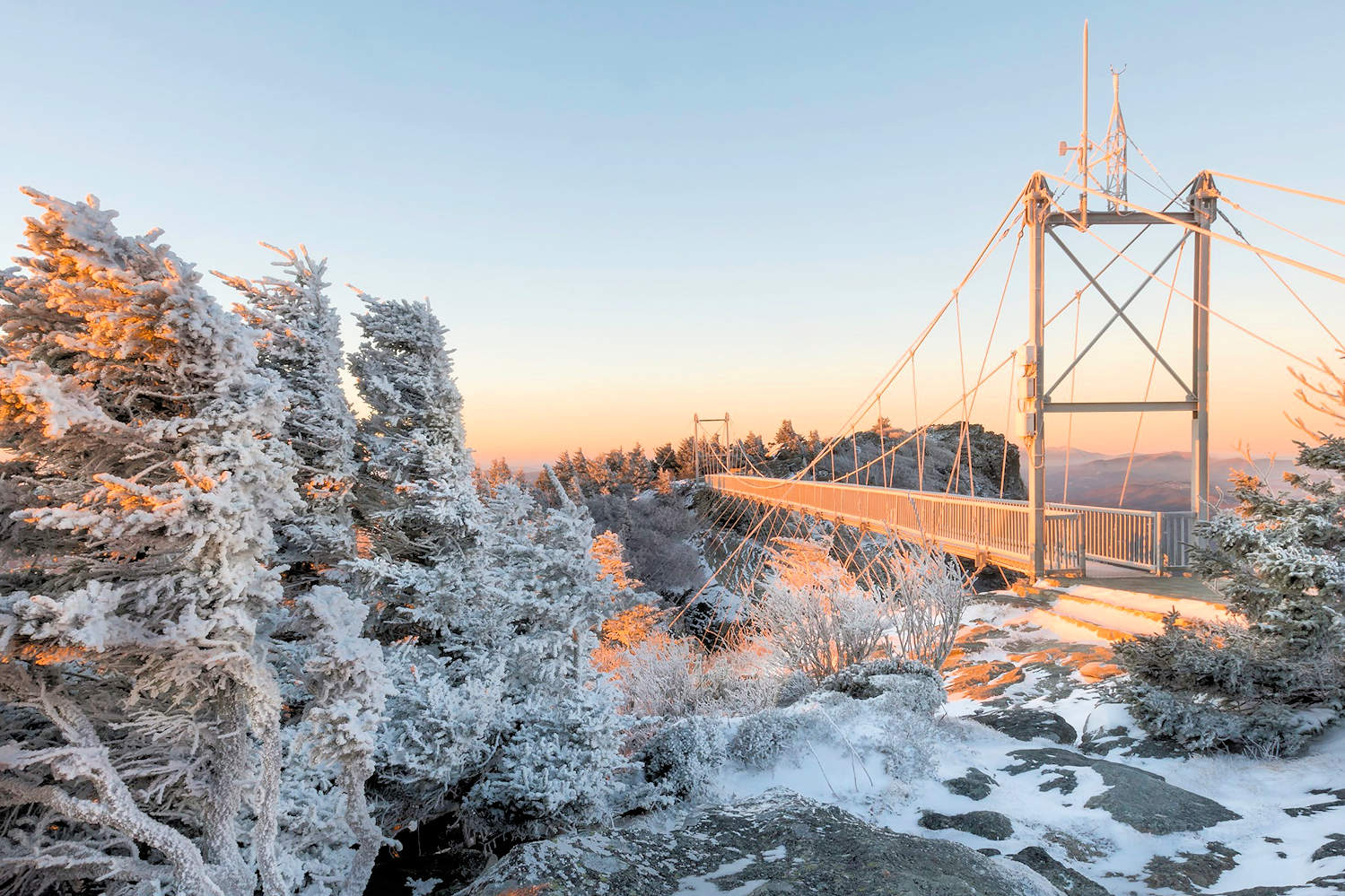 Our long winter season (November-March) brings some of most spectacular moments on Grandfather Mountain nature park. Visit the "quieter season" with more opportunities for magical, solitary mile-high experiences. You'll escape the crowds that you normally find in the warmer months.
The weather atop Grandfather is some of the most extreme and fastest changing in the eastern USA. Between the periods of wind and snow, find many sunny mild days for hikes and even picnics. We are open every day in winter except Thanksgiving and Christmas Day, weather permitting. Remember to book your reservation online!
Here are just a few reasons to visit during our long winter:
Postcard Views
See the longest views in the Blue Ridge Mountains! Winter brings many clear days with deep blue skies without the haze of most summer days. Sometimes, you even get a glimpse of the Charlotte skyline more than 80 miles away and postcard scenes of trees covered in ice and snow. Walk the famous Mile-High Swinging Bridge, but dress warmly and hold on to your hat! Often, you will have the bridge all to yourself!
Wildlife
Snow especially brings out the animals' personalities in Grandfather's wildlife habitat. Cougars frolic in the fluffy flakes, elk look particularly regal against a backdrop of snow, and the mountain's river otters steal the show. Meet our animals and read about our winter care for the animals. It's also a great spot for Winter Birding.
Dine & Splurge
Savor lunch favorites at Mildred's Grill inside The Nature Museum with homemade soups, salads and sandwiches. While you dine, watch winter birds outside at the feeders. Just down the path, Grandfather's Fudge Shop has many yummy flavors. Our picnic areas remain open for those warmer days!
Shop
From presents for those back home to special souvenirs for yourself, find plenty of unique items and collectibles in the gift shops located inside the Nature Museum and Top Shop. Both shops carry a variety of artisan crafts and goods, as well as signature Grandfather Mountain souvenirs, from apparel to hiking gear to drinkware and all things in between. For that someone with everything, adopt an animal for them. Read more about shopping. All proceeds from our shops support the Grandfather Mountain Stewardship Foundation.
Hike
Surprising to many, we have many milder days that make for the best hiking weather of the year. During icy and snowy periods, trails will be closed for safety. Trails close at 4 p.m. Read more: Winter Hiking Tips |  List of trails.
Hours & Tickets
We're open 9 a.m. to 5 p.m. with ticket sales ending at 3:30 p.m. Trails close at 4 p.m. For current weather conditions, phone the Entrance Gate at 828-733-4337. Advance reservations are required. Buy your tickets with your arrival time now.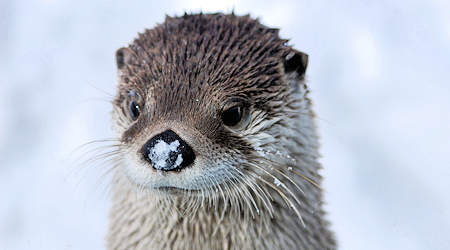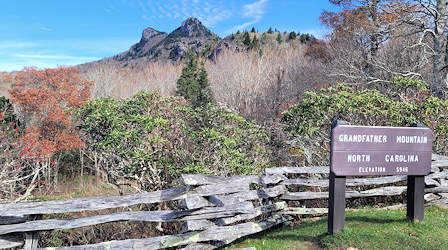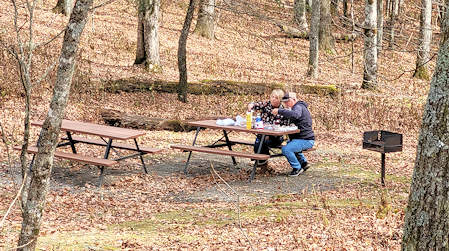 Tips for Winter Visits
During times of inclement weather, including snowy, icy and windy conditions and extremely low temperatures, the mountain may close entirely or halfway, meaning no access to the Mile High Swinging Bridge until conditions improve. If the park is closed halfway, guests may visit for half-priced admission — even if the remainder of the mountain opens during their stay. We'll post updates on our home page.
Get the weather forecast for the entrance gate area near Linville at Ray's Weather. As you drive up the mountain, the temperature often drops up to 5-10 degrees. We are often 20 degrees cooler than the foothills below.
If you plan to hike, wear adequate layers and prepare for sudden changes in the weather. See Winter Hiking Tips.
Much of the mountain is accessible to those with limited mobility. Read more.