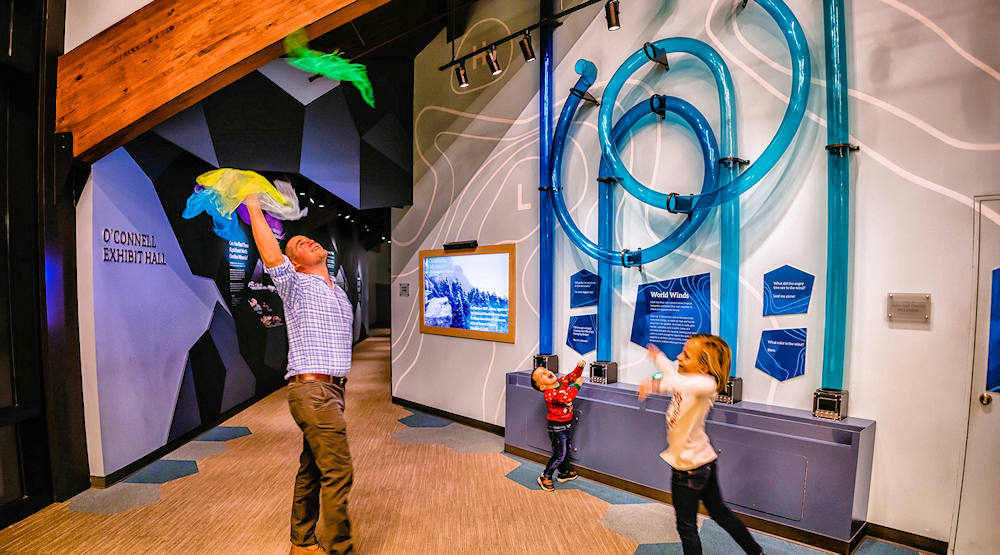 Our long winter season (November-March) brings some of most spectacular moments in our Grandfather Mountain nature park. Visit the "quieter season" with more opportunities for magical, solitary mile-high experiences. You'll escape the crowds that you normally find in the warmer months.
The weather atop Grandfather is some of the most extreme and fastest changing in the eastern USA. Between the periods of wind and snow, find many sunny mild days for hikes and even picnics. We are open every day in winter except Thanksgiving and Christmas Day, weather permitting. Remember to book your reservation online!
Here are just a few reasons to visit during our long winter:
Wilson Center for Nature Discovery
There's plenty to explore inside on Grandfather Mountain! The Wilson Center for Nature Discovery is located about halfway up the mountain, adjacent to the Wildlife Habitats. Check out a dozen state-of-the-art interactive exhibits to learn about the natural history, flora, fauna, geology and weather of the mountain. Take a break for lunch at Mildred's Grill. Find souvenirs, outdoor gear and art in the gift shop. Watch a documentary film about Grandfather and attend fascinating programs inside the ADA-accessible auditorium. Read more!
Wildlife
Snow especially brings out the animals' personalities in Grandfather's wildlife habitat. Cougars frolic in the fluffy flakes, elk look particularly regal against a backdrop of snow, and the mountain's river otters steal the show. Meet our animals and read about our winter care for the animals. It's also a great spot for Winter Birding.
Did you know? Black bears are not true hibernators. They consume significantly more calories with the approach of cold weather, slowly stop eating and then go into a den in a protected location to sleep for the winter. Since those who reside at Grandfather Mountain are fed by keepers, we simulate feeding patterns to enable the bears' innate instinct to hibernate. On warmer winter days, it's not unusual to see them sleepily wandering around their habitat.
Postcard Views
See the longest views in the Blue Ridge Mountains as you drive up our Scenic Drive to the top! Winter brings many clear days with deep blue skies without the haze of most summer days. Sometimes, you even get a glimpse of the Charlotte skyline more than 80 miles away and postcard scenes of trees covered in ice and snow. Walk the famous Mile-High Swinging Bridge, but dress warmly and hold on to your hat! Often, you will have the bridge all to yourself.
Dine Inside & Out
Savor lunch favorites at Mildred's Grill inside the Wilson Center with homemade soups, salads and sandwiches. Don't forget the fudge! While you dine, watch winter birds outside at the feeders. Our picnic areas remain open for those warmer days!
Shop
From presents for those back home to special souvenirs for yourself, find plenty of unique items and collectibles in the gift shops located inside the Wilson Center and Top Shop. Both shops carry a variety of artisan crafts and goods, as well as signature Grandfather Mountain souvenirs, from apparel to hiking gear to drinkware and all things in between. For that someone with everything, adopt an animal for them. Read more about shopping– and see our top holiday gift ideas! All proceeds from our shops support the Grandfather Mountain Stewardship Foundation.
Hike
Surprising to many, we have many milder days that make for the best hiking weather of the year. During icy and snowy periods, trails will be closed for safety. Trails close at 4 p.m. Read more: Winter Hiking Tips |  List of trails.
Hours & Tickets
We're open 9 a.m. to 5 p.m. with ticket sales ending at 3:30 p.m. Trails close at 4 p.m. For current weather conditions, phone the Entrance Gate at 828-733-4337. Advance reservations are required. Buy your tickets with your arrival time now.