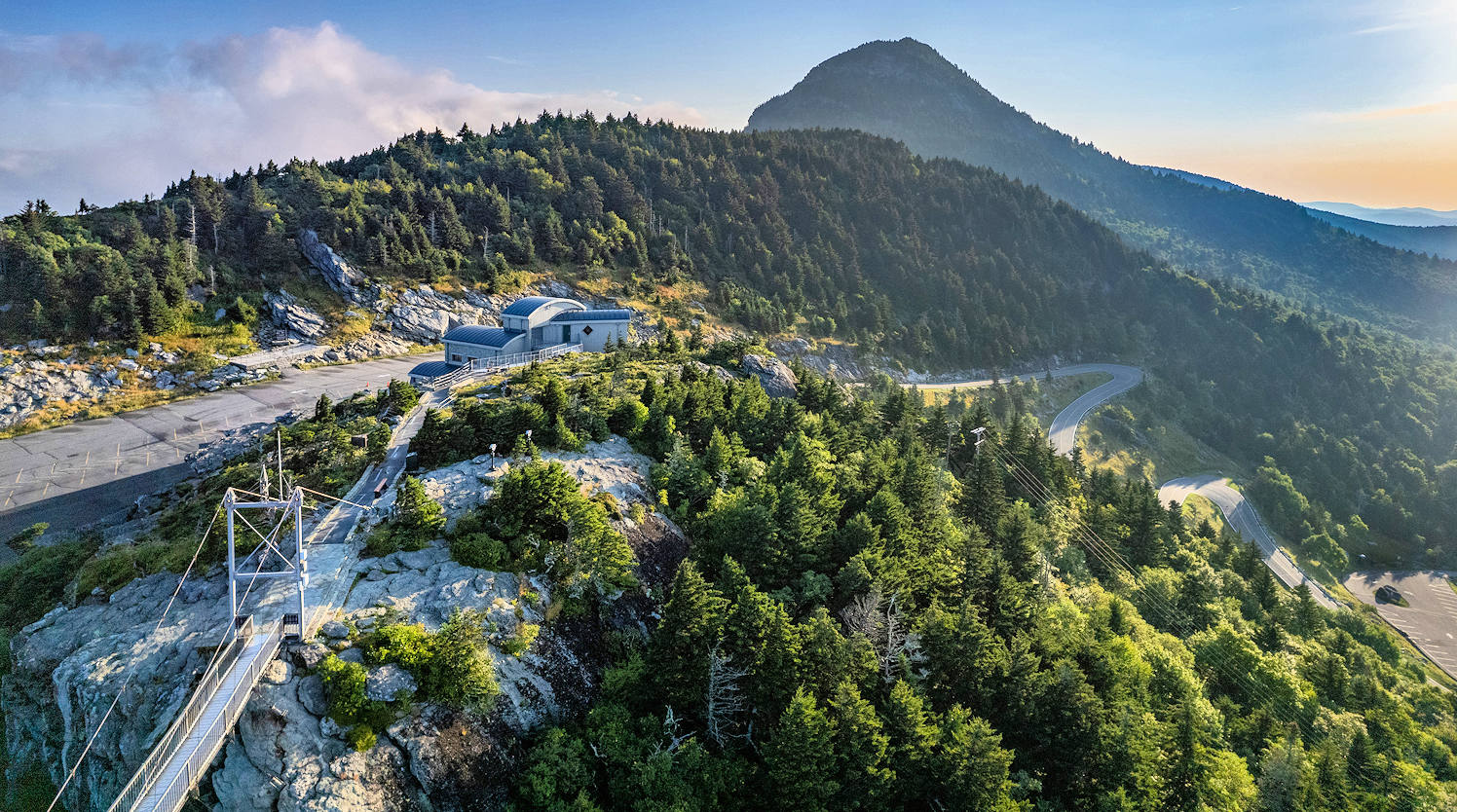 What is Grandfather Mountain?
Grandfather Mountain is a place of amazing biodiversity and scenic beauty that towers 5,946 feet above northwest North Carolina. A part of the United Nations' Southern Appalachian Biosphere Reserve, the mountain is estimated to be 300 million years old — with certain rock formations dating back 1.2 billion years.
One third of the mountain is operated as a scenic travel attraction by the Grandfather Mountain Stewardship Foundation, Inc.  All proceeds from sales of tickets and souvenirs go toward preserving Grandfather Mountain and sharing its wonders in ways that deepen visitors' appreciation of nature and inspire good stewardship of the earth.
Guests to the attraction pay an admission fee to drive their own vehicles through the park, stopping along the way to enjoy a variety of activities, such as native wildlife exhibits, the Wilson Center for Nature Discovery, hiking trails and the famous Mile High Swinging Bridge that connects two peaks at one mile above sea level. The primary allure is the exhilarating feeling of being on top of the world while looking out across views of mountain ridge after mountain ridge cascading to the horizon, made easily accessible via a paved road to the 5,300-foot elevation on Grandfather's peaks.
The Foundation has many educational opportunities and popular annual events. During April through October, guests enjoy many daily programs included with admission plus extra special experiences for an additional fee.
The other two thirds of the wild and undeveloped sections of Grandfather Mountain are owned by the state of North Carolina. Accessible only on foot, visitors to Grandfather Mountain State Park can hike several miles of rugged alpine trails that lead across or around rock walls and pinnacles (often with the aid of cables and ladders) through high-elevation terrain unlike any other in the Southeast. Hikers can access the State Park from either of two trailheads: the Profile Trail off N.C. 105 on the western slope of the mountain or the Daniel Boone Scout Trail off the Blue Ridge Parkway on the eastern slope of the mountain. No fees are charged to access the trails, but all hikers are asked to register at the trailhead so that State Park rangers will have a record of how many people are on the trails.
Find out more by going to the pages featured below: