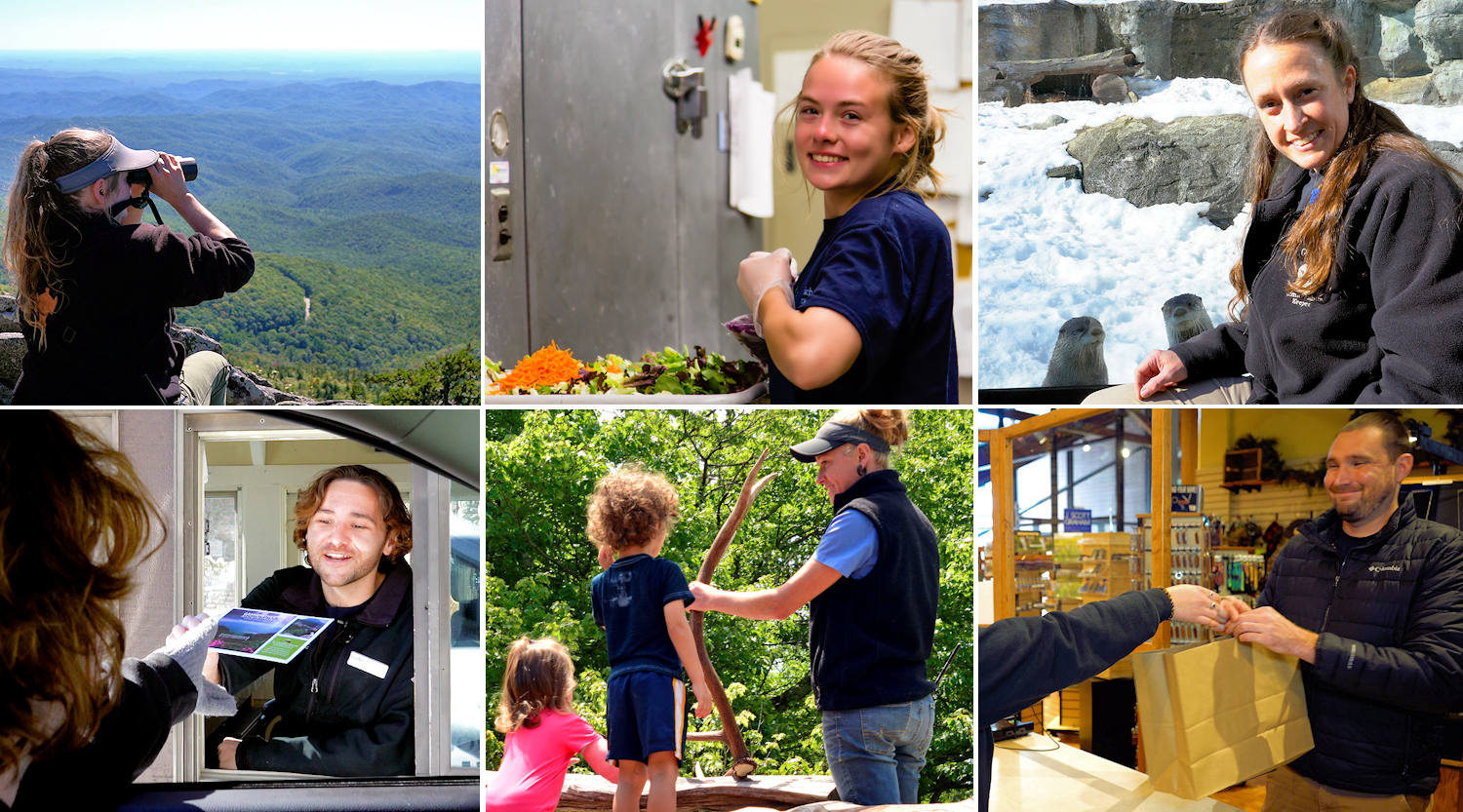 Join our Team: Job Openings
Are you looking for a "top of the world" place to work? As we continue to expand and welcome more visitors each year from around the world, we are searching for passionate staff members to care for and share Grandfather Mountain's natural beauty and resources.
Operated by the non-profit Grandfather Mountain Stewardship Foundation, we all share a common bond of being 100% committed to the mountain we work on and 100% dedicated to making sure guests are able to create their own mountain adventure, no matter how big or small.
Why Join Our Team? Mile-High Job Perks
Never tire of the aww-inspiring views from a natural wonder. Meet visitors from around the world.
Work at a place filled with rich history – natural and cultural. The mountain is 300 million years old, the Mile High Swinging Bridge celebrates 70 years in 2022. There's never a dull day on Grandfather.
Coworkers include some on the wild side: bears, eagles, otters, cougars, elk and more.
Enjoy a friendly, family environment with competitive pay, along with career growth.
Get free admission to approximately 20 area attractions, including Biltmore and Gatlinburg destinations.
Take advantage of employee discounts in the mountain's shops and restaurant.
Receive free admission to the park during off-duty hours to enjoy all the many things to do!
Be part of the all-new Wilson Center for Nature Discovery in 2022.
Work for a cause — our nonprofit has a mission of inspiring conservation of the natural world. Read about the Foundation.
Current Job Openings
Education
Join Grandfather Mountain's classroom in the clouds. Assist with, organize and deliver educational programming, including interpretive talks, field trips, outreach, events and more.
Environmental Educator – Help facilitate daily programs and special events, and delivery high-quality educational programming both on and off-site to camps, scouts, adults and family groups. Seasonal, now through November. Read full description: Environmental Educator
Food & Beverage
Got an appetite for customer service? Join our food and beverage team!
Seasonal Food & Beverage Employee – Assist in Mildred's Grill general food service, including preparation, cooking, cashier, clean-up, customer service and more. Seasonal, March through October. Read full description: Food & Beverage Employee
Maintenance
Become a dedicated steward of Grandfather Mountain, ensuring the park remains in peak condition.
Park Support
Want to join a team that can move mountains? Our park support team assists in the day-to-day tasks that keep Grandfather Mountain running.
Park Support Staff – Support the day-today operations and safety functions of Grandfather Mountain, including shuttle transportation services for guests, groups and more. Read full description: Park Support Staff
Bus Driver – Provide bus transportation services for group visits and special events, as well as monitor equipment and perform limited maintenance. Read full description: Bus Driver
Retail
Help Grandfather Mountain's hundreds of thousands of guests make memories for a lifetime with the perfect souvenir.
Retail Cashier Associate – Work in one of the park's two gift shops, Nature Museum and Top Shop, or sometimes both! Duties include cashier, inventory, customer service and more. Seasonal, March through October. Read full description: Retail Cashier Associate
Seasonal Jobs
Typically supervisors begin reviewing applications for seasonal employment in February and March to have staff in place by April and May. You are welcome to send in an application at any time of the year, as needs may change during the course of the season. Most seasonal jobs begin in April and end in late October or November. We welcome both high school and college students.
Where are we?
The entrance to Grandfather Mountain is located on U.S. 221, two miles north of Linville, North Carolina, and one mile south of the Blue Ridge Parkway at Milepost 305. We are located high in the Blue Ridge Mountains of Avery County, 18 miles from Boone & Appalachian State University and 10 miles from Banner Elk and Lees-McRae College. Get driving directions.
Apply Now!
To apply for a position with the restaurant, gift shops, ticket gate or maintenance staff, please complete our online application. For more information, call Kim Rupard at (828) 733-2013 or email kim@grandfather.com.
The Grandfather Mountain Stewardship Foundation is an equal opportunity employer and does not discriminate on the basis of race, color, religion, sex, national origin, disability or age. Read more about the Foundation.
Offers of employment are contingent upon the satisfactory outcome of a criminal background check.
Meet some of our staff members in this video: