Grandfather Mountain's new Wilson Center for Nature Discovery
Anticipated Opening: June 2022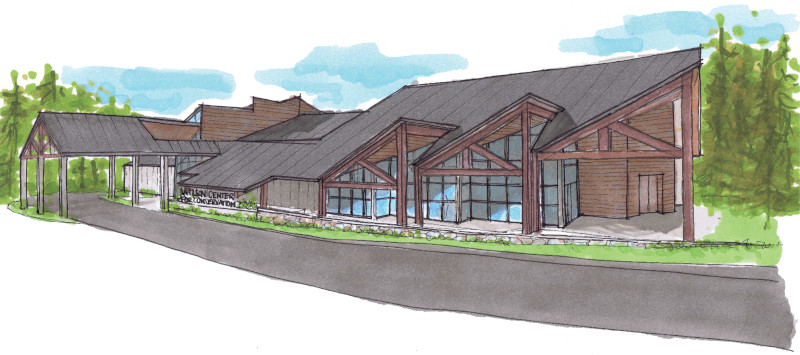 Construction is underway at Grandfather Mountain's new Conservation Campus, comprising the new Wilson Center for Nature Discovery.
The Wilson Center will nearly double the size of the original Nature Museum with more than a dozen new state-of-the-art interactive exhibits, which will allow visitors to make real connections to the natural history, flora, fauna, geology and weather of the mountain. The new facility has been thoughtfully designed to make the most of Grandfather's natural surroundings, using moveable walls and large banks of windows to bring the great outdoors inside.
The building will feature 10,000 square feet of new education space, three classrooms, increased capacity for larger groups and an ADA-accessible auditorium.
Meanwhile, outside the center, guests will enjoy new outdoor learning spaces, including an amphitheater with terraced seating, a pavilion and botanical gardens. New office space will help park educators and animal habitats staff prepare and support new, enhanced educational programs, while larger, more modern food service facilities will allow for catering, as well as expanded capacity for hosting conference, seminars, receptions and community events.
Keep up with construction progress here.
Follow the Fulfilling Promises newsfeed here
This map is best viewed on desktop and laptop devices. If viewing on phone or tablet, you may want to flip your device horizontal.
Click or tap a location on the map to learn more about what's in the works.
Conservation Campus Map Legend
Wilson Center for Nature Discovery
The Thoresen Foundation Exhibit Hall
The Hodges Auditorium and Documentary Theatre
The Williams Outdoor Learning Space
Environmental Education Classroom 1
Habitat and Education Office
Grandfather Mountain Botanical Garden
Flora Wall Exhibit
Tree Stories and Timeline
Migration Mapping and the World of Birds
Extremes and Weather
Shadow Play
Fauna Wall Exhibit
Environmental Education Classroom 2
Environmental Education Classroom 3
Interactive 3D Map
Panoramic Viewing Towers
Geology & Mineral Exhibit
Sunroom Meeting Space
Grand Deck & Patio
Mildred's Grill
Electric Vehicle Car Charging Station
The Fulfilling Promises Campaign
The mission of the non-profit Grandfather Mountain Stewardship Foundation is to help guests explore, understand and value the wonders of the mountain and the biodiversity it encompasses. The Fulfilling Promises Campaign is underway, and funds raised through your generous donation will allow us to create a new Conservation Campus to share the wonders of Grandfather Mountain to more visitors more broadly and deeply than ever before. Through our new facilities, guests will gain an even greater appreciation of nature and become even more passionate about protecting and preserving it. Read more.
Find information about the Fulfilling Promises campaign in our Grandfather Mountain Capital Campaign Brochure and  video.
Help Us Reach Our Goal
We have made great progress in raising the funds necessary to help us make these changes possible and we can achieve our goal with your help. Please consider a gift to this important cause by completing the donation form below. Your support will make all the difference in the world.
Donate to Create the New Conservation Campus