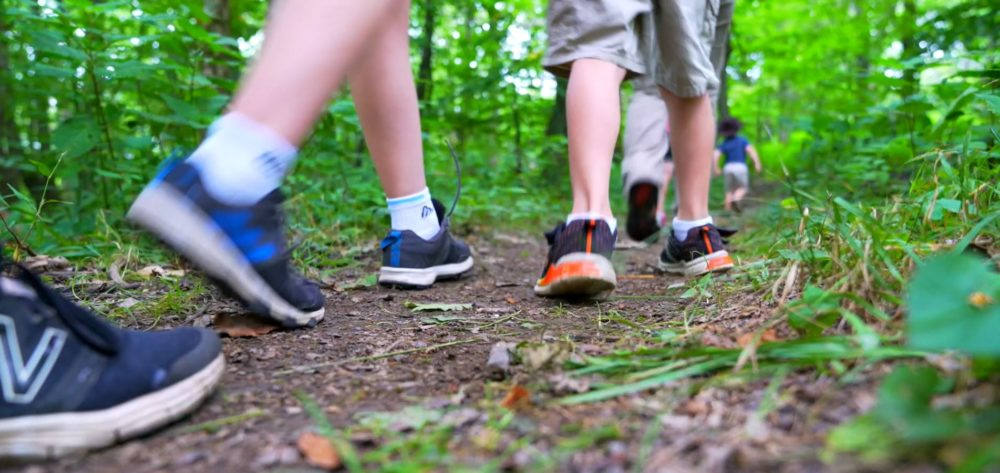 In order for us to prepare for the best possible field trip to Grandfather Mountain, group reservations are required at least two weeks prior. To make your visit more enjoyable, we limit the number of groups each day. Naturalist programs and habitat tours must be requested at the time of reservation.
To Book: Contact our Group Tour Coordinator at the Grandfather Mountain Stewardship Foundation office at (828) 733-2013 or email nature@grandfather.com. Make reservations Monday-Friday, 9 a.m. to 5 p.m. to receive the group rate.
Rates for Non-School Groups (15 or more people)
Group Adult: $2 off regular adult admission
Group Senior (60 and over): $4 off regular adult admission
Group Child 4-12: $9
Driver & Escort (for motor coach tours): FREE
Regular admission rates vary by time of year. More info.
Rates for School Groups (Pre-K through College)
Students Pre-K through Grade 12: $6
Chaperones: One FREE for each 8 students
Additional adults: $14
Bus drivers (when teachers also drive, they are counted as chaperones): FREE
Details & Guidelines for Group Visits
See our list of things to do.
Because sharp curves near the top of the mountain restrict commercial motor coaches and some school buses to the lower part of the mountain, Grandfather provides free shuttle service to the top in its own buses on weekdays. Reservations for the shuttle buses are required. Motor coaches or buses longer than 28 feet are not allowed in the park without prior reservation. No exceptions will be made.
Grandfather Mountain's vehicle fleet includes a 12-seat shuttle that has a 1,000 lb. Braun Lift and accommodates an additional two people in wheelchairs. When booking your group visit with the group tour coordinator, please specify if your group has any accessibility needs so the proper transportation can be arranged.
Please park in the bus parking area at the Conservation Campus – home to the Wilson Center for Nature Discovery and Wildlife Habitats. Staff will meet you and take care of your visit from there.
Your visit will be even more fascinating when you book a guided naturalist program or habitat tour. Choose from a wide variety of topics, or let us customize a program. See programs for non-school groups.
The 140-seat Mildred's Grill serves hot, tasty food at reasonable prices. You can order in advance so that your food is ready and waiting at a time that best fits into your schedule. Large groups may enjoy their meal in the restaurant or outside as a picnic or reserve the private dining room.
The Mountain has more than 100 picnic sites in scenic locations. You're welcome to bring a picnic, or our staff will be happy to prepare bag lunches for you.
For field trips and groups, a Grandfather Express Eats bagged lunch is available for $7.50 per person. Speak to our groups tour coordinator about ordering meals. See the menu.
Please be on time. We have many groups visiting each day, and it's vital to stay on schedule. If you find that you're going to be late, please notify the group coordinator as soon as possible.
Please bring a cell phone with you on your trip. If you have any problems on your way to us, please call the group coordinator. Also, if we have weather issues, the coordinator will call you as soon as possible.
Upon arrival, please have your payment ready – cash, check or credit card. Purchase orders are not accepted.
If you have made arrangements to eat with us, please bring a separate check for the restaurant.
Chaperones/parents following in their personal vehicles are required to drive themselves to the Swinging Bridge. If there is room on the buses they will be able to ride with students, but they need to be prepared to drive in case room doesn't permit.
If you are bringing students, a minimum of 1 adult per 8 children, pre-K to grade 12, is required.
Avoid ledges and supervise your group at all times. There are open and exposed rocks and cliffs that you should avoid on your visit.
Please make sure your group dresses appropriately for Grandfather Mountain weather. Rubber-soled shoes are a must. Dressing in layers is also advised, as the weather is typically cooler and windier on the Mountain.
There are no overnight accommodations on Grandfather Mountain for large groups. However, Camp Lutherock offers affordable bunkhouse options, meals and activities for children and adults..
If for any reason you need to cancel your reservation, please do so at least 24 hours in advance, and we will be happy to reschedule at a time more convenient for you.
The Grandfather Mountain Stewardship Foundation staff is here for you and will work very hard to make your trip educational and enjoyable. If there is anything you need from us, let your group coordinator know.
Read more: Education Options for school groups | Group Venues | Weddings