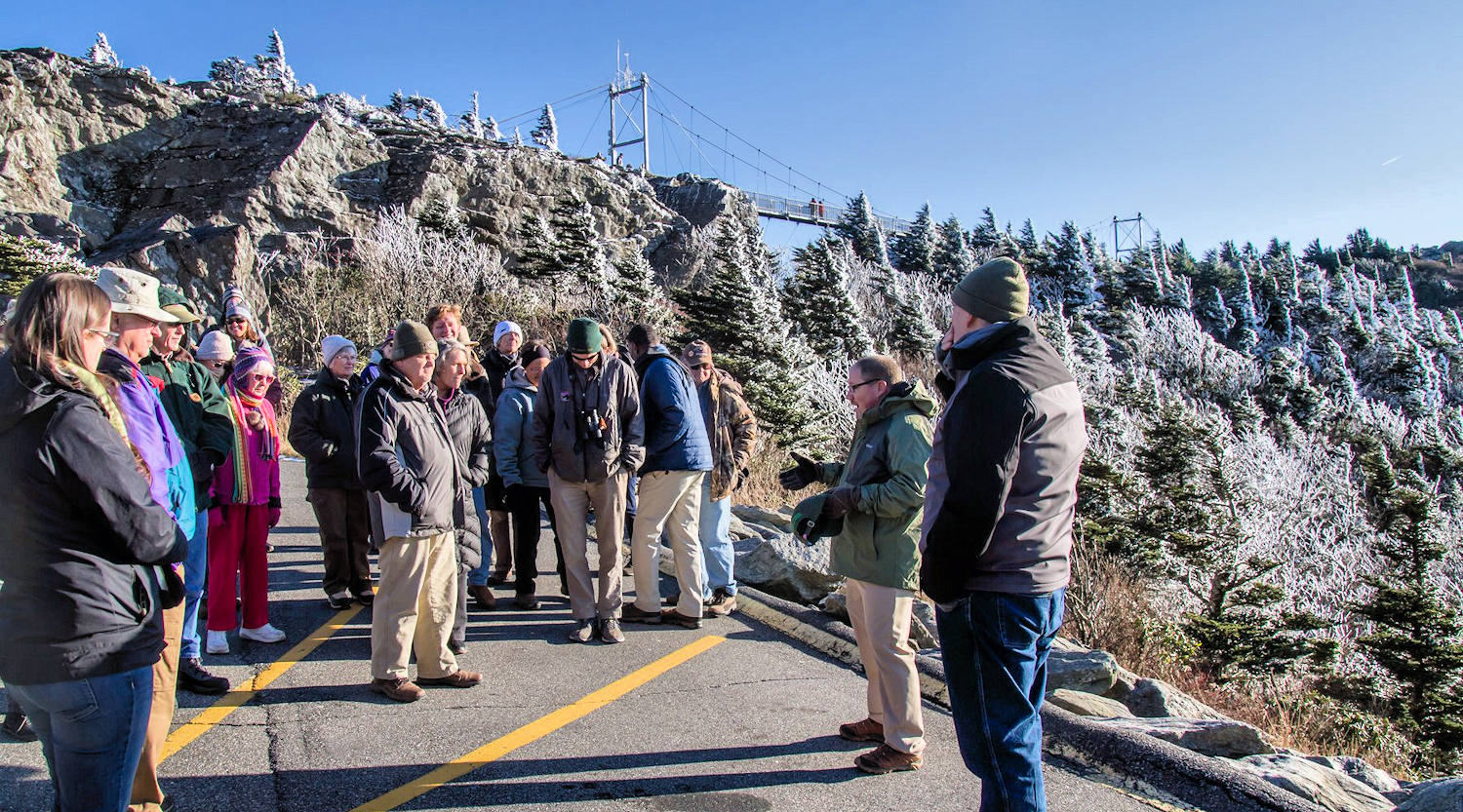 Your group's visit to Grandfather Mountain will be even more fascinating when you participate in a naturalist program or guided habitat tour. Choose from a wide variety of topics, or let us customize a program to fit your group's specific interests. Activities can be combined for a more in-depth experience. We'll make sure selected programs match your activity level.
The below options are specially designed for non-school adult groups. If you are bringing a school group, read about our many other school programs.
Programs must be booked at least two weeks in advance. They last about 45 minutes to an hour and cost $1 per person in addition to group park admission. Shuttle bus transportation to and from the Swinging Bridge is included on weekdays.
Animal Habitat Tours: The quintessential Grandfather visit! A guided walk through our Animal Habitats, talking about our animals, why they are important and the adaptations that help them survive in the wild. We welcome any questions about the animals. 
Nature at the Bridge: This program is great for any adult group: car club, church, or motor coach! We focus on the rare and endangered plants and animals found on Grandfather Mountain, and discuss how the Foundation supports the conservation of these species.
Top 10 Events in Grandfather's History: This program illustrates the history of Grandfather and the surrounding area. Participants will be guided through an activity to order a series of events and then learn more about each.
For more options or to discuss a personalized program, contact at Lauren Farrell at Lauren@grandfather.com, or call the Naturalist Office at (828) 733-4326.
To Book: Contact our Group Tour Coordinator at the Grandfather Mountain Stewardship Foundation office at (828) 733-2013 or email nature@grandfather.com. Make reservations Monday-Friday, 9 a.m. to 5 p.m. to receive the group rate. 
More Information: Plan & Book a Group Visit | Car Club Visits | Motorcoach & Church Groups | Grandfather Things to Do