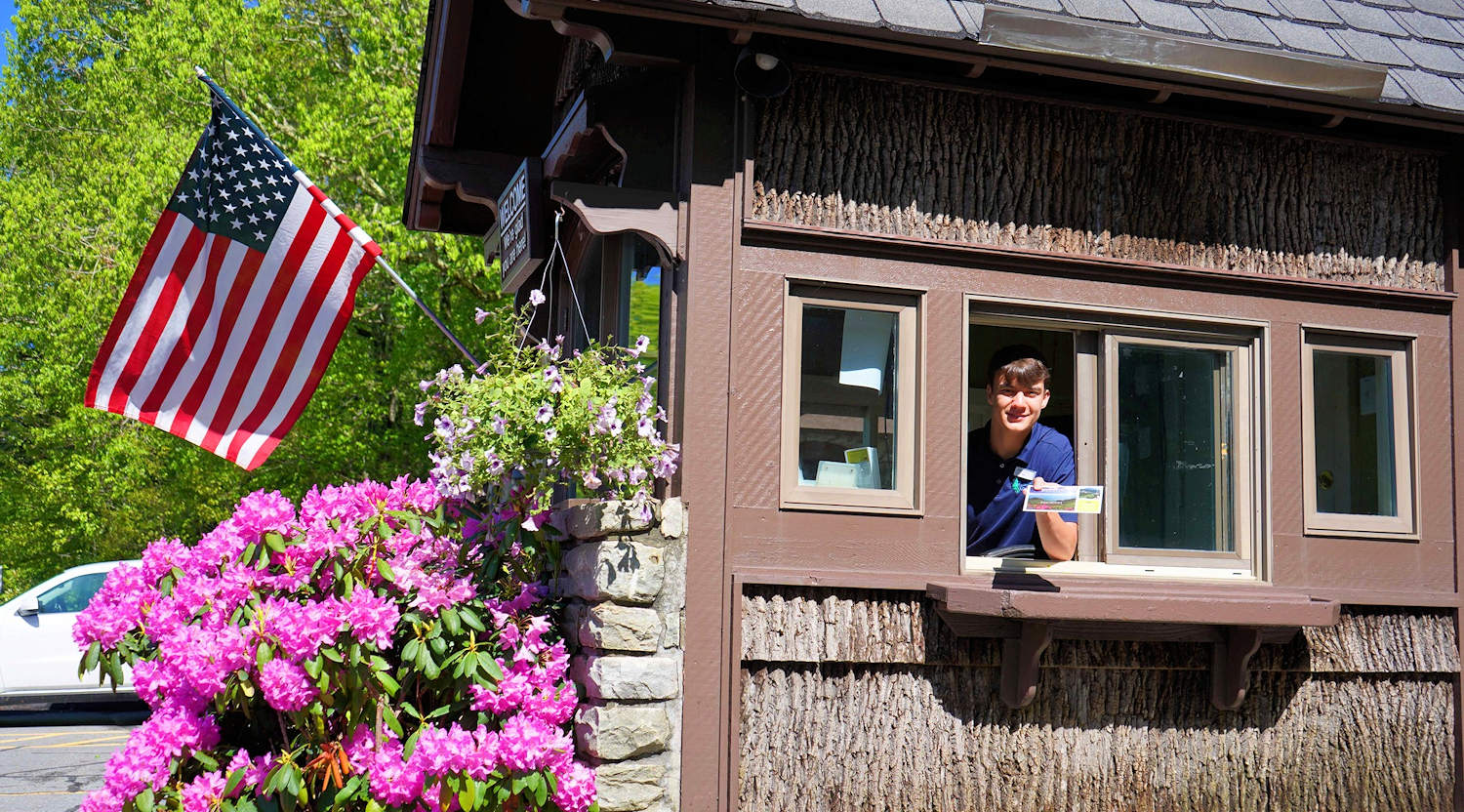 Tickets, Online Reservations & Hours
NOTICE
Tickets must now be purchased online! Read more below.
Tickets are only available through online reservations. Every ticket sold helps keep Grandfather Mountain pristine and beautiful for generations to come, thanks to the careful oversight of the Grandfather Mountain Stewardship Foundation.
TIPS & DETAILS
Guests must purchase tickets online to guarantee admission. BOOK HERE.
Admission tickets (see rates below) include the Swinging Bridge, Wilson Center for Nature Discovery, hiking trails, wildlife habitats, daily programs and more. See Things to Do for details.
Bridge Club Members, VIP pass holders and those with pre-paid or complimentary tickets are not required to book a time-slot.
Guests drive their own vehicle through the park, stopping along the way to enjoy a variety of activities.
Hiking trails close at least one hour before the park closes.
On weekdays only, a limited number of tickets may be available for purchase in-person at the Entrance Gate. However, guests are strongly encouraged to book online to guarantee their availability. No discounts are given at the gate. Discounts are only applied when booking online.
Each guest entering the park must have a ticket, which includes a time-slot.
Your ticket reservation is valid for entry for up to one hour after time slot. Then you may stay as long as you want!
For details on directions, accessibility, food options, area information and more, go to our Plan Your Visit section.
COVID-19 Information (updated 3/12/22): Masks are optional for guests.
Admission Rates: Click here to book your visit 
Adult: $24
Senior (age 60+): $22
Child (ages 4-12): $10
AAA Adult: $22 (must present valid AAA card)
AAA Child: $9 (must present valid AAA card)
Bridge Club annual members receive complimentary admission for a year and are not required to book a time-slot. Members must present a valid Bridge Club membership card upon arrival at Entrance Gate. Join now!
2022 HOURS
Grandfather Mountain is open every day of the year, weather permitting, except for Thanksgiving Day and Christmas Day. The Mountain also closes early on Christmas Eve and occasionally on other dates for staff training.
September 6-30: 9 a.m. to 6 p.m. (Last entry at 4:30 p.m., trails close at 5 p.m.)
FALL (October 1-31)

Monday – Friday: 9 a.m. to 6 p.m. (Last entry at 4:30 p.m., trails close at 5 p.m.)
Saturday & Sunday: 8 a.m. to 7 p.m. (Last entry at 5:30 p.m., trails close at 6 p.m.)
During times of inclement weather, the park may close early or delay opening until conditions improve. On occasion, weather may cause the mountain close halfway (past the Conservation Campus to the Mile High Swinging Bridge), during which half-priced admission will be charged. To determine the day's conditions, visitors are encouraged to call the Entrance Gate at (828) 733-4337 before making the trip.
Opening dates, availability and operating procedures are subject to change.
TICKET REFUND POLICY
Grandfather Mountain admission tickets are non-refundable once purchased. However, we will honor the monetary value of one's ticket(s) for a future visit. Unused tickets will be valid for one (1) year from the original visitation date printed on the tickets. Please contact us for special arrangements beyond one year from your ticket purchase date.
Ticketholders are also welcome to gift their passes to friends or family. When booking this future visit, please call the Grandfather Mountain Entrance Gate at 828-733-4337 with your reservation number to exchange your booking for a future time and date. Prices are subject to change.
For more information or assistance, please call 828-733-2013 or 828-733-4337.