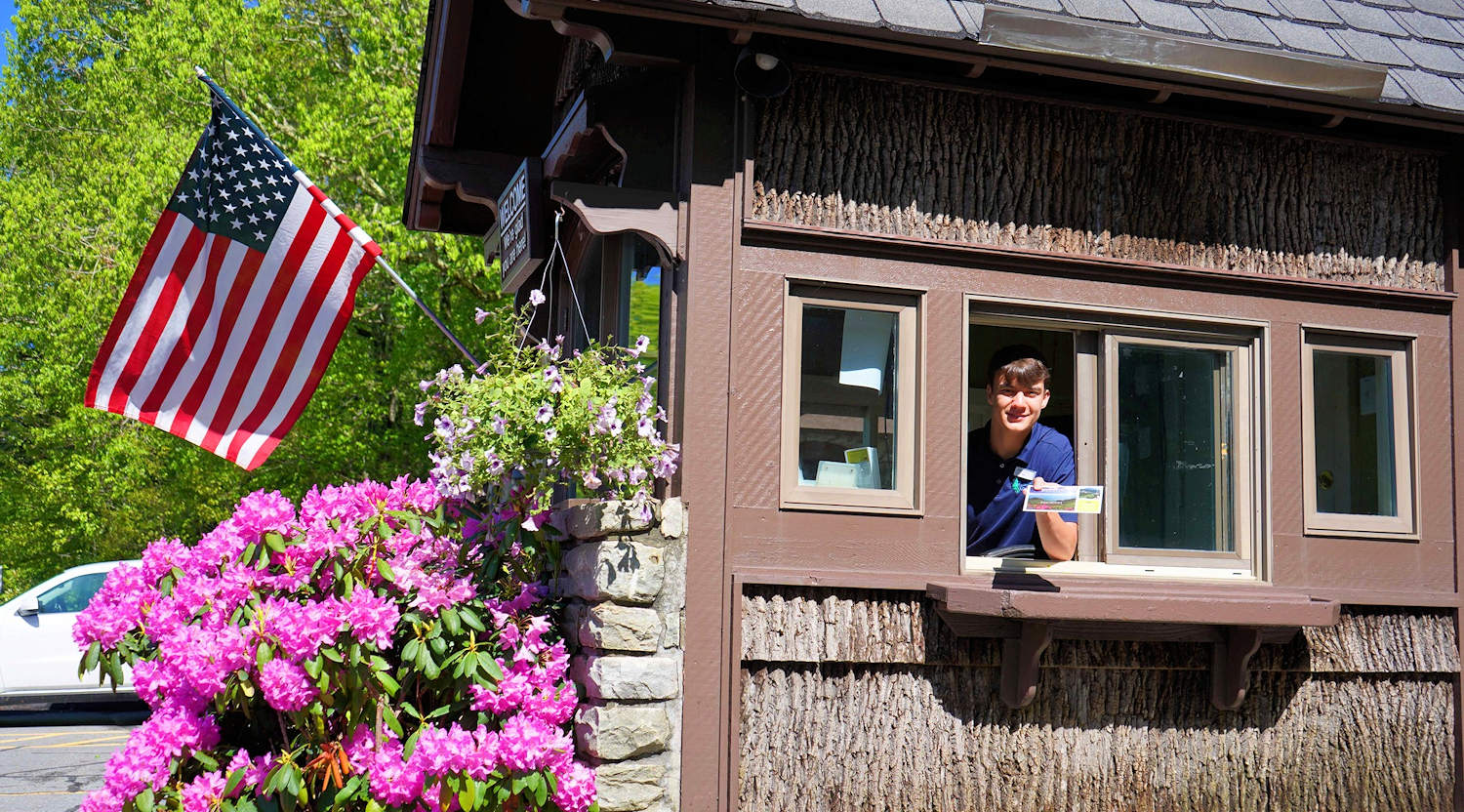 Tickets & Online Reservations
NOTICE
Tickets must now be purchased online. Read more below.
Tickets are only available through online reservations. Every ticket sold helps keep Grandfather Mountain pristine and beautiful for generations to come, thanks to the careful oversight of the Grandfather Mountain Stewardship Foundation.
TICKET TIPS & DETAILS
Guests must purchase tickets & reserve entry time online to guarantee admission. BOOK HERE. Instantly receive tickets via email or print them from your browser.
Making an account when purchasing tickets allows to you to easily log-in and later view your tickets, reprint tickets and move them to your Apple Wallet.
Admission tickets (see rates below) include the Swinging Bridge, Wilson Center for Nature Discovery, hiking trails, wildlife habitats, daily programs and more. See Things to Do for details. Guests drive their own vehicle through the park, stopping along the way to enjoy a variety of activities.
When are we open? See our Operating Hours.
Bridge Club Members, VIP pass holders and those with pre-paid or complimentary tickets are not required to book a time-slot.
Admission tickets are non-refundable once purchased. However, we will honor the monetary value of one's ticket(s) for a future visit. Unused tickets will be valid for one year from the original visitation date printed on the tickets.
If you book a discounted ticket for AAA or military, you must show your AAA card or military ID at the gate.
On weekdays only, a limited number of tickets may be available for purchase in-person at the Entrance Gate. However, guests are strongly encouraged to

 

book online

 

to guarantee their availability.

 

No discounts are given at the gate.
Your ticket reservation is valid for entry for up to one hour after time slot. Then you may stay as long as you want within park operating hours!
Hiking trails close at least one hour before the park closes.
Occasionally, the top half of the mountain closes due to extreme wind or ice/snow. On those days, tickets are only available at the gate. Read more.
For details on directions, accessibility, food options, area information and more, go to our Plan Your Visit section.
ADMISSION RATES
We have three tiers of daily ticket rates. Click here to see daily rates & book your visit.
Base Days: These are quieter days, mostly in the winter months.
Adult: $15
Senior (60 & over): $13
Child (ages 4-12): $10
AAA Adult: $13
AAA Child: $9
Mid-Level Days: These include most, not all, March-October dates. Extra experiences in the park, such as Grandfather's schedule of Daily Programs, run April-October.
Adult: $24
Senior (60 & over): $22
Child (ages 4-12): $10
AAA Adult: $22
AAA Child: $9
Peak Days: These are the in-demand days, usually around a holiday or fall color season, that also typically feature extra experiences in the park.
Adult: $28
Senior (60 & over): $26
Child (ages 4-12): $10
AAA Adult: $26
AAA Child: $9
CANCELLATION & TRANSFERS
Want to transfer or gift your ticket to someone else? Simply forward your confirmation email (tickets will be attached) to that person. The name on the ticket doesn't matter and does not need to be changed.
You may change your date/time on your tickets up until 24 hours before your day of visit. At the bottom of your confirmation email is a link to change time and date to look up tickets by order number. Tickets may be moved to a date within the same price tier. If you want to move to a date in a different price tier, simply request a refund and then purchase new tickets. Within 24 hours of your visit, call the gate 828-733-4337 to move tickets.
Bridge Club annual members receive complimentary admission for a year. Join now!
2023 Dollar Days: Grandfather Mountain extends a special "Dollar Days" rate of $5 per person during the month of April to those who live or work in Alleghany, Ashe, Avery, Mitchell, Watauga or Wilkes counties, along with their guests traveling in the same vehicle. Students attending a local college or university are also eligible for the discount. Dollar Days guests must book their tickets online and choose the Dollar Days admission rate when reserving their visit. A limited number of Dollar Days tickets will be available each day, in addition to general admission tickets.
For more information or assistance, please call 828-733-4337.