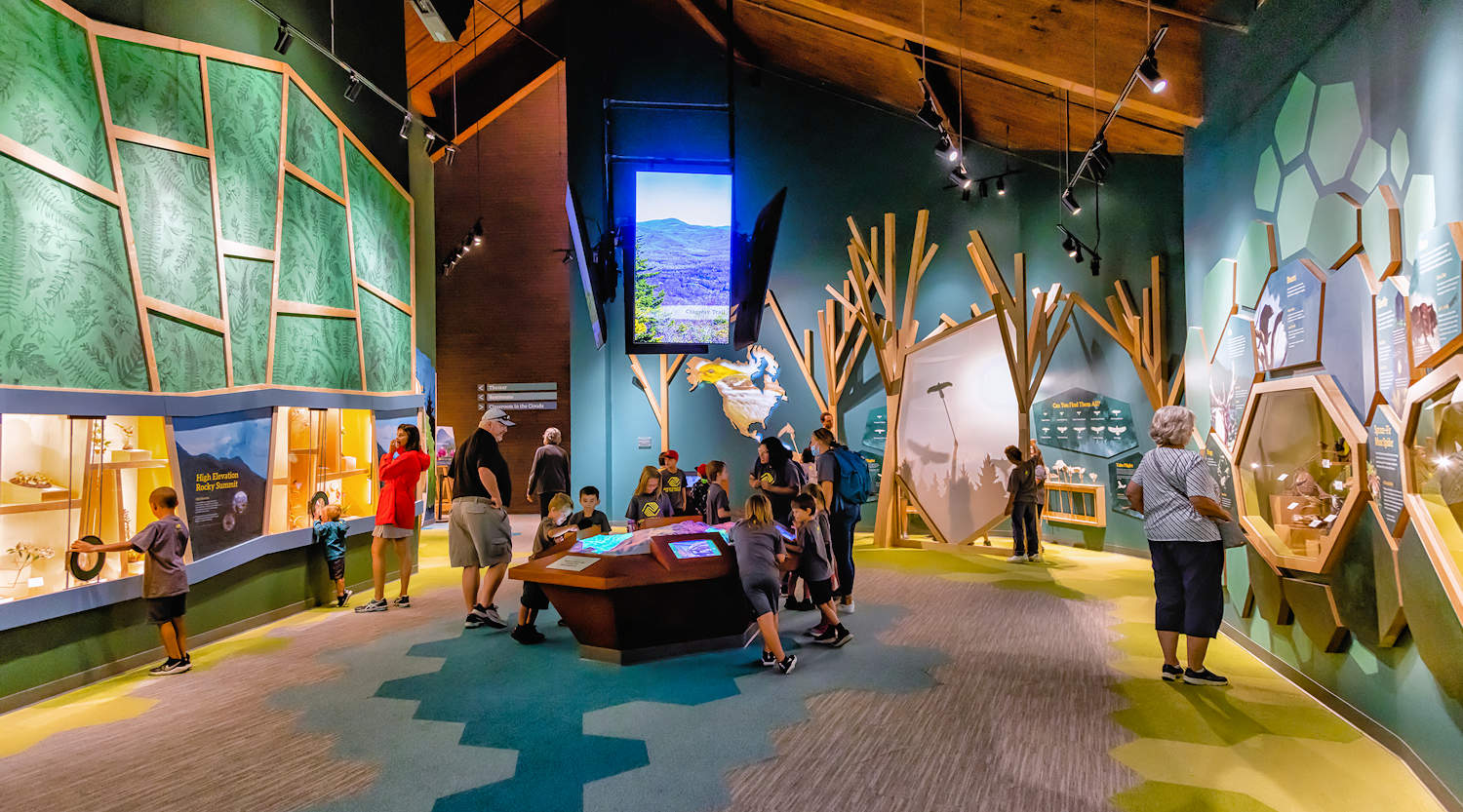 Wilson Center for Nature Discovery
The Wilson Center for Nature Discovery is located about halfway up the mountain, adjacent to the Wildlife Habitats. It doubles the size of the original Nature Museum with more than a dozen new state-of-the-art interactive exhibits to explore the natural history, flora, fauna, geology and weather of the mountain. The center is thoughtfully designed to make the most of Grandfather's natural surroundings, using moveable walls and large banks of windows to bring the great outdoors inside. Admission is included in your entrance ticket.
After touring the exhibits, take a break for lunch at Mildred's Grill. Find souvenirs, outdoor gear and art in the gift shop. Watch films and attend fascinating programs inside the ADA-accessible auditorium. See excited children learn from the mountain inside three classrooms.
The Wilson Center for Nature Discovery is part of the larger "Conservation Campus". Outside the center, outdoor learning spaces include an amphitheater, a pavilion and botanical garden.
Named one of the "9 Best New Museums That Opened in 2022" by InsideHook.
Take a Tour of the Wilson Center for Nature Discovery
Paul & Susie O'Connell Exhibit Hall: Experience the 16 natural communities that comprise Grandfather Mountain with 12 interactive exhibits.
Flora Wall: Learn about our mind-boggling variety of plants on Grandfather with an interactive display.
Tree Stories and Timeline: See how the park and the world have changed around a single growing tree.
Migration Mapping and the World of Birds: Follow the extraordinary migration patterns throughout the park.
Extremes and Weather: Use interactive elements to sample our extreme weather, and a well-known meteorologist guide budding climate scientists.
Shadow Play: Step behind the frosted glass façade with a silhouette shape of your favorite animal, bird, bat or butterfly.
Fauna Wall: Explore the diverse species on Grandfather with this interactive wall with bird sculptures and animal imagery.
Interactive 3D Map: Use projection mapping and touchscreens to see how habitats change as elevation increases and where certain animals are found.
Panoramic Viewing Towers: Enjoy outdoor views no matter the weather with views from around the mountain.
Mineral Cave: Get an up-close view of minerals with built-in magnifying glasses.
Mildred's Grill: Take a break with lunch with hot, tasty food at reasonable prices.
Sunroom: Find flexible seating for groups up to 50 people adjacent to Mildred's Grill.
Grand Deck & Patio: Gather outdoors by Mildred's Grill for picnics and bird watching.
Gift Shop: Take home the perfect souvenir, artisan crafts, hiking gear and even animal art.
Hodges Theater: Enjoy speaker series, a world-renowned nature documentary, or a series of video stories about Grandfather.
Classrooms in the Clouds: Attend nature education programs for all ages, part of our growing Science Technology Engineering and Math (STEM) teachings.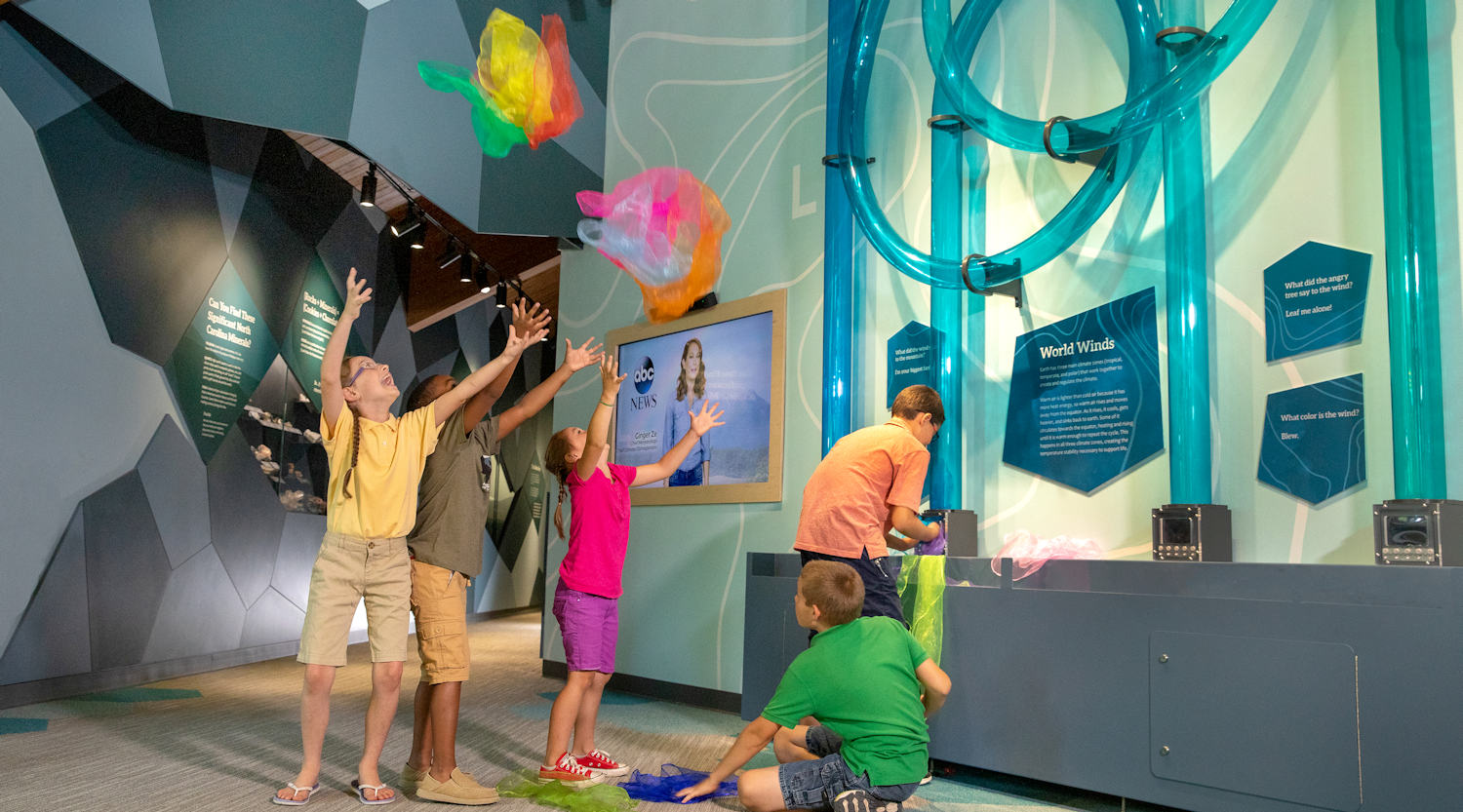 Outside the Wilson Center
Williams Outdoor Learning Space: Gather families and groups here to listen to a naturalist presentation in the amphitheater or a picnic in the pavilion.
Cobey Botanical Garden: Stroll the walkways and open spaces filled with native botanicals – including the pollinator garden.
Pollinator Garden: See bees, butterflies, moths, hummingbirds and more visiting a variety of flowers that provide nectar or pollen. (Peak bloom is summer to early fall.)
Electric Car Charging Station: Charge vehicles at one of two ChargePoint electric vehicle (EV) charging stations at the park.
Take a Photo Tour of the Wilson Center
More Things to Do
Adjacent to the Wilson Center for Nature Discovery, visit our resident animals at the Wildlife Habitats. Nearby is Split Rock and Sphinx Rock. See other things to do during your visit. Buy tickets online and see hours.
Thank you!
Designed by Boone-based Coffey Architecture, the Wilson Center is named for benefactors Bob and Susan Wilson. Many friends of the Mountain have invested generously in the vision of the Fulfilling Promises Campaign — to create a new Conservation Campus and share the wonders of Grandfather Mountain with more visitors more broadly and deeper than ever before. See a list of our generous donors. To date, more than $6.8 million has been given toward the project costs of $8.375 million.