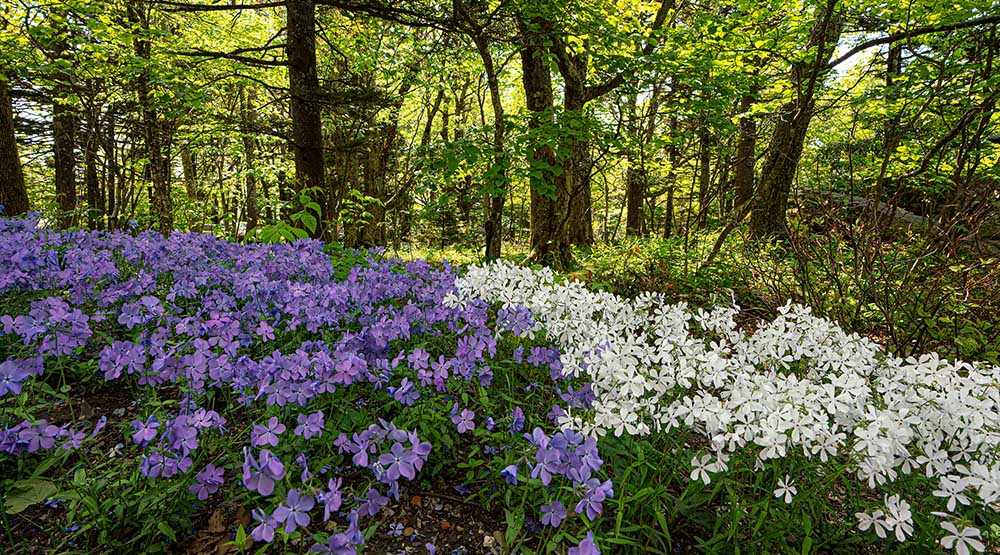 Surrounding the Wilson Center for Nature Discovery, the Cobey Botanical Garden is a newly reimagined space that provides a home to plantings of several species native to Western North Carolina and has beautiful meandering pathways that link together Grandfather's Conservation Campus.
Ron Cutlip was the landscape architect for the space, settling the garden over the rolling elevations between the Wilson Center and the Mildred the Bear Environmental Habitats. The space opens up an additional new pathway into the animal habitats, and the concrete path itself is highlighted in places with fun animal footprint stencils. Plantings bring color and drama to the space.
Lee Hemmings Carlton is a horticulturist, author and the owner of Goldenrod Gardens, a small private farm located on the western side of Beech Mountain. Her design focus is site-specific plantings with an emphasis on incorporating native species. When Munroe and Becky Cobey donated to Grandfather Mountain's Fulfilling Promises Campaign, specifically to make the dream of a botanical garden a reality for the Stewardship Foundation, they had firsthand knowledge of Carlton's unique skill set and asked her to be involved in the project. She gladly accepted.
"As with many of my projects, the jumping-off point in my approach to the botanical garden was the creation of a comprehensive plant list of native species that fill a range of niches within the varied terrain of the garden," said Carlton. "The species I incorporated are either purely native to North Carolina, cultivars of those natives that are especially ornamental or a mix of native species that have been hybridized."
Carlton's vision is to present native species in an ornamental, somewhat orderly fashion, so visitors are not only able to observe them up close and appreciate their beauty, but also able to see how they can be incorporated into their own gardens. The botanical garden has quickly become an outdoor classroom, from guests inspired to do their own plantings at home to those interested in learning more about the flora from staff naturalists.
Examples of plants in the Cobey Botanical Garden:
Zizia aurea – Golden Alexander
Itea virginica – Virginia Sweetspire
Thermopsis caroliniana – Carolina Bushpea
Penstemon canescens – Appalachian Beardtongue
Gillenia trifoliata – Bowman's Root
Achillea millefolium 'Summer Pastels' – Yarrow
Aster macrophyllus – Bigleaf Aster
Aruncus dioicus – Goat's Beard
Sedum glaucophyllum – Appalachian Stonecrop
The botanical garden is meant to evolve over the seasons. Carlton chose plants that are tough enough to survive the extreme weather conditions of the mountain but also provide year-round interest. To bring in color in the winter, she's established a background of evergreen shrubs and groundcovers with a sprinkle of berried plants and interesting seed heads.
Spring ephemerals then begin to show their blooms, and larger perennials emerge as temperatures start to warm. As the summer progresses, waves of blooms on shrubs, perennials and then grasses bring more color. As those begin to fade, the asters and goldenrod light up the garden against a background of fall foliage.
Ongoing maintenance and expansion of outdoor learning spaces such as the Cobey Botanical Garden support the conservation and education mission of the Grandfather Mountain Stewardship Foundation.
No matter the season, plan to incorporate a stroll through the Cobey Botanical Garden into your next visit to Grandfather Mountain. The garden will continue evolving and growing overtime, with an expansion planned in the near future.
Take a Photo Tour of the Cobey Botanical Garden
More Things to Do
Adjacent to the Cobey Botanical Garden, visit the Wilson Center for Nature Discovery or our resident animals at the Wildlife Habitats. Nearby is Split Rock and Sphinx Rock. See other things to do during your visit. Buy tickets online and see hours.
Thank you!
Designed by landscape architect Ron Cutlip and horticulturist Lee Carlton, the Cobey Botanical Garden is named in honor of Rebecca Todd Cobey by benefactors Munroe and Becky Cobey. Many friends of the Mountain have invested generously in the vision of the Fulfilling Promises Campaign — to create a new Conservation Campus and share the wonders of Grandfather Mountain with more visitors more broadly and deeper than ever before. See a list of our generous donors.