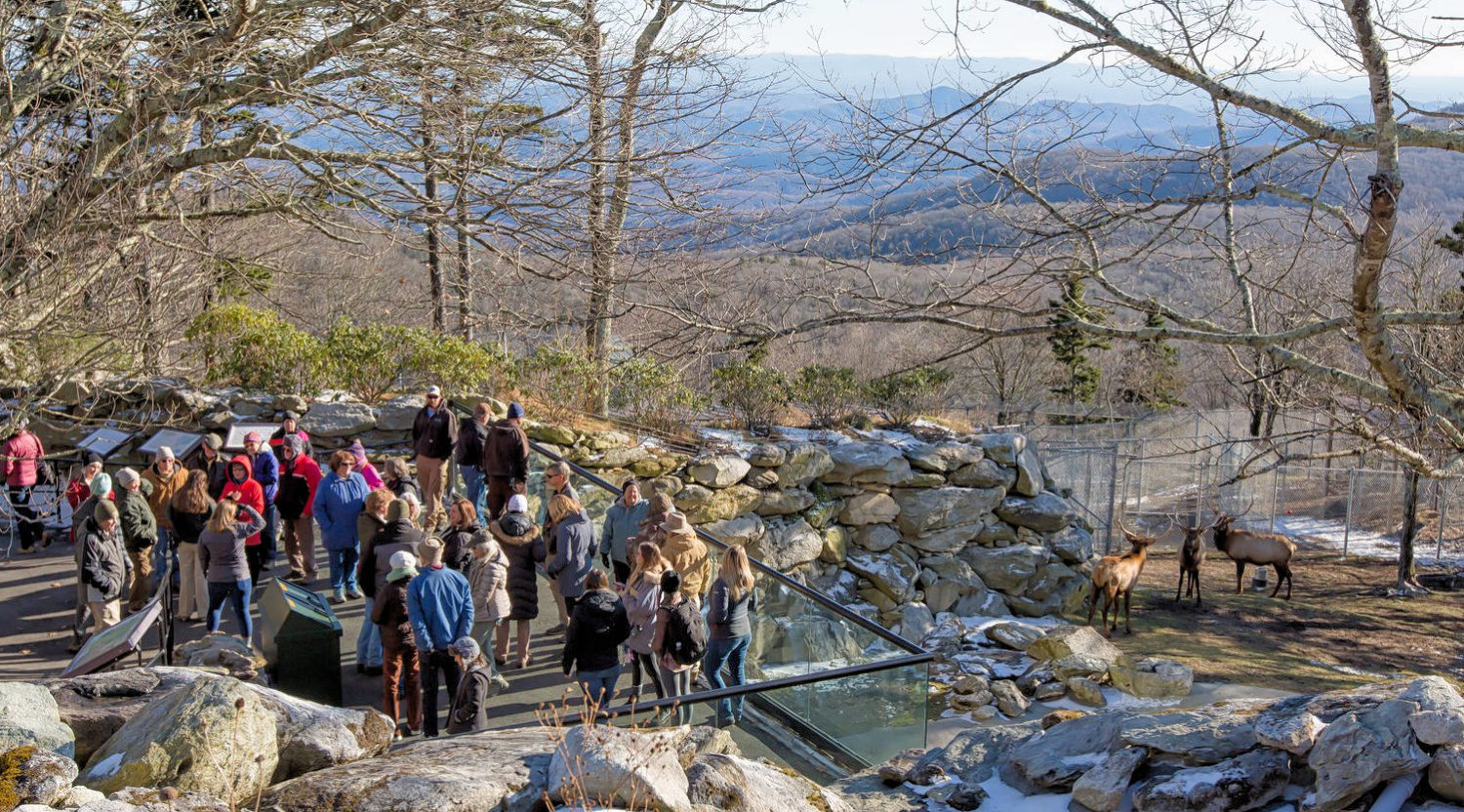 At Grandfather Mountain, everyone can experience natural wonders found nowhere else on Earth — and sometimes they're even more awe-inspiring when you enjoy them with a group. Whether your group is looking for a place to reflect and reconnect or an adventure to take you to new heights, you can find it here. From family reunions to church bus tours, we welcome a variety of adult groups.
Special Reservations for Groups Required
To make your visit more enjoyable, Grandfather Mountain limit the number of groups visiting each day. Contact the Group Tour Coordinator at the Grandfather Mountain office, 800-468-7325 or (828) 733-2013, as soon as possible to make sure your preferred date is available.  You must make reservations during weekday business hours to receive the group rate. See group admission rates & guidelines.
Accessibility
Grandfather Mountain can accommodate just about any ability level. Views can be enjoyed even from a bus window, plus limited-mobility visitors can visit the Mile High Swinging Bridge via elevator, picnic areas near parking lots, paved pathways along the animal habitats, and more. To learn more, visit the accessibility page.
Shuttle Service
Because sharp curves near the top of the mountain restrict commercial motor coaches and some school buses to the lower part of the mountain, Grandfather Mountain provides free shuttle service to the top in its own buses. Reservations for the shuttle buses are required. Motor coaches or buses longer than 28′ are not allowed in the park without prior reservation. No exceptions will be made.
Grandfather Mountain's vehicle fleet includes a 12-seat shuttle that has a 1,000 lb. Braun Lift and accommodates an additional two people in wheelchairs. When booking your group visit with the group tour coordinator, please specify if your group has any accessibility needs so the proper transportation can be arranged.
Duration of Visit
On average, a group visit takes about 3 hours. Allow about half hour to walk through the animal habitats, 1 hour in the theater/museum/shop, half hour at the Mile High Swinging Bridge/Visitor Center, and half hour for lunch. Your visit can easily be shortened or lengthened, depending on group size. Expect a longer stay if your group opts for a habitat tour or naturalist program.
Restaurant & Picnics
The 140-seat restaurant, Mildred's Grill, serves hot, tasty food at reasonable prices. For extra convenience, order your meal in advance — we'll have the food for your group ready and waiting at the time that best fits your schedule. A private dining room is also available by reservation. Click here to learn more about Mildred's Grill and view a current menu. The Mountain has more than 100 picnic tables located in scenic locations throughout the park. Your group is welcome to bring its own picnic, or get your Mildred's Grill order to go.
Group Venues
We have a variety of gathering spots, indoors and outdoors. Read more.
Car Clubs
Our curvy, scenic road to the top of Grandfather Mountain is a favorite for drivers of sport cars, classic automobiles and more. Read more.
Programs
Your group's visit to Grandfather Mountain will be even more fascinating when you participate in a naturalist program or habitat tour. Choose from a wide variety of topics, or let us customize a program to fit your group's specific interests. Read more!