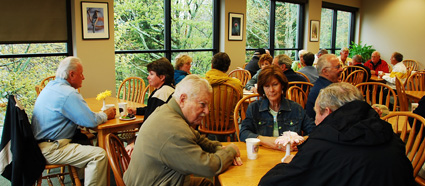 Casual dining in high style
While there's so much to see and do on Grandfather Mountain, sometimes view-gazing is most relished with a sandwich in your hand — or soup on your spoon. Mildred's Grill can provide both, whether you choose to dine al fresco or watching the birds seek their seeds just outside our large picture windows.
The 140-seat Nature Museum restaurant serves hot, tasty food at reasonable prices. You can order in advance so that your food is ready and waiting at a time that best fits into your schedule. If you travel with a large group, you may enjoy your meal in the restaurant or outside as a picnic, or reserve the private dining room. Lunch options at Mildred's Grill include:
Grill Menu (updated May 2018)
For field trips, a Grandfather Bag Lunch is available for $5.50 per person, including choice of a hot dog, turkey and cheese or peanut butter and jelly sandwich on white bread, served with chips, cookie and bottled water.
The Mountain has more than 100 picnic tables in scenic locations throughout the park, including a covered picnic area situated next to the Nature Museum. You're welcome to bring a picnic, or our staff will be happy to prepare box lunches for you.
Mildred's Grill hours change seasonally.