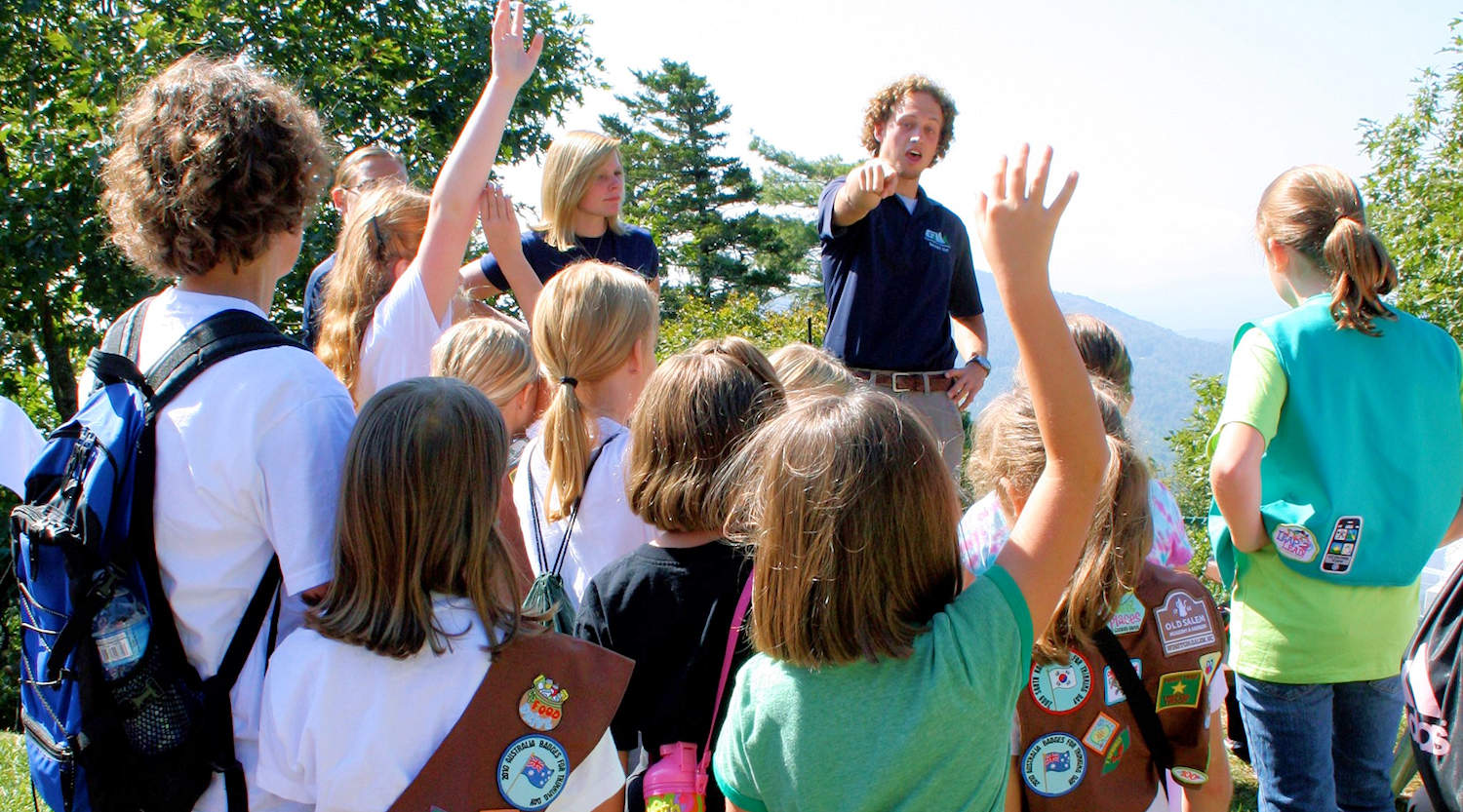 Take advantage of 20 Ways to Learn from Grandfather! The year 2022 brings additional educational opportunities presented by the Grandfather Mountain Stewardship Foundation – both on and off the mountain. In addition, the Wilson Center for Nature Discovery doubles the size of the original Nature Museum with more than a dozen new state-of-the-art interactive exhibits, classrooms and auditorium. Outside the center, find new outdoor learning spaces, including an amphitheater with terraced seating, a pavilion and botanical gardens.
Whether you are visiting with friends and family, thinking of bringing a group or looking for fascinating programs brought to your location, find many resources. Click the names to learn about each!
Education for Groups & Schools
Wild Watch: This program began in 2020 to engage every first-grader in Avery County throughout the academic year with hands-on, experiential learning, including in-class visits from Grandfather Mountain educators and in-park field trips for the students. Read more.
Eco Watch: This educational outreach program puts one of the mountain's educators in the classroom of fifth graders at Banner Elk Elementary School and brings the kids to the mountain itself for a unique, hands-on educational experience.
Mobile Outreach Programs: Our educators bring the wonder of the mountain straight to locations throughout western North Carolina and eastern Tennessee,  providing interactive, hands-on learning experiences. Choose from a wide variety of program topics, from birds and butterflies to weather, or let us customize a program to fit the group's specific interests and size.
School Group Visits: There's no better teacher than the mountain itself. We welcomes student groups from public, private and home schools. Our engaging naturalists present a wide variety of topics, from animal behavior to weather to geology.
Scouts: We all know that scouting is more than earning badges, it's also about discovering the wonders of our world. When you visit as a scout troop, your options are plentiful! We work with each group in planning the perfect adventure.
Adult Groups: Motorcoach tours are elevated with a naturalist program or habitat tour. Choose from a wide variety of topics, or let us customize a program to fit your group's specific interests.
During Your Visit
In addition to the Nature Museum exhibits and Animal Habitats informational boards, dive deeper into learning about our International Biosphere Preserve at opportunities during your visit:
Interpretive Talks: Join Grandfather's expert naturalists by the Mile High Swinging Bridge to learn more about the mountain's unique weather, climate, flora and fauna. Held at 1 & 3 p.m. daily, April through October. Included in admission.
Animal Encounters: Talk to Grandfather Mountain staff about the animals and observe an animal enrichment. These are held many times daily April through October in the wildlife habitats. Included in admission.
Junior Ranger: Children learn about animals through fun activities at Junior Ranger programs held weekends near the Butterfly Garden. Included in admission.
Behind-the-Scenes Habitat Tours: See where the cougars, otters and elk sleep overnight, meet black bears that are not commonly on display, learn the ins and outs of what it takes to care for the animals year-round and observe a training session. Offered on weekends April through October. Additional registration fee.
Meet the Bears: Go behind the scenes to meet some of our resident black bears and learn all about them, including their names, daily routines, care, histories and more. Weekends April through October. Additional fee.
Woods Walk: Learn as you hike!
Special Events
See our calendar of upcoming events! Below is just a sampler of educational events that you may register for. 
Adult Field Course: Individuals sign up to join a small group to explore the mountain like never before. The series runs from April through October with topics including bird ecology and behavior, ecology, photography, sketching and stargazing.
Evening Lecture Series: Attend presentations from the country's foremost experts on conservation, including professors, naturalists, scientists, photographers, writers, historians and artists. Also includes interactive workshops.
Grandfather by Night: Explore the mountain after hours with your own naturalist guide. You'll be escorted through the park, stopping at its most significant sites. Watch a stunning sunset, and experience the mountain as never before! Dates TBA.
Nature Photography Weekend: Learn from top nature photographers during the evening, and photograph spectacular scenery and native animals during the day.
Grandfather Mountain Amateur & Professional Camera Clinic: Top photographers gather to present on the nuts and bolts of making good photographs. Camera Clinic also offers the rare opportunity to camp on Grandfather Mountain. This event is free to working members of the press, with an additional cost for non-press professionals and amateurs.
Creatures of the Night & Bonfire Delight: Enjoy rare after-dark tours of Grandfather Mountain's Animal Habitats, fireside tales and a chance to meet the park's nocturnal residents. Limited to 48 participants.