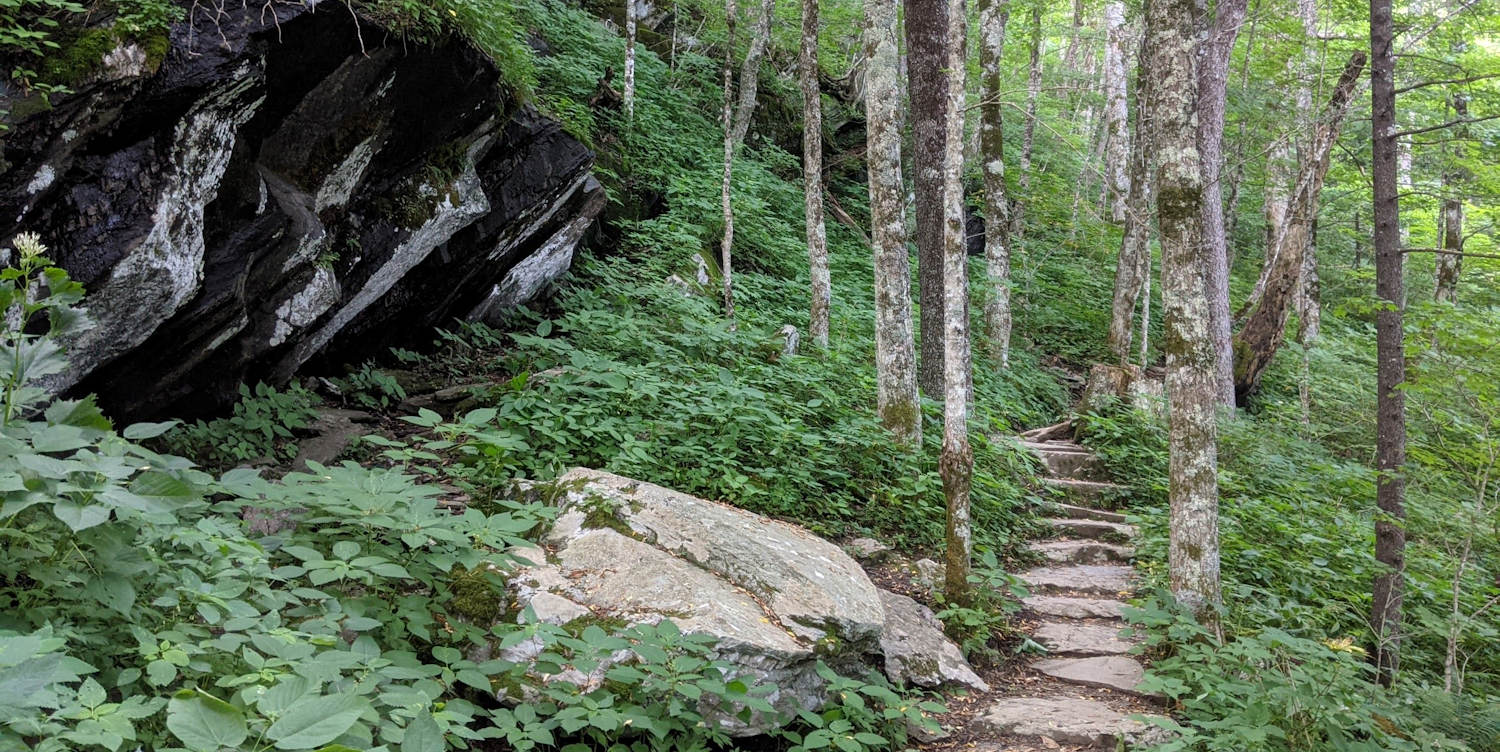 The 3.6-mile Profile Trail is accessed from the Grandfather Mountain State Park access on N.C. Highway 105 (4198 NC Hwy 105 N, Banner Elk) near Sugar Mountain. This strenuous west side hike has steep and rocky areas. It intersects with the Grandfather Trail at Calloway Gap on the crest of Grandfather. There is no charge for accessing the State Park from the trailheads on NC 105 and Blue Ridge Parkway. 
Beginning as a scenic, rolling pathway through seasonal wildflowers, this trail crosses the Watauga River and travels through rhododendron thickets and under a hardwood canopy for much of its length. Upper sections, beginning around Foscoe View at 2.2 miles, get steeper, and there are frequent rest stops with stone and log benches. Along one notable stretch before the trail reaches a view of the famous Grandfather Profile (mile 2.8), hundreds of large boulders were artfully rearranged into a rock walkway called "Peregrine's Flight." Shanty Spring, at 3.1 miles, marks the beginning of a strenuous segment that makes the transition out of the hardwoods and into the Canadian fir zone, climbing many rock steps for 4/10 of a mile and ending at the Grandfather Trail. Turn left to reach Calloway Peak in another 4/10 of a mile (making a total of 8 miles roundtrip).
The large parking area has restrooms and water. It is open seven days a week and fills up on busy days. So arrive early! Allow at least 4 hours even for seasoned hikers.
To check on Profile Trail conditions, call the State Park office at 828-963-9522. Read about "East Side" trails including Daniel Boone Scout Trail.
Plan Ahead: Grandfather Hiking Tips | Winter Hiking Tips
Download the Grandfather Mountain State Park Trail Map.