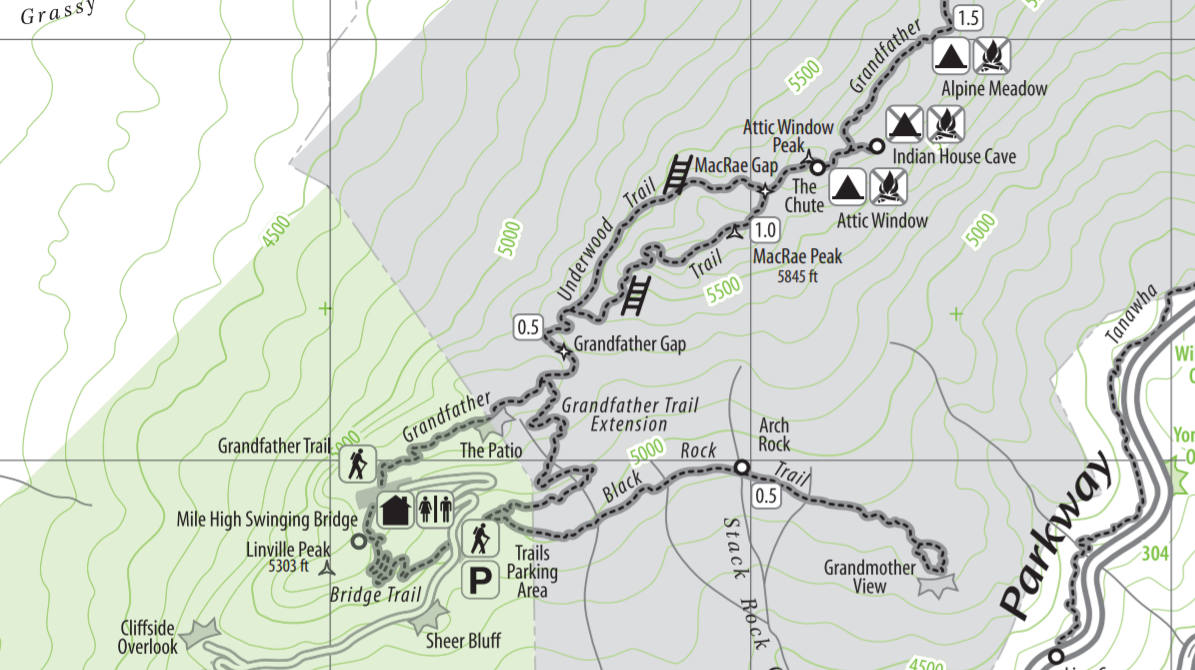 Grandfather Mountain Hiking Tips
Hiking on one of the most rugged peaks in the eastern United States offers spectacular scenery and special challenges. Here are some tips to help you have the best outing on our hiking and walking trails.
Hiking Tips
Hiking trails within the Grandfather Mountain Stewardship Foundation property are subject to weather-related closings. For the most up-to-date information on trail closures, please call our Entrance Gate prior to your visit at 828-733-4337.
Choose the right trail for you and your group's fitness level. See our Hiking Guide to pick the perfect trail for you.
Get familiar with the trail before you begin. Use resources such as free maps we provide, along with reliable apps, to help navigate trails. When you arrive, ask staff members or volunteers questions at the Wilson Center for Nature Discovery or Top Shop (by Swinging Bridge).
Download the Grandfather Mountain State Park Trail Map (PDF) that includes backcountry trails.
Download the Grandfather Mountain Hiking Brochure & Map (PDF).
Check the weather the week before, week of, days before, the day of and even right before you begin your hike. Weather changes quickly here. If you hear thunder, be sure to stay off of exposed areas. Read more about our weather.
Hiking in November through March? See our Winter Hiking Tips.
Make people aware of your plan so if anything were to happen someone would know to look for you or where to find you.
Dogs must be leashed for their safety and protection of animals and plants that live on the mountain. Due to ladders and cables on Grandfather Trail, it is dangerous for dogs.
Filling out hiking permits at the trailhead is required before hitting the more strenuous backcountry trails.
Dress appropriately. Hiking boots are best for hiking, but please wear closed toe shoes at the very least. Clothes that are moisture wicking are important. Pack a rain jacket and extra layers.
Bring plenty of water and snacks. A 2-mile strenuous hike here could take several hours to complete. If needed, purchase snacks and beverages at the Wilson Center / Mildred's Grill or inside the Top Shop.
Do not litter and carry out your trash. There are bears in the park.
Do not remove any plant, animal, artifact or mineral.
The possession or consumption of alcoholic beverages is prohibited.
For safety reasons, walking down the road is not permitted.

Hiking trails close one hour prior to the park's closing, with the exception of the month of October when trails sometimes close earlier.

 

 

See operating hours here.

 

If there is an emergency or you cannot make it back to your car by closing, please call 828-733-2800 (Top Shop), 828-733-4337 (Gate) or 828-733-1059 (Wilson Center for Nature Discovery) as soon as possible to notify Grandfather Mountain staff. If you do not call, we will send out a search party.
If you park at an off-mountain trailhead for the state park, plan on hiking back to your car. If you plan to have someone pick you up at the Swinging Bridge, the driver of the pick-up vehicle will be charged regular gate admission to come into the travel attraction to pick you up.
No camping is allowed inside the Foundation property. For backcountry camping, find options at Grandfather Mountain State Park.
Restrooms are available at the Wilson Center, Top Shop, Gatehouse and Woods Walk (spring-fall).
Grandfather Mountain is not able to provide shuttles to or from trailheads.
Bring a picnic for post-hike relaxation! We have plenty of picnic tables.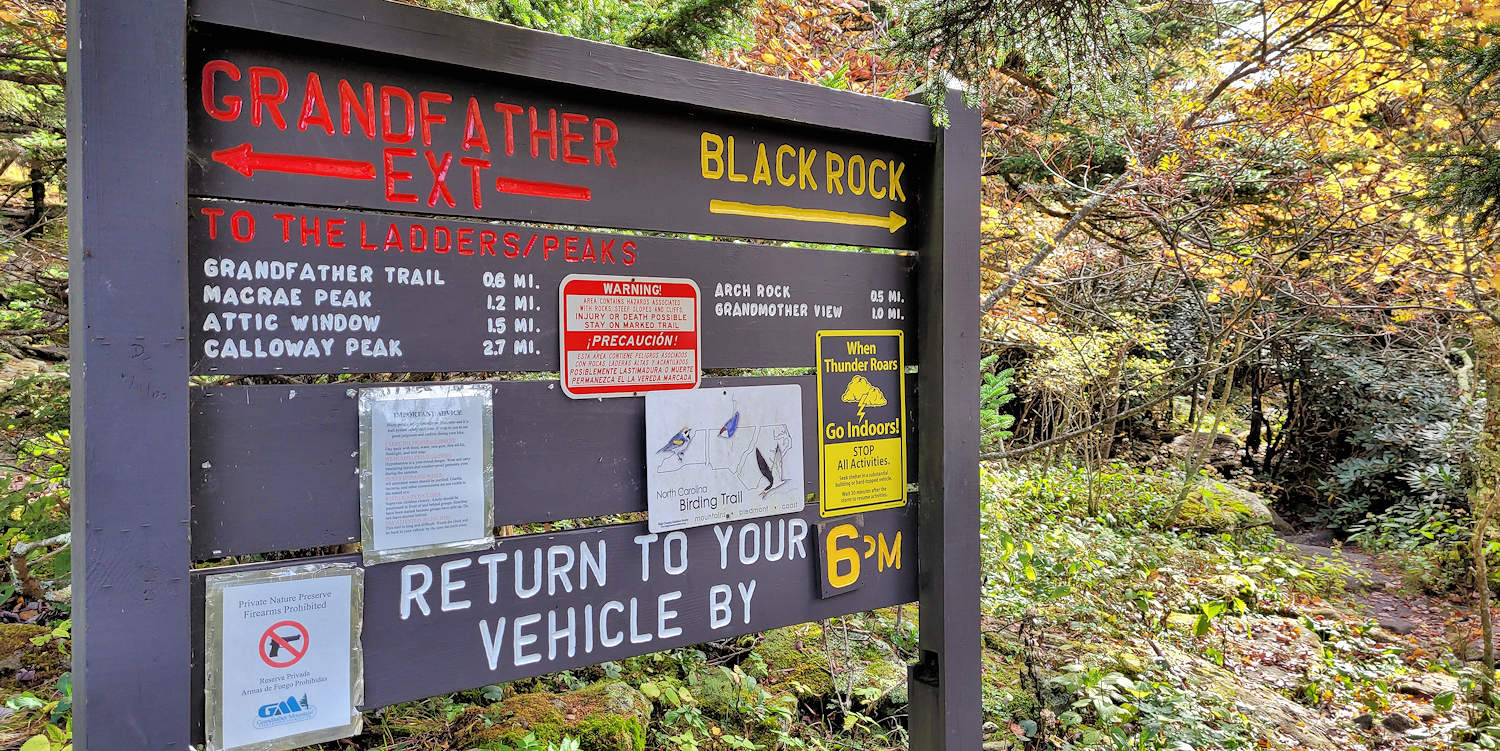 Find A Hike!
Explore a variety of trails on Grandfather Mountain – ranging from easy strolls to strenuous treks.
Easy / Moderate Hikes
Woods Walk: Perfect for an easy woodlands stroll. 0.4 mile
Bridge Trail: Begins at the Black Rock Parking Area and ends by the Mile High Swinging Bridge. 0.4 mile each way
Black Rock Trail: Very scenic trail with panoramic views from a rock outcropping. 1 mile each way
Difficult / Advanced Hikes
Grandfather Trail: Our most challenging hike is along the crest of Grandfather's multiple peaks.
Backcountry Hiking in Grandfather State Park:

 

Includes the popular

 

Profile Trail

 

(west side) and

 

Daniel Boone Scout Trail

 

(east side) with separate trailheads from the state park access and Blue Ridge Parkway.