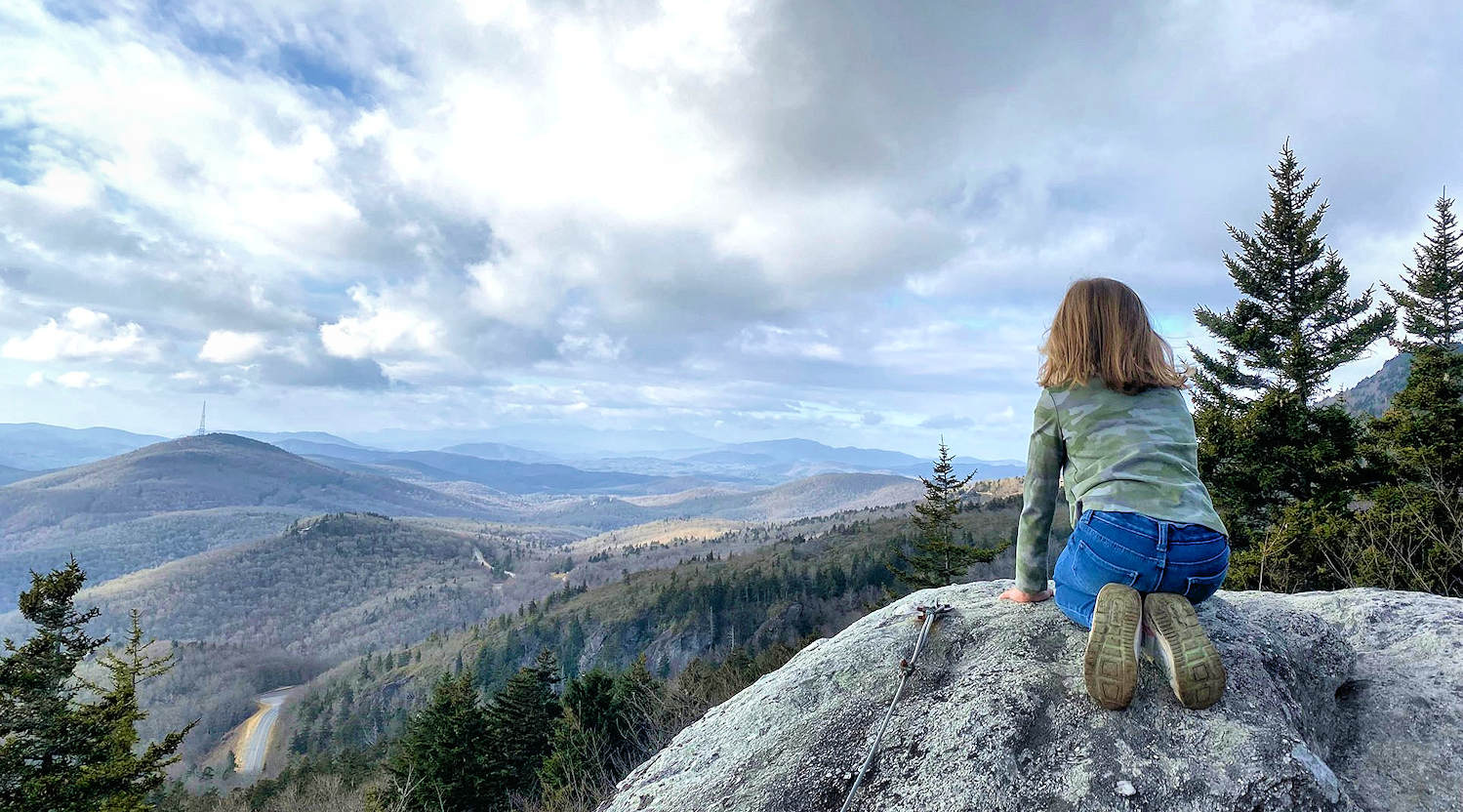 Winter hikes on Grandfather Mountain are often very magical – but you should take extra precautions due to our mile-high extreme winter weather. On many days, brilliant blue skies create 100-mile views. While the mountain gets plenty of harsh winter conditions, there are often mild periods perfect for getting outdoors. Here are some tips:
Start your hike earlier
With winter's shorter days, the sun sets much earlier. We're open 9 a.m. to 5 p.m. with ticket sales ending at 3:30 p.m. Trails close at 4 p.m.
Advance tickets and reservations are required. Usually, you are able to purchase same day.

 

Buy your tickets with your arrival time now.
Be familiar with the trail
Plan ahead! See our Hiking Guide for a list of trails in our nature park – including several shorter hikes that are perfect for winter outings such as the Bridge Trail.
The Woods Walk Trail is perfect for a short family-friendly stroll. Since it's lower on the mountain so it's a little warmer and less windy. The 0.4-mile loop is located at a picnic area – the first right after you pass the entrance gate.
Is it not unusual for us to close access to trails due to snow, ice or high winds. Call the Entrance Gate at 828-733-4337 to check trail conditions and closures.
Only experienced hikers should venture into the backcountry of Grandfather Mountain State Park since you will encounter much more challenging treks. Also, these remote trails are usually more icy and snow covered.
Special advice for the challenging Grandfather Trail along the summit crest: It is not unusual to close access due to snow, ice or high winds. Call ahead to the Entrance Gate at 828-733-4337 to check daily closures. Allow plenty of time to navigate the difficult and rugged terrain. With winter conditions on top of that, accurate and precise decisions about footing are important.
Check the weather
Check the weather a day or two before your visit. Get the weather forecast for the entrance gate area near Linville at Ray's Weather. Temperatures atop Grandfather are often 20 degrees colder that the foothills below.
As you drive up the mountain, the temperature usually drops up to 5-10 degrees. Winds are also more extreme nearer the summit. Rime ice (frozen fog) sometimes covers the trees to create those postcard settings.
Be prepared for quickly changing weather.
During times of inclement weather, including snowy, icy and windy conditions and extremely low temperatures, the mountain may close entirely or halfway, meaning no access to the trails near the summit. If the park is closed halfway, guests may visit for half-priced admission — even if the remainder of the mountain opens during their stay. We'll post updates on our home page.
For current weather, phone the Entrance Gate at 828-733-4337. See current weather conditions.
Tell someone your plan
Make people aware of your plan in case you have an accident or get delayed, so someone would know where to find you.
For backcountry trails, fill out permits at the trailheads that includes emergency contacts.
Take a fully charged phone. Electronic devices in the winter tend to be unreliable and often malfunction in cold temperatures. Keep these devices (especially batteries) warm if possible.
Need help while hiking? Options for resources are found on the permit located at trailheads for the backcountry trails.
Dress appropriately
Hiking boots (closed toed shoes at the very least). Expect ice covered sections on the trails, sometimes covered in snow or leaves – so slip-on grips like Yaktrax can be helpful.
Dress in layers, with moisture wicking materials. When you start your hike you should feel a little cold until your body warms up with the exercise.
Remember that wind chills are more extreme on Grandfather, so be prepared with gloves and head coverings. Pack hand warmers!
Wear a waterproof and wind resistant outer shell or coat.
If you need an extra gear, check our stores in the Nature Center and in the Top Shop.
Bring plenty of water and snacks
Some of our backcountry hikes take all day to complete in the best weather. So you will need extra water and food.
Exercising in the cold of winter burns more calories, so more food is a necessity to keep your body fueled.
At Grandfather, find snacks and beverages at our gift shops at the Nature Center and the Top Shop. For a heartier meal, stop by Mildred's Grill in the Nature Center.
Dehydration expedites the onset of hypothermia. Drinking water when you're already cold can be hard to remember or you may not feel as thirsty. Remember to continue to appropriately intake fluids to maintain your body's needs.
More Things to Do