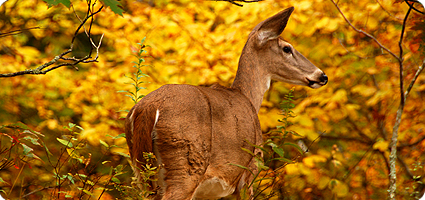 Oct. 11 –   It is rainy and chilly at Grandfather today, perfect for a quiet stroll on the Woods Walk Trail for a doe that photographer Helen Moss Davis calls "Sweetie."
The leaves are about to pass their peak at this elevation, but there are lots of leaves left to turn along the Blue Ridge Parkway and in other parts of the High Country.  The color is turning quickly in Boone at 3,300 feet, in Foscoe at 3,000 feet and in Valle Crucis at 2,700 feet.  The next week to ten days should continue to be spectacular.
The rain could knock some of the leaves to the ground, but its all good because everyone enjoys the sound of leaves crunching underfoot in the fall!  After the rain comes through, expect a new flush of color for next weekend's Valle Country Fair and Woolly Worm Festival.  Only about a quarter of the trees have turned so far, so there are plenty of leaves left out there to add color to the weeks ahead.
The best route for color right now is the Blue Ridge Parkway from Spruce Pine to Virginia.   Other colorful routes are NC 105 from Linville to Boone, NC 184 from Tynecastle to Banner Elk, Beech Mountain Parkway to the top of Beech Mountain, NC 181 from Jonas Ridge to Newland, NC 194 from Elk Park to Banner Elk (road construction between Banner Elk and Valle Crucis), US 19E from Spruce Pine to Cranberry, US 321 from Boone to Watauga Lake and US 421 from Boone north to Trade, TN.