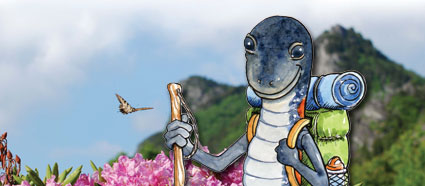 Meet Grandfather's best friend, Yonni!
Hi, Junior Rangers! I'm Yonni, a Yonahlossee Salamander from Grandfather Mountain! I help kids explore the mountain and use what they learn at home, too!
I ask my Junior Rangers to do one thing to protect the planet — anything you want! We don't all have to do everything, but we do have to help take care of the world we live in. What will you do? Maybe:
— Turn off the lights when you leave a room?
— Recycle plastic bottles and aluminum cans?
— Remind your family to bring along reusable bags when they shop?
— Turn off the water when you brush your teeth?
And here are some fun things to do while you're here:
Daily Junior Ranger Program – Grandfather Mountain's staff offers Junior Ranger programs at 11:30 a.m. weekends near the Butterfly Garden! These programs, offered from April through October, help teach about animals through fun activities.
Animal Encounters – Learn more about each animal that lives in Grandfather Mountain's habitats and watch keepers give them an enrichment. An enrichment is a treat, toy or scented item provided to the animals that help keep them from getting bored! Offered from 11 a.m. to 4 p.m. daily April through October at the animal habitats.
And More!
Can't get enough Junior Ranger fun? Click here for coloring sheets of some of the cool nature you'll find at Grandfather Mountain.