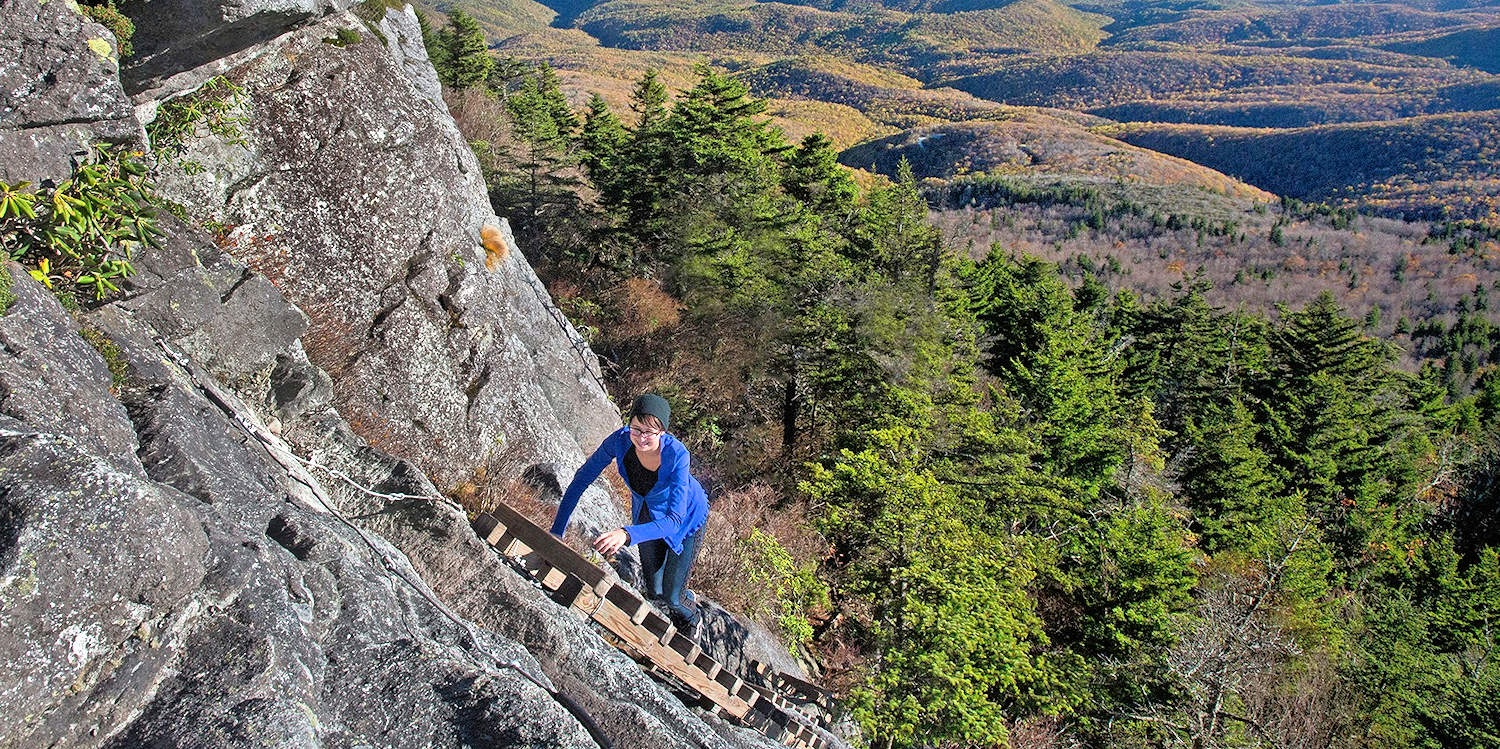 The literal pinnacle of hikes on Grandfather Mountain is the challenging, strenuous Grandfather Trail across the crest of its three peaks of MacRae, Attic Window and Calloway. It's spectacular but not for the faint of heart. In fact, only experienced hikers should attempt. There are chutes where progress is hand-over-hand and some extra steep sections where hikers use in-place cables and ladders. While it's one of the most technical hikes in the East, no special equipment is required.
Grandfather Trail is accessed from the Top Shop parking lot or the Black Rock Parking Area, three curves below the summit parking area. It also can be reached via the Profile Trail (west side) or Daniel Boone Scout Trail (east side) at the State Park trailheads.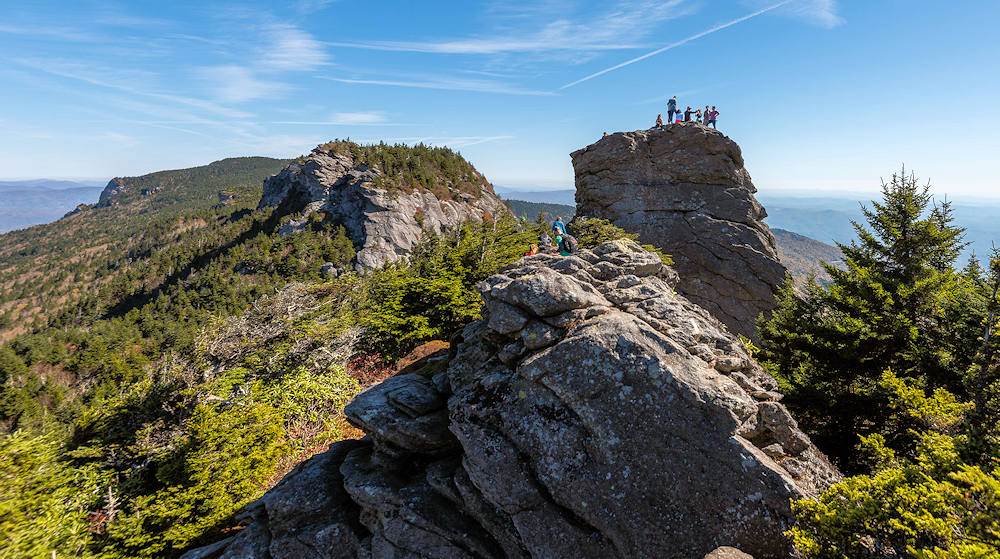 Grandfather Trail Details: 2.4 miles (3.8 km) Allow 5+ Hours
This upper mountain ridge trail features astonishing variety, running in and out of wind-dwarfed spruce and fir, across or around rock walls and pinnacles, and into open spaces with views of mountains unfurling in every direction. The jumbled-up, rocky features of this trail are so massive and distinct they appear to have cropped up by mistake — then decided to hang around for another millennium or two. (Pic above: Hikers enjoy the view from atop MacRae Peak.)
The route follows the crest of Grandfather Mountain from the Top Shop Parking Area out 2.4 miles to Calloway Peak. It was along this trail two centuries ago that noted French explorer and botanist Andre Michaux broke into song thinking he had arrived at the highest point in North America. A century later, famed naturalist John Muir was inspired to describe the sight as "the face of all Heaven come to earth."
Extra steep sections require hikers to use in-place cables and ladders. If you are timid of heights, this trail is not for you. An alternative to taking the ladders up MacRae Peak is to opt for the more sheltered Underwood Trail (see below). Total vertical gain is almost 1,800 feet. Allow at least 5 hours for the entire 4.8-mile roundtrip hike, since the best hikers only average 1 MPH speed.
Be prepared for sudden weather changes and windy conditions. To plan your hike, see our Grandfather Hiking Tips.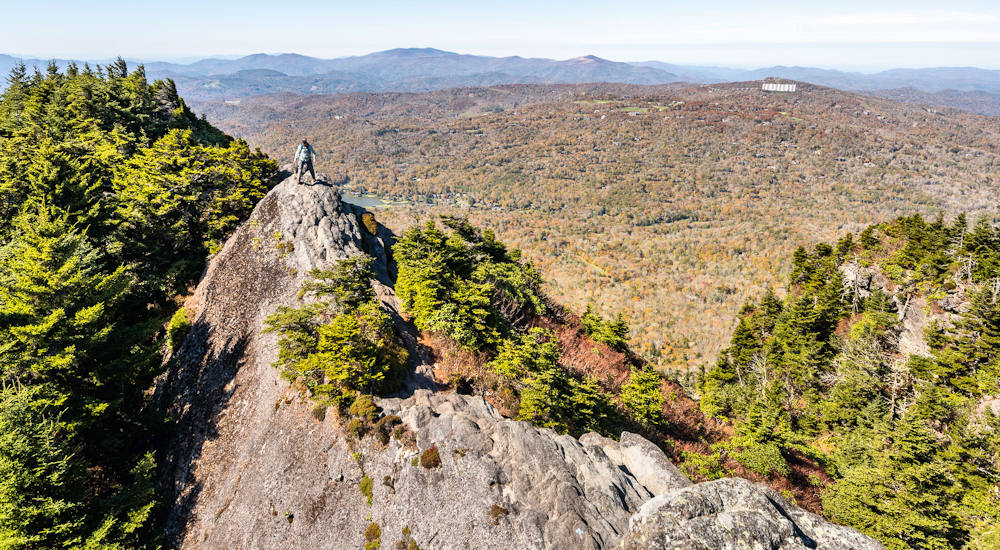 Grandfather Trail: Mile-By-Mile
Start at Top Shop Parking Area or Black Rock Parking Area (5,022 ft.) via Grandfather Trail Extension (adds 3/10 of a mile)
0.00 Mile: Top Shop Parking Trailhead, elevation 5,250
0.5 Mile: Underwood Trail Junction
0.9 mile: MacRae Peak, elevation 5,845 ft.
1.1 miles: Underwood Trail Junction #2
1.2 miles: Attic Window Peak (elevation 5,880 ft) & The Chute
1.3 miles: Indian House Cave
1.5 miles: Alpine Meadow
2.0 miles: Calloway Gap, elevation 5675 ft., intersection of Profile Trail
2.1 miles: Cliffside Campsite
2.3 miles: Watauga View
2.4 miles: Calloway Peak, elevation 5,946 ft.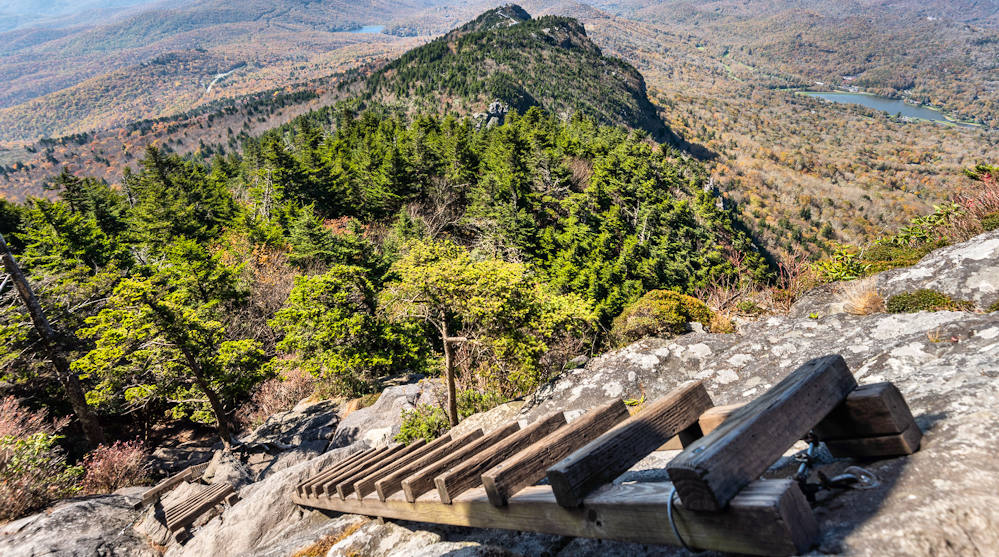 Underwood Trail
Splitting off the Grandfather Trail at Grandfather Gap at approximately 0.5 mile, the Underwood Trail bypasses ladder climbs on MacRae Peak. It rejoins the Grandfather Trail between MacRae Peak and Attic Window, about a mile out. The trail makes a steep, rocky loop under the crest line around Raven Rock Cliffs. Going out along Grandfather and returning along Underwood makes an excellent loop hike from the Swinging Bridge.
Raven Rocks Loop: Using the Underwood Trail, many hikers create a loop, going to MacRae Peak for the big views, then looping back via the Underwood Trail. While this hike is just over two miles roundtrip, it includes some of the most challenging trail sections on Grandfather. On AllTrails, this hike is referred to Raven Rocks Loop.
Know Before You Go
This trail is included in your admission ticket.

 

Buy tickets online here.
Looking for other trails on Grandfather Mountain?

 

Go to our Hiking Guide.
Hiking trails are subject to weather-related closings. For the most up-to-date information on trail closures, please call our Entrance Gate at 828-733-4337.
Check the weather forecast right before you begin your hike. Weather changes quickly here, often with unpredicted storms.

 

Read more about our weather.
Hiking in November through March? See our

 

Winter Hiking Tips.

Hiking trails close one hour prior to the park's closing, with the exception of the month of October when trails sometimes close earlier. 

 

See operating hours here.

 

If there is an emergency or you cannot make it back to your car by closing, please call 828-733-2800 (Top Shop), 828-733-4337 (Gate) or 828-733-1059 (Nature Museum) as soon as possible to notify Grandfather Mountain staff. If you do not call,

 

we will send out a search party.
Hikers may also access the Grandfather Trail inside Grandfather Mountain State Park from several Backcountry Trails for free.
See other

 

Things to Do

 

during your visit.