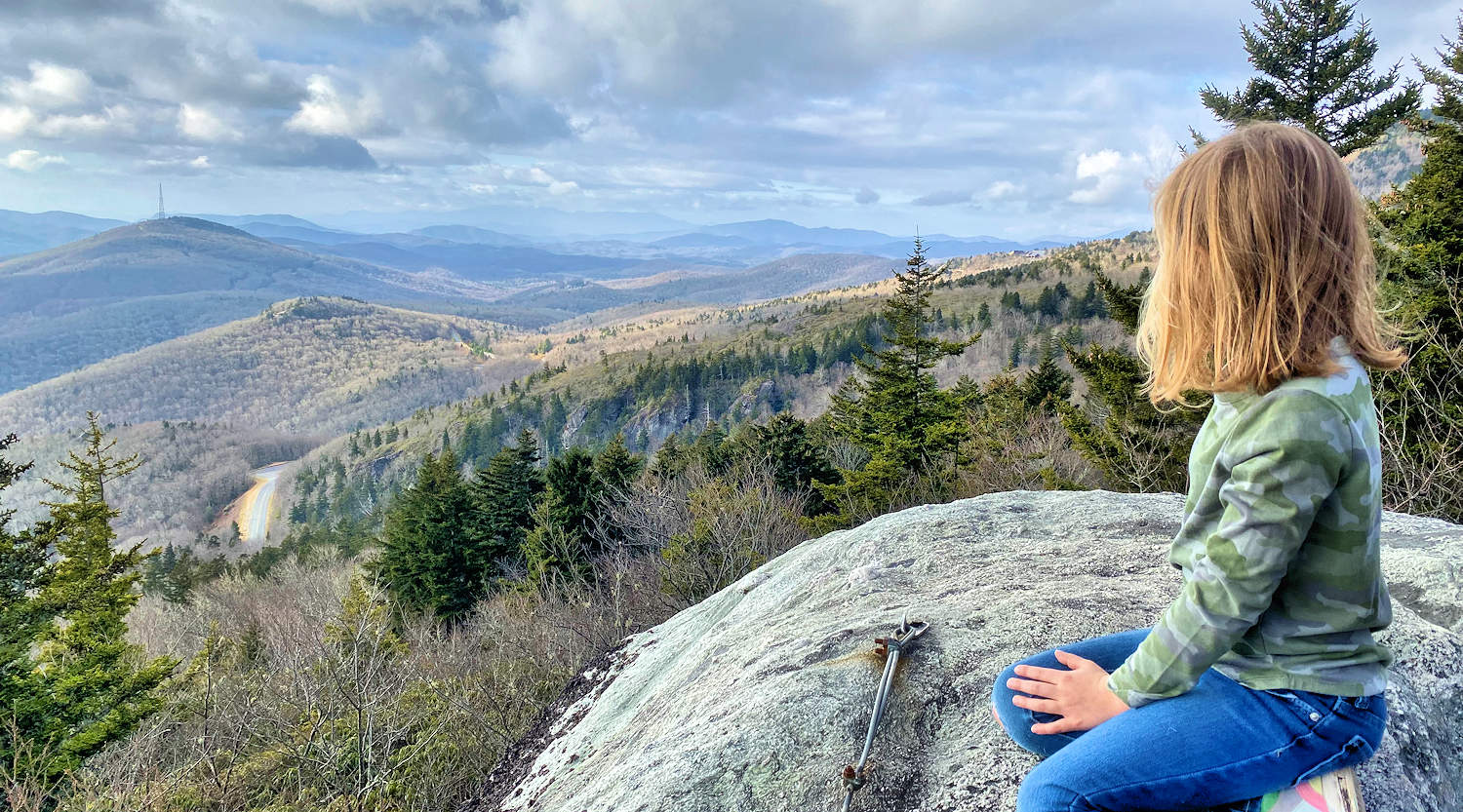 The one-mile Black Rock Trail packs a lot of woodland beauty, mountain views and fascinating rock formations. It begins at the Black Rock Parking Area, along the road to the summit, a half-mile before the Swinging Bridge parking area. The trail gradually descends to large, flat boulders perched on the east slope of Grandfather Mountain. Your reward will be spectacular panoramic views (photo at top).
Where to start? Find the trailhead at the far end of the Black Rock Parking Area, the same starting point as the more challenging Grandfather Trail Extension. After a short walk on the trail, find a big sign directing you to the right. During your mile hike out, you'll descend only 300 feet in elevation – ending at 4,722 feet. So the walk back to the car is not too strenuous. It's a great hike for families and casual trailblazers.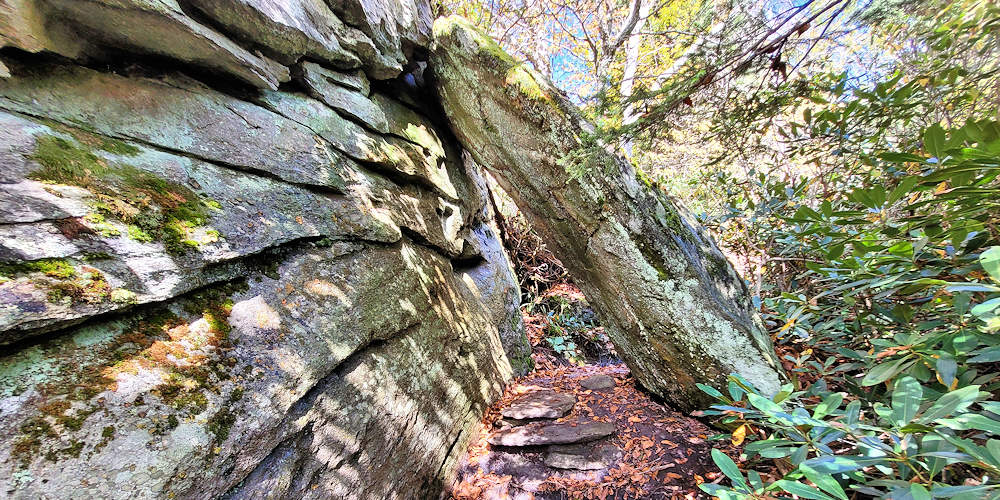 Most of the trail is shaded through a northern hardwood and spruce forest. It's a favorite location for songbirds. The trail has sections with rocks and roots, so hiking shoes are definitely recommended. Kids of all ages will enjoy walking beneath boulders dating back some 300 million years.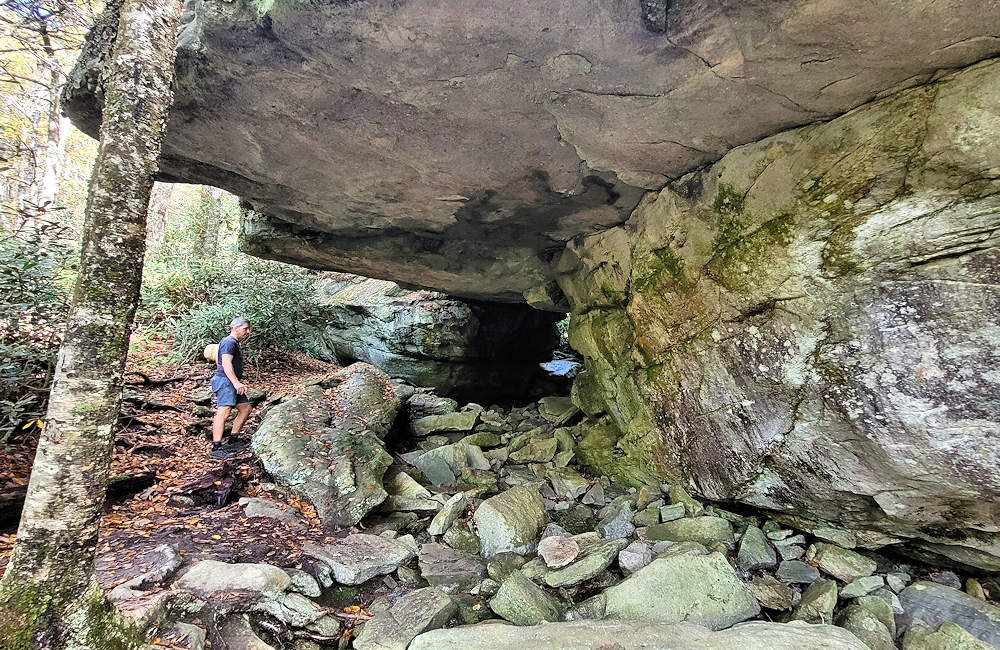 About a half way to Black Rock is Arch Rock on the left. Be sure to take a short detour there to walk underneath the giant boulder and peak through the "window". As you continue the hike, discover other interesting rock formations.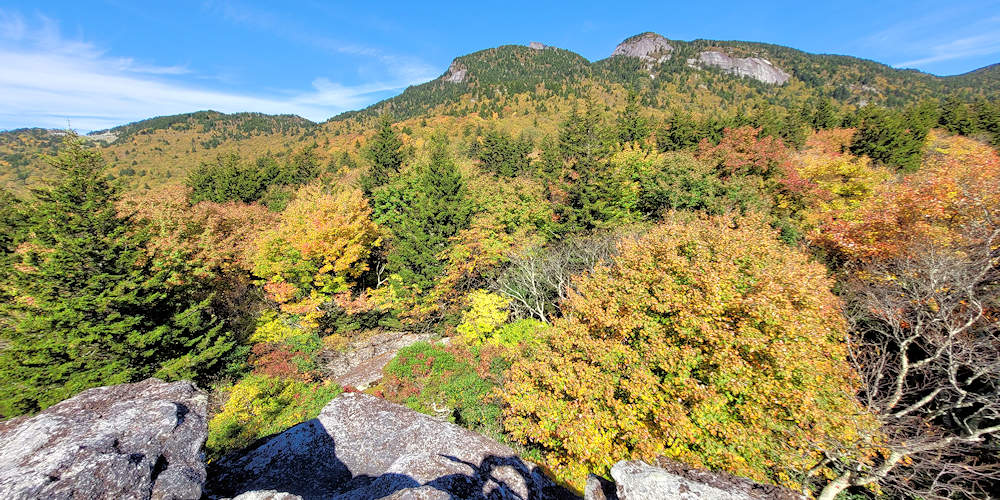 At the end of the trail, there's a short loop that takes you to a couple of rock outcroppings with big views. The best view is accessed via a short ladder and cable to safely climb out on the rock. Look toward your right to see the Swinging Bridge and Grandfather's MacRae and Attic Window peaks (photo above). To your left, look across the Blue Ridge Parkway toward Beacon Heights and Grandmother Mountain, along with many peaks in Pisgah National Forest.
Black Rock Trail Tips
Weather changes quickly, so be prepared. There may be a few muddy sections if we had recent rain (or icy spots in winter).
Since you will be hiking into the backcountry, please register at the sign-in board by the parking area and return to your car one hour prior to closing. This will alert our rangers if anyone needs assistance at the end of the day.
See our Hiking Tips for other ways to prepare.
Want to extend your hike? The Bridge Trail trailhead is located on the other side of the parking area.
This trail is included in your admission ticket. Buy tickets online here.
Looking for other trails on Grandfather Mountain? Go to our Hiking Guide.
See other Things to Do during your visit.