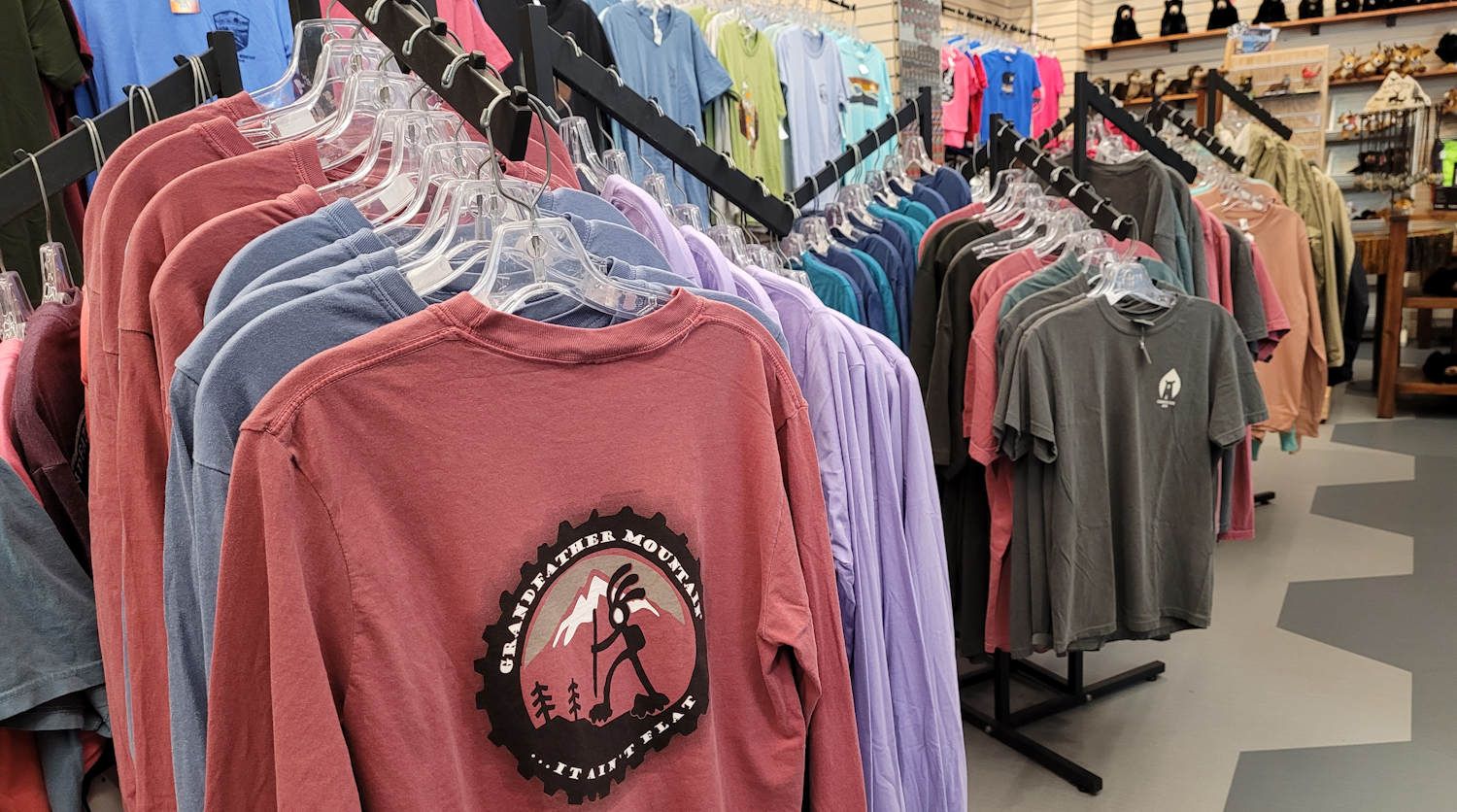 There are many options to buy unique items and support the Grandfather Mountain Stewardship Foundation – either in the gifts shops during your visit or online options from home. All of the Foundation's funding is derived from park admission, souvenir sales, food and beverage sales and donations.
Two Gift Shops
During your day of exploration on the mountain, browse our gift shops in both the Wilson Center for Nature Discovery and the Top Shop. Take home a variety of signature Grandfather Mountain souvenirs including t-shirts, puzzles, ornaments, mugs, calendars, postcards and adorable stuffed animals. Plus, find artisan crafts, hiking supplies, and much more.
Find our homemade fudge at Mildred's Grill, available in seasonal flavors and year-round favorites. Also, place an order for pickup or shipment by calling 828-733-1058.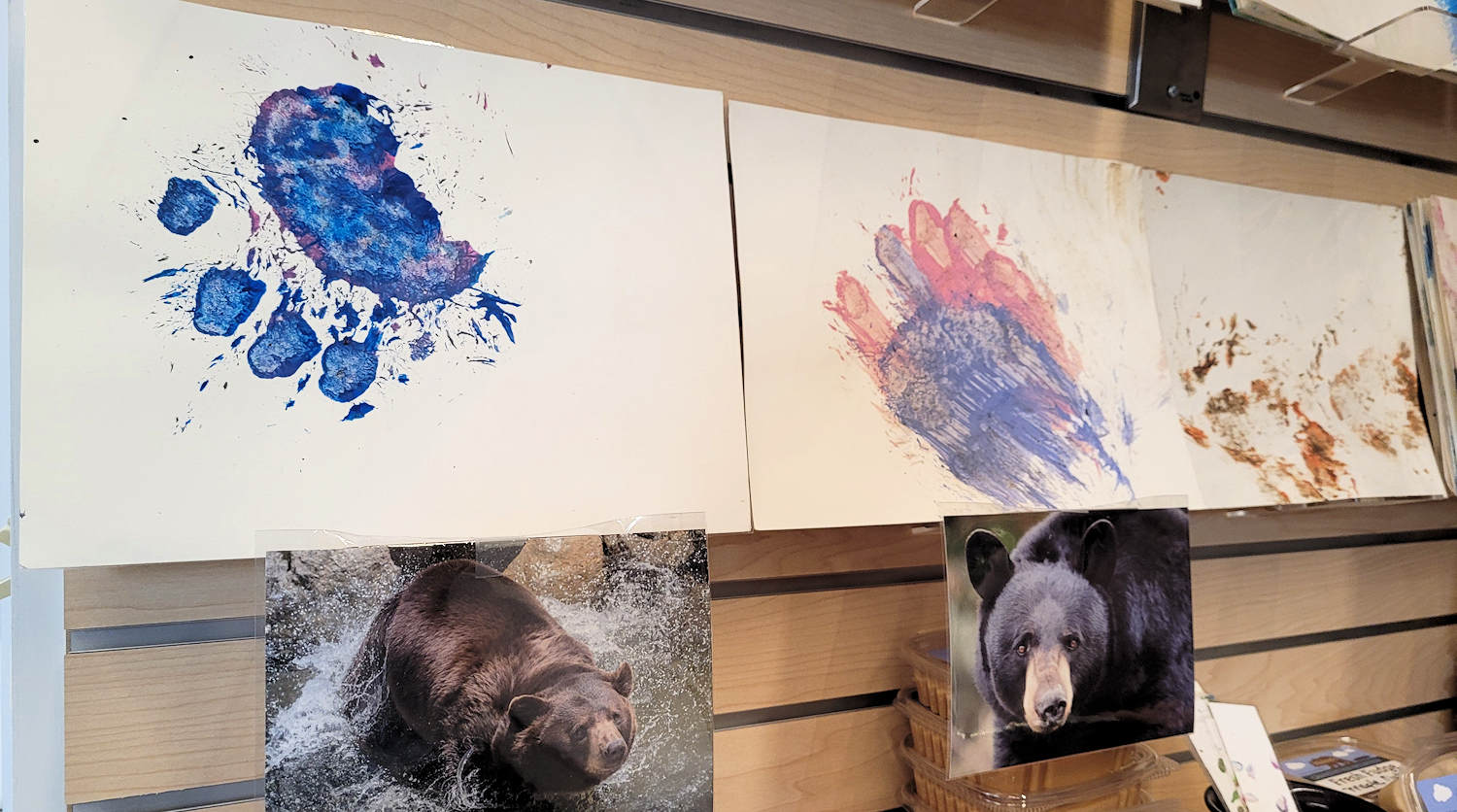 One of the most popular items is something truly unique. Our animal art is painted by Grandfather Mountain's habitat animals! Find many designs from paw prints to abstract bursts of color. The animal artists of Grandfather Mountain use only non-toxic, washable paint. They happily paint in exchange for treats as part of their training routine – able to leave at any point if they don't feel inspired. With each painting, you'll receive a photo and facts about the artist.
Take a photo tour:
Shop & Support From Home
For gifts that give two-ways, here are additional ways to support the Grandfather Mountain Stewardship Foundation, a nonprofit organization with a mission to inspire conservation of the natural world by helping guests explore, understand and value the wonders of Grandfather Mountain.
Adopt-an-Animal
Looking for an online gift that's warm and fuzzy? While Grandfather Mountain's resident animals are not for sale, the Adopt-an-Animal program is the next best thing. The program allows participants to symbolically adopt any of Grandfather Mountain's furry or feathered residents, including black bears, river otters, cougars, bald eagles, elk and more.
By adopting an animal, individually or on behalf of a friend, family member or loved one, the sponsor receives a special gift package. Gifts vary, depending on the donation level, and include photographs, plush toys, plaster footprint castings, day passes and more. Read more and pick an animal to adopt!
Animal Wish List
Make our animals' season merry and bright by treating them to gift items and enrichment treats. To see what the animals are wanting this holiday season, visit their Amazon.com wish list at https://bit.ly/gfm-wishlist. For more information, email habitats@grandfather.com.
Experiences You'll Never Forget
Give a very unique gift of a special Behind-the-Scenes Tour, Meet-the-Bears Tour or Paint with an Otter experience in our animal habitats. These 45-minute tours are available April through October. Read more about them. Please call the Wilson Center Gift Shop at (828) 733-1059 to purchase over the phone. The gift recipient will be responsible for contacting our habitat staff and scheduling their tour.
Bridge Club Annual Pass
For a gift that keeps on giving, shoppers can purchase an annual membership to Grandfather Mountain's Bridge Club. Bridge Club membership offers unlimited, free admission to Grandfather Mountain for a year, exclusive discounts on and off the mountain, invitations to special member programs, a Bridge Club car decal and more. Group passes are also available. Learn more.