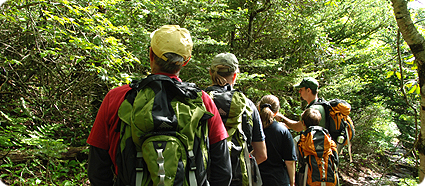 Nature Walks & Easy Hikes
No matter your age or fitness level, find some easier hikes and strolls on Grandfather Mountain that the entire family will enjoy together.
Woods Walk
Circumscribing the attraction's picnic area on the lower slopes of the mountain, the Woods Walk offers visitors a leisurely 4/10 mile loop through mature Appalachian forest. The trailhead is located in the picnic area (first right after you enter the Gate).
With very gradual grades and wide paths, this path will appeal to guests who are looking for a casual encounter with nature. At least 64 different flower and plant species grow at trailside, as well as 19 tree types.
The Black Rock Nature Trail
This self-guided nature trail begins at the Hiker's Parking Area (three curves below the summit) and slopes out gradually to a wide angle view of the Swinging Bridge, MacRae and Attic Window Peaks, as well as Beacon Heights and Grandmother Mountain to the southwest.
The gradual, moderately rocky trail runs out a mile through northern hardwood and spruce forests and, most any time of year, through neighborhoods of songbirds. Allow 2 hours round trip.
The Bridge Trail
The Bridge Trail also begins at Hiker's Parking Area and moves quickly into a natural area where visitors can walk through red and white rhododendron, galax, red spruce, Fraser fir and yellow birch. Four-tenths of a mile in length, the trail switchbacks up the mountain, traveling under the Swinging Bridge before ending at the Top Shop Visitor Center. You'll be awed by the massive rock outcroppings on this trail. Allow 20 minutes each way.