Grandfather Mountain, the not-for-profit nature park run by the Grandfather Mountain Stewardship Foundation, is gearing up for springtime, with daily programs, special experiences, a slate of events — including new happenings! — and beautiful blooms all ahead.
"Spring is such a special time here," said Jesse Pope, president and executive director of the Grandfather Mountain Stewardship Foundation. "Along with the greening of the mountain and the first wildflowers starting to appear, our programming really ramps up and offers guests so many unique options for experiencing Grandfather."
Check out these fun ways to explore, understand and value the wonders of Grandfather Mountain in the spring season.
DAILY PROGRAMS
Spring is an ideal time to visit Grandfather Mountain, as the park's flora and fauna become energized with the initial signs of warmer weather — and Grandfather Mountain's talented team of educators is on hand to showcase these natural wonders, all included with the price of admission.
Starting April 1, Grandfather begins offering daily programming, including Keeper Talks, during which guests can talk with park educators about the habitat animals — black bears, cougars, river otters, bald eagles and elk — and watch them receive an enrichment. Enrichments are special treats, new toys or unfamiliar scents designed to break up the animals' routines and help keep them active and intellectually stimulated. Keeper Talks run between 10 and 15 minutes and are held daily, every half hour from 11 a.m. to 4 p.m., April through October, in the environmental wildlife habitats area.
The Community Science Weather program spotlights Grandfather Mountain's weather, known as some of the most extreme in the Southeast. Through this program, guests can help staff record data that is then passed on to the National Oceanic and Atmospheric Administration (NOAA). This 10-minute program is held daily at 11 a.m. at Grandfather's Pollinator Garden, behind the Wilson Center for Nature Discovery.
During Grandfather's Junior Naturalist program, park educators help younger guests (ages 5 to 10) use scientific tools to make observations about natural phenomena. These 30-minute programs take place at the Pollinator Garden and are held at 11:30 a.m. on weekends April 1 to May 28, daily May 29 to Aug. 20 and weekends Aug. 26 to Oct. 29.
Animal Encounters invite guests to come face-to-face with some of the mountain's off-display educational animal ambassadors, such as opossums and snakes, while a park educator answers questions about that particular animal. Encounters last about 30 minutes and are held weekends at 2 p.m. near the main entrance of the Wilson Center.
To learn more about these Grandfather Mountain daily programs and others, visit www.grandfather.com/daily-programs.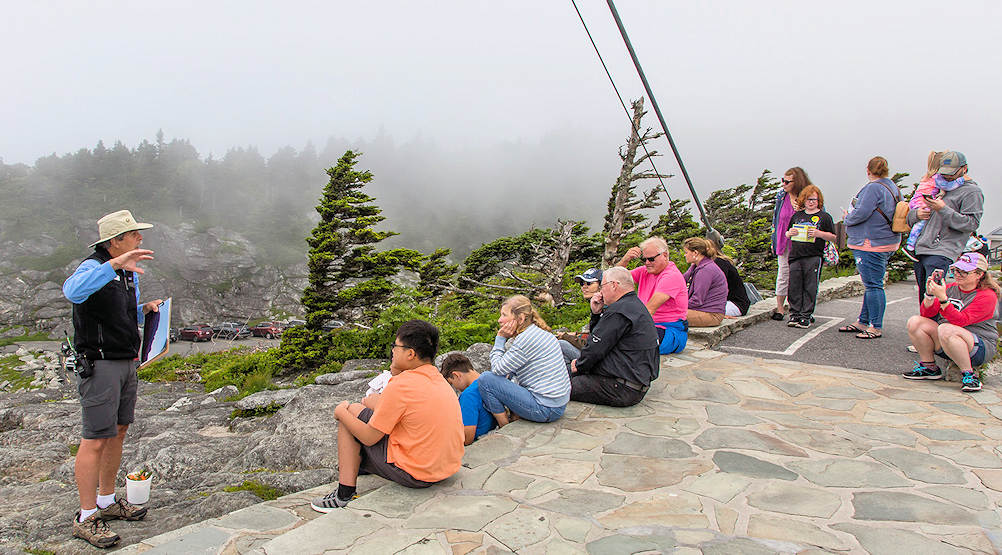 EXPERIENCES
This April, Grandfather Mountain brings back special experiences, like "Meet the Bears" and Behind-the-Scenes Tours, available at an additional cost. "Paint With an Otter" is new in 2023, while "Keeper for a Day" returns after a hiatus during the pandemic.
Meet-the-Bears Tours take participants behind the scenes to meet some of Grandfather Mountain's resident black bears and learn all about them, including their names, daily routines, care, histories and more. Meet-the-Bears Tours are offered on weekends, April through October. Tours last approximately 30 minutes and are offered at 11 a.m. Reservations are required.
Behind-the-Scenes Habitat Tours allow guests to see where the cougars, otters and elk sleep overnight, meet black bears that are not commonly on display, learn the ins and outs of what it takes to care for the animals year-round, observe a training session and find out why the animals call Grandfather Mountain home. Behind-the-Scenes Habitat Tours are offered on weekends, April through October. Tours last one hour and are offered at 12:30 p.m. and 1:15 p.m. Reservations are required.
"Paint With an Otter," a new experience in 2023, allows participants to meet an otter, choose nontoxic paint colors for the artwork and watch as a habitat keeper guides the animal through the painting enrichment. Participants are able to select the painting they like the best to take home. The experience lasts for 30 minutes and is offered on weekends, April through October, at 11:30 a.m.
"Keeper for a Day" returns after a three-year hiatus and offers participants the unique experience of learning how to care for Grandfather's resident animals, clean their habitats and prepare their food. "Keeper for a Day" also includes a painting session with one of the habitat animals. This three-hour "work shift" is offered on Tuesday mornings, April through October.
To learn more about Grandfather Mountain experiences, visit www.grandfather.com/experiences.
Individuals with limited mobility should inquire about availability when booking "Meet the Bears" or "Paint With an Otter." A UTV is available to transport guests with mobility issues if lined up in advance.
EVENTS
Hugh Morton Photography Exhibition
Weekends: March 18-May 14, Daily: May 15-29
The traveling exhibition, "Photographs by Hugh Morton: An Uncommon Retrospective," continues its run at Grandfather Mountain this spring, featuring 100 framed photographs, including one 7-foot-long panorama, inside the Wilson Center's Classroom in the Clouds. Included in park admission.
Grandparents' Day
Sunday, April 23, 10 a.m.-3 p.m.
NEW! This will be a day of fun and interactive programs meant to be attended by the whole family. Bring your grandchildren — or grandparents — and explore nature together! Included in park admission.
The Remarkable Rhododendron Ramble
1 p.m. (May 27-June 3) and 11 a.m.-3 p.m. (June 4)
From May 27 through June 3, daily, short, guided strolls will highlight Grandfather Mountain's rhododendron species and blooms. The weeklong rambles culminate on Sunday, June 4, when you can celebrate the blooms with more guided rambles, kid crafts and special displays. Rambles will take place at 12 p.m., 1 p.m. and 2 p.m. during the all-day ramble. Included in park admission.
National Trails Day
Saturday, June 3, 11 a.m.-2 p.m.
NEW! This day will feature a variety of interpretive tables and programming at the Woods Walk on topics such as how to plan a hike, Leave No Trace, essential items needed in a backpack and more. At least one guided hike will be offered. This year has been declared the "Year of the Trail" by the N.C. Legislature. Included in park admission.
Nature Photography Weekend
June 9-11
This popular shutterbug weekend includes presentations from top nature photographers, hands-on breakout sessions, a friendly contest and the rare opportunity to photograph the mountain's spectacular scenery and native animals before and after regular business hours. Additional cost.
Animal Birthday Party
Wednesday, June 14, 11 a.m.-3:30 p.m.
Grandfather Mountain celebrates the birthdays of its resident animals with games, contests, crafts and surprises. The mountain's habitat staff will prepare a fun-filled day for guests, as well as programs to celebrate the park's furry and feathered inhabitants. Included in park admission.
BioBlitz
Saturday, June 17, 10 a.m.-4 p.m.
NEW! Grandfather Mountain Stewardship Foundation staff joins N.C. State Parks and other conservation agencies to survey the unique ecology on the mountain. A BioBlitz is a communal citizen-science effort to record as many species within a designated location and time period as possible. Park guests are invited to join us for a special day of programming that will run alongside the BioBlitz. Included in park admission.
See more events on our Calendar.
BLOOMS
Spring and the leaves starting to bud on trees is always a welcome sight after winter at Grandfather. Dutchman's breeches, spring beauties, trout lilies, squirrel corn and chickweed are just some of the very first wildflowers of the spring.
The months of May and June see the beloved rhododendrons, azaleas and mountain laurel make their return, among others. A treat in late April and May, pink-shell azalea can be found growing across the park. This subspecies of the rhododendron family, considered vulnerable globally, has delicate pink blooms.
Visitors hoping to take in the sights, and scents, of the bountiful blooms on the mountain can plan ahead by referencing Grandfather's Wildflower Bloom Calendar at www.grandfather.com/wildflowers-calendar.