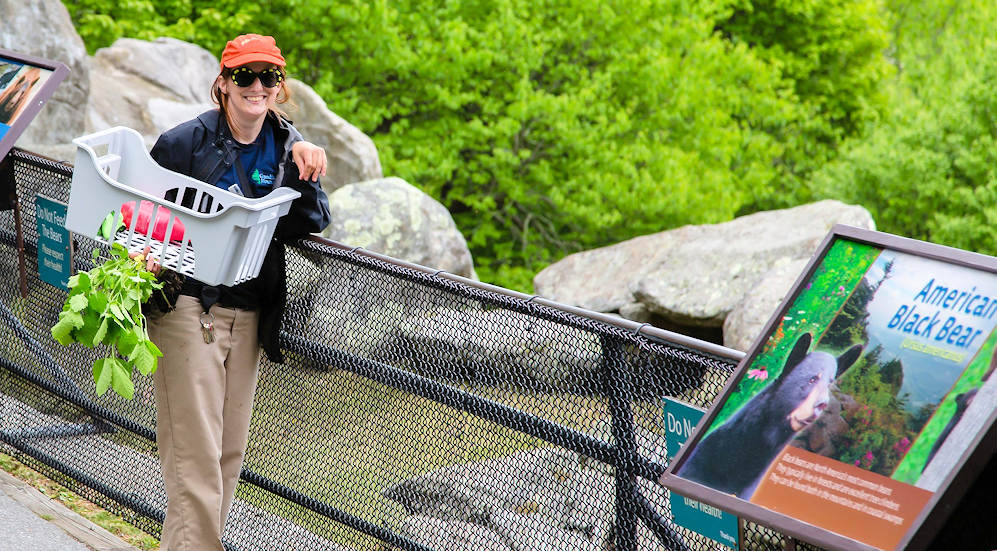 Learn how to care for the animals, clean up, and prepare food. Spend your morning shadowing keepers and observing animal behavior and the inner workings of the wildlife habitats.
Arrive at 8 a.m., meet the keepers, and go to work! Assist as we let out the animals, feed them and clean their habitats. You may be asked to lift and carry animal food, tools or other items. Learn about training and providing enrichments. End your exciting shift at 11 a.m.
Keeper for a Day also includes a painting session with one of our habitat animals. You or your group (maximum of two people) will select an assortment of paint colors. Your habitat guide will spray some of the non-toxic paint on the ground along with sheets of paper inside the animal holding area. Watch the animal walk and paint for a few minutes to create one-of-a-kind artworks. After the animal is finished painting, each participant selects the painting they like the best to take home.
Keeper for a Day Details
Available to book on Tuesdays, April through October.
Limited to two persons per day. Keepers for a Day must

be 12 years of age or older,

be capable of walking up and down steep, rough terrain and

sign a waiver of liability.

No pets allowed in habitat area.

Photography is permitted, but we ask that guests don't share images from the behind-the-scenes area on social media.

You will get dirty! Please wear appropriate, closed-toe hiking or work boots and no loose jewelry. Coats, jackets, gloves and hats are recommended for cooler weather. Please bring sunscreen.
Keeper for a Day will continue on schedule regardless of weather conditions. In the event that weather conditions could affect the opening of the habitats, you will be contacted. The weather on Grandfather Mountain can change at a moment's notice. Temperatures are commonly 5 to 10 degrees colder than what they are at the bottom of the mountain in Linville. Dress in layers and be prepared for any weather condition.
The cost is $120 per participant ($86 each for Bridge Club members). Admission to the park is included.
Keeper for a Day must be booked at least one week in advance by calling 828-733-8715. Please allow 24 hours for a response.
See other Experiences and Daily Programs.