Nature Photography Weekend
May 31, 2019

-

June 2, 2019

$10 – $115

Visit Grandfather Mountain to attend presentations from top nature photographers, while photographing spectacular scenery and native animals before and after regular business hours. Additional cost. Online registration begins April 15.
The event features presentations from renowned photographers, spectacular shooting opportunities on the mountain and a friendly, but competitive (and optional), photo contest.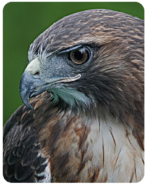 The featured presenters for 2019, including Mike Moats, Tony Sweet, Lisa Langell, Vinny Colucci and J. Scott Graham, hail from throughout the country and will speak on a variety of photography topics encompassing both the technical and artistic elements of the craft and beyond.
Presentations take place in the afternoons and evenings, allowing participants to explore Grandfather Mountain and take their own shots during the day, while also participating in several outdoor field sessions (weather permitting) with professional photographers. Opportunities for sunrise and sunset photography will also be offered.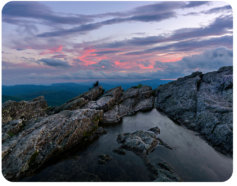 Participants are invited to camp for free at the Woods Walk Picnic Area during the weekend, taking advantage of one of the few opportunities to stay overnight inside the park.
Admission to Nature Photography Weekend is $115 and covers three-day park admission, a Saturday evening meal, entry to all presentations and field sessions and a flash drive for submitting contest entries. A $95 level includes all of the above, but does not include participation in the photo contest.
Family members and guests of participants may visit the mountain at a discounted rate during the weekend if registered in advance.
Online registration began at 9 a.m. Monday, April 15. The event is now SOLD OUT, although a waiting list is available, should a space open up. To be placed on the waiting list, please email frank@grandfather.com.
The Contest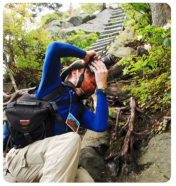 The Grandfather Mountain Nature Photography Weekend includes a friendly but competitive contest. Speakers give presentations during the evening sessions, leaving the days free for participants to practice their skills at one of the most spectacular destinations for photographing nature in the Southeast.
Participants will turn in their digital images at 3 p.m. Saturday on a flash drive supplied by Grandfather Mountain in the registration packet. Each person selects three images to enter in any combination of four categories (Animals in Habitats, Animals in the Wild, Wildflowers and Scenic) and two classes (beginner or advanced).
Images may be touched up using computer software. Be warned that the judges do not look kindly on contrived images (like placing a giant gorilla on Linville Peak) or photos that have been manipulated to the degree that they violate the spirit of the contest (like bringing the end of a rainbow down in the center of the Mile High Swinging Bridge).
You will need to bring (or borrow) a computer to save your images to the flash drive. Grandfather Mountain cannot promise computer time to any participant. Since power outlets can be few and far between, we also encourage guests to bring power strips, so there's no shortage of charging opportunities.
To see the contest rules, click here.
Camping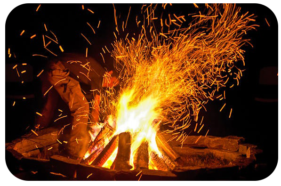 Although Grandfather Mountain does not operate a commercial campground, campsites are available at no charge in the Grandfather Mountain Woods Walk & Picnic Area for our NPW guests.
The picnic area has bathrooms and water fountains, but no other amenities. No formal spots are reserved, but folks usually have no trouble finding a place to pitch their tents or park their vehicles.
If you're camping, be sure to display your camping pass (included in your packet) in a visible spot on your dashboard at all times when you're in the park.
Registration & Check-In
Registration is now CLOSED, as the event is SOLD OUT. However, a waiting list is available, should a space open up. To be placed on the waiting list, please email frank@grandfather.com.
Online registration opened at 9 a.m. Monday, April 15.
Check-in will take place during the event from 10 a.m. to 5:45 p.m. Friday, May 31, with late check-in from 8 a.m. to 9 a.m. Saturday, June 1. The location for Friday check-in is MacRae Meadows (Gate 3), about 10 yards on the Linville side of the driveway from the Grandfather Mountain Office and 30 yards on the Linville side of the attraction Entrance Gate. In the case of torrential rain, registration will move to the Nature Museum. Late check-in takes place at the Nature Museum.
Cancellations
Contestants and participants may cancel their registration for a full refund through 5 p.m. Friday, May 24. Following that date, refunds will not be offered.
To download a schedule of events for the weekend, please click here. NOTE: Schedule is subject to change.
To download the Field Session schedule, click here.
For Other Accommodations
High Country Host
www.highcountryhost.com
800-468-7325
Banner Elk Tourism
www.bannerelk.com
Avery Banner Elk Chamber of Commerce
www.averycounty.com
800-972-2183
Tickets
Online registration opened Monday, April 15. Purchase tickets below! If tickets are sold out, email frank@grandfather.com to be placed on the waiting list.
Related Events