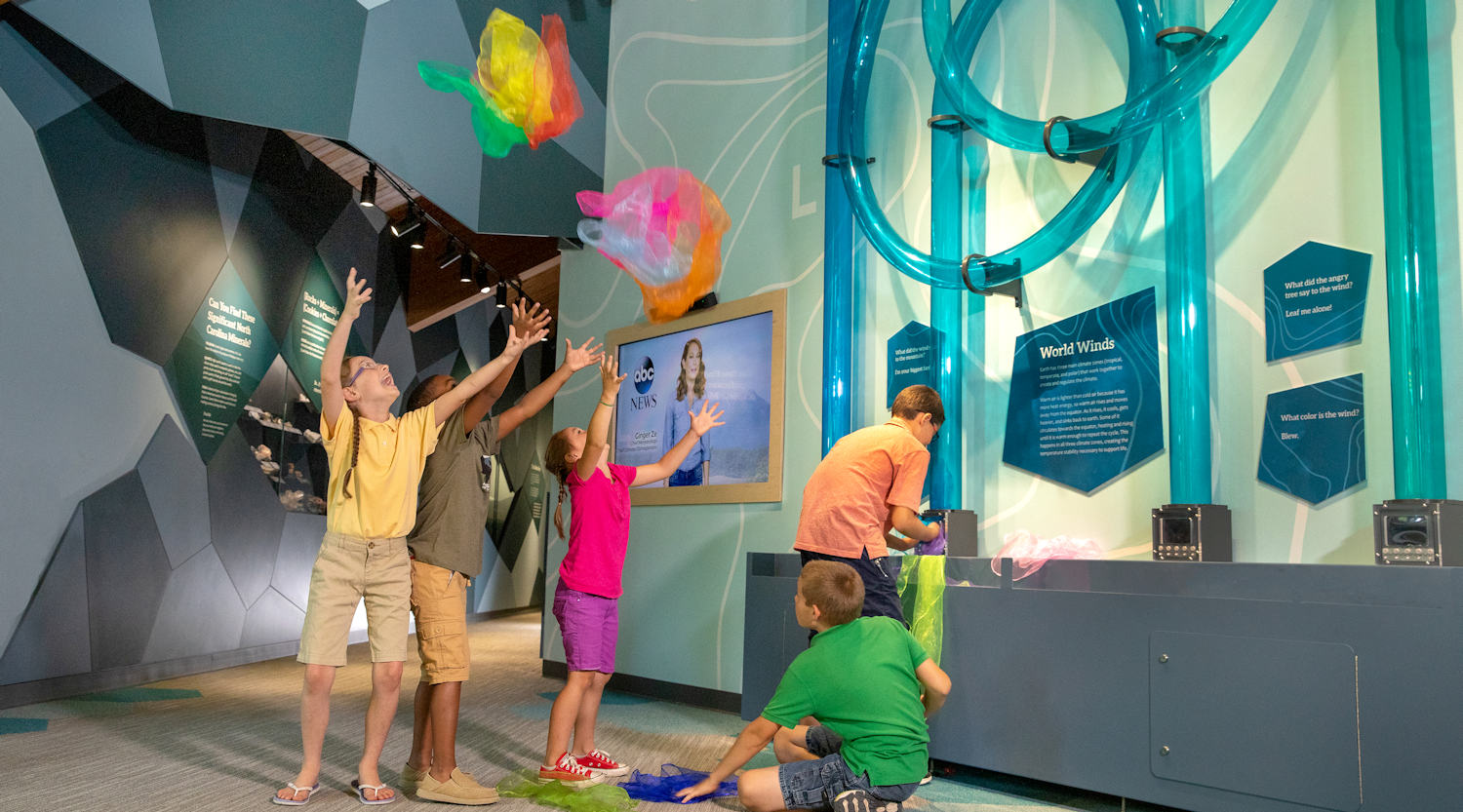 Find plenty of family fun things to do on Grandfather Mountain! Generations return with their children and grandchildren to Grandfather to walk across the Mile High Swinging Bridge, see the animals, explore the hands-on exhibits, hike the trails, picnic and enjoy the magical views.
Here are few ideas especially for family trips:
Explore Wilson Center for Nature Discovery
The Wilson Center is home to state-of-the-art educational exhibits, classrooms, an ADA-accessible theater, restaurant, and more. Exhibits include a 3D interactive map of the mountain, flora and fauna walls with field guide touch screens, a fun hands-on demonstration of wind speeds and other exhibits focusing on the mountain's natural history and geology. Check out the largest amethyst ever found in North America via spinable turntable, and see minerals that glow in the Mineral Cavern!
See the Animals
Stroll through the Wildlife Habitats to see bear, bald eagles, otters, elk and cougars. Read more.
Walk the Mile High Swinging Bridge
Create lifetime memories for children by walking across the famous Mile High Swinging Bridge! While the Bridge is very secure and safe, be sure to keep a close watch of children scrambling on the boulders on each side of the bridge. If you are using a stroller or wheelchair, find an elevator inside the Top Shop to eliminate any steps. Read more!
Become a Junior Naturalist
Grandfather's Junior Naturalist program includes an activity book that invites children to explore the mountain, wooden collectible badges and a seasonal e-newsletter for participants. Park Naturalists also offer an 11:30 a.m. Junior Naturalist activity (weekends in spring and fall and daily in the summer) geared toward 5- to 10-year-olds. Read more about our Junior Naturalists.
Dig Deeper
Daily programs (April-October) are great for kids and families to discover and learn even more from our mountain – with topics including weather, animals, plants and a variety of science lessons. See our full list of Daily Programs.
Take a Hike
These three easier trails allow you to get out in nature with children of all ages. See our Hiking Guide for details.
Woods Walk: Looping from a picnic area near the entrance gate, it's perfect for an easy woodlands stroll with the smallest kids. 0.4 mile
Bridge Trail:

 

Begins at the Black Rock Parking Area and ends by the

 

Top Shop

 

at the Mile High Swinging Bridge, with soaring ock formations along the way. 0.4 mile each way
Black Rock Trail: Very scenic trail that begins at the Black Rock Parking Area and ends with scenic views from atop a rock outcropping. 1 mile each way
Picnic
Find many tables ready for a fun family picnic. These are available all year long. Bring your own meals and utilize numerous charcoal grills, or pick up lunch at Mildred's Grill inside the Wilson Center. Read more about picnic options!
Beat the Summer Heat
Grandfather Mountain is literally one of the "coolest" places around. Sweltering in a heatwave in your hometown? The highest temperature ever recorded on the mountain is 83.2 degrees Fahrenheit. Grandfather is always an enjoyable 10-20 degrees cooler than the surrounding foothills.
More Ideas
Go to "Plan Your Visit" for more tips for your trip and see more Things to Do on Grandfather Mountain.