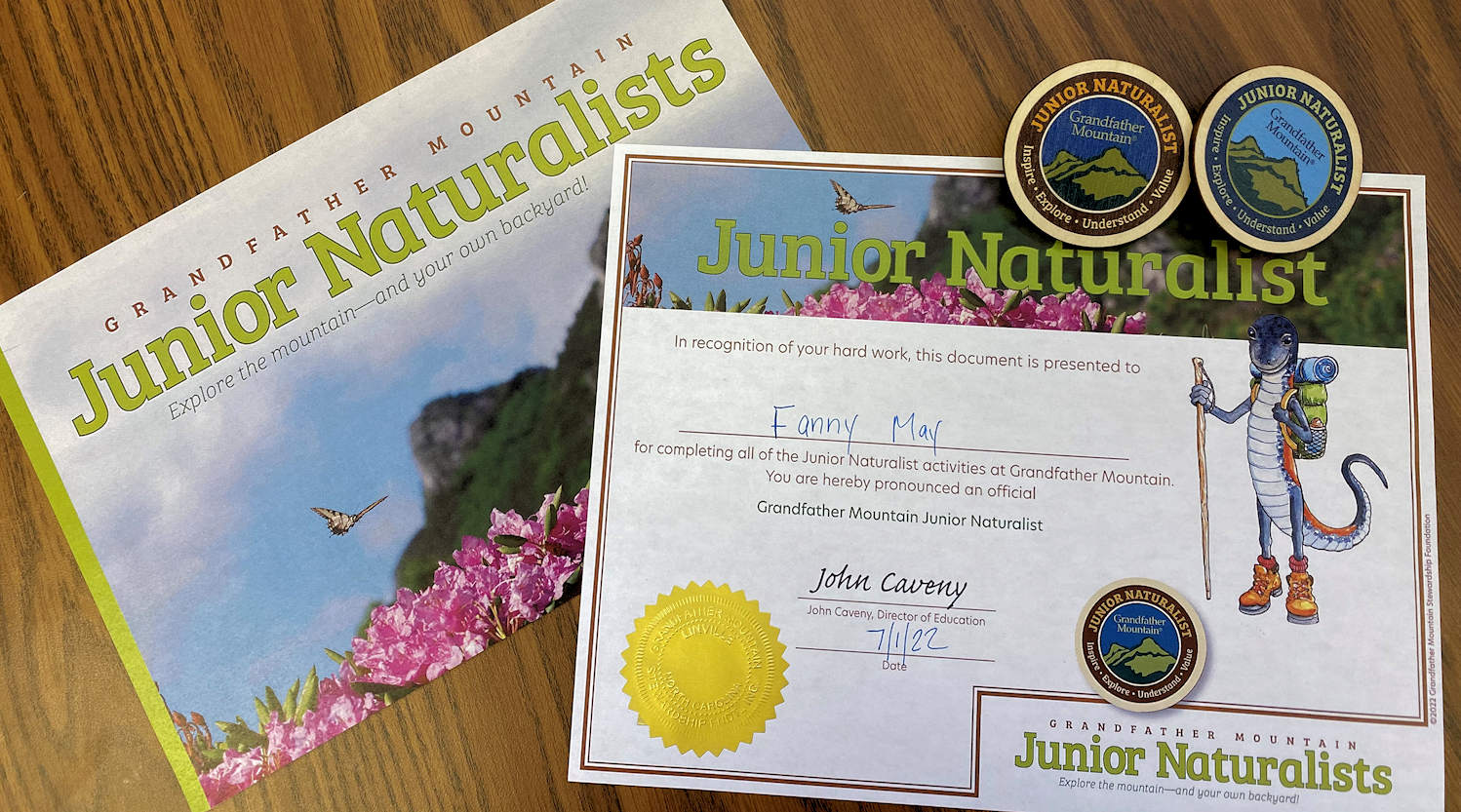 While the Junior Naturalist Daily Program occurs once a day April – October, kids can set off on their own mountain adventure anytime while visiting the park with Grandfather's Junior Naturalist activity book. Aspiring young naturalists explore the park with Yonni the Yonahlossee Salamander as their guide as they learn about the wonders of Grandfather Mountain.
As the kids visit the animal habitats, Wilson Center exhibits, walking and hiking trails and Mile High Swinging Bridge, Yonni encourages them to use their observation skills to identify elements of the natural world around them. Kids are also encouraged to interact with the parks' naturalists and educators as they complete the guide. Best of all, the activity inspires kids to continue the exploration when they return home and to protect the natural environment around where they live.
Once a child completes the activity booklet, he or she can turn it in to staff or a volunteer at the welcome desk at the Wilson Center for Nature Discovery or the Entrance Gate. The child then receives a certificate and wooden Junior Naturalist badge. There are different collectible badge designs so children are welcome and encouraged to complete the activity multiple times during additional visits to Grandfather Mountain.
After completely the activity book and receiving the certificate and badge, the child (or their parent) can submit an e-mail address to receive a quarterly Junior Naturalist e-newsletter from Yonni and Grandfather Mountain. E-newsletters include fun facts about the mountain, information about how kids can protect the nature around them at home, exciting updates from Yonni and his animal friends and discount coupons for the park!
Planning a visit to the mountain with kids? Pick up a Junior Naturalist booklet from the Wilson Center during your next visit and help inspire your aspiring young naturalist!
Junior Naturalist Daily Program
Attend at 11:30 a.m., April through October, near the Pollinator Garden by the Wilson Center. This 30-minute program teaches about animals through fun activities. Grandfather Mountain educators help individuals use scientific tools to make observations about natural phenomena. Geared toward 5-10 year olds, but we welcome younger and older students. It's included in your admission ticket.
2023 Times
11:30 a.m. weekends (April 1 to May 28)
11:30 a.m. daily (May 29 to Aug. 20)
11:30 a.m. weekends (Aug. 26 to Oct. 29)
Read about our other Daily Programs that are included in your admission.