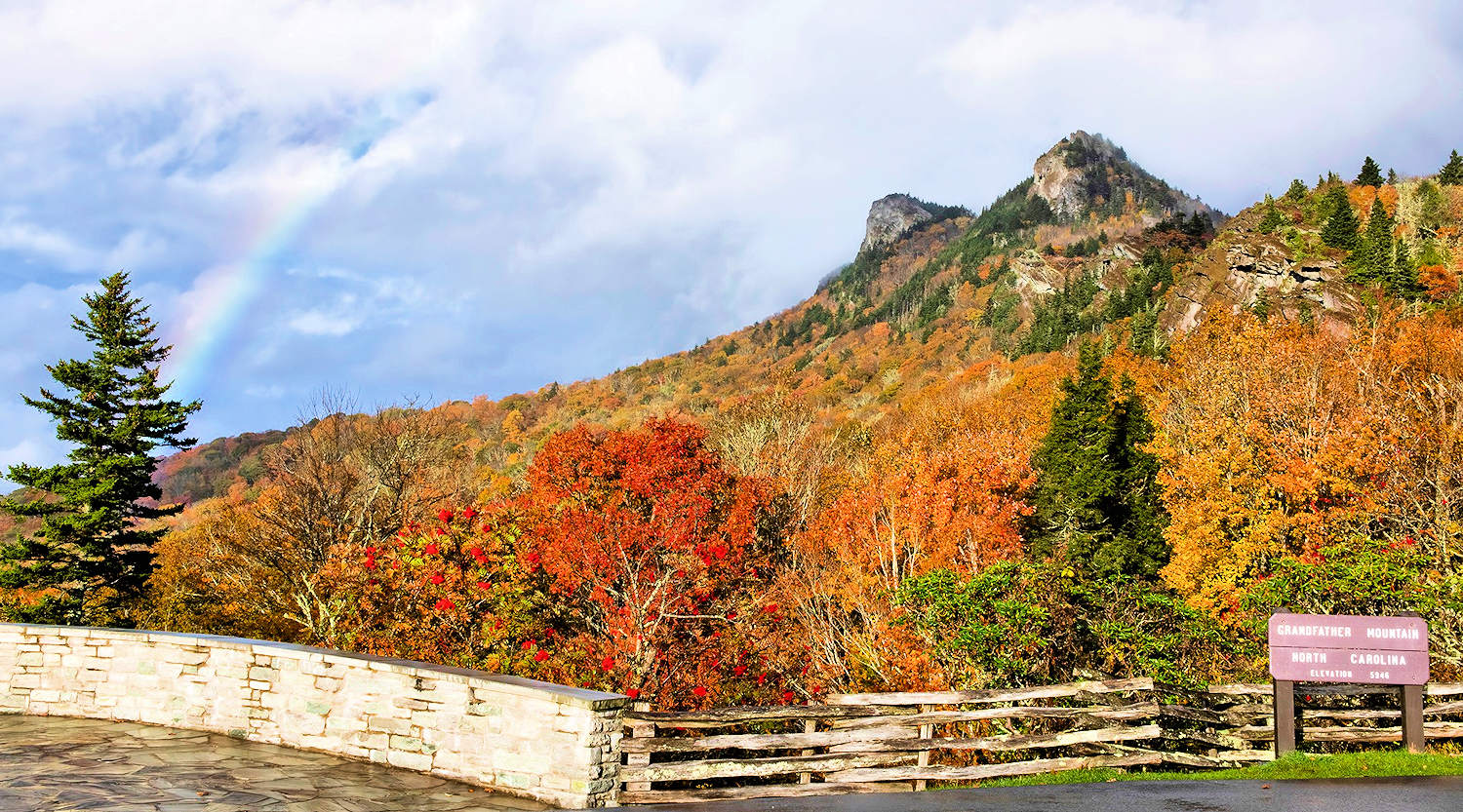 Fall Visits: Insider Tips
The fall season on Grandfather Mountain (September & October) is certainly a favorite for many as the crisp cooler temperatures ushers in the leaf color show that lasts for many weeks. See our Fall Color Gallery for color updates. Here are some insider tips for getting the most out of your mile-high excursion to Grandfather.
Book your timed entry and tickets in advance! Fall can be a busy time on the mountain, and you don't want to miss out. Reserve here.
There's certainly enough things to do on the mountain to spend an entire day. But you have less time, you have many options. See our full list of Things to Do. Top destinations for visitors are the Mile High Swinging Bridge, the Wilson Center for Nature Discovery and the Wildlife Habitats.
Wanting to hike? Plan ahead and choose the right trail on our Grandfather Mountain Hiking Guide. Also, make sure to check the weather before your visit, dress appropriately (with multiple layers, including a waterproof jacket) and bring plenty of water and snacks! Get hiking tips.
Check the schedule of many daily programs included in admission before your trip. (Tip: This schedule is also posted throughout the park via QR code.)
Take part in the Fall Color Ramble, a 30-minute guided walk with park naturalists focused on the leaf change, at 1 p.m. Sept 30 – Oct 8, 2023, (with potentially more dates, depending on conditions). And, an All-Day Ramble is set for 10 a.m. to 3 p.m. on Saturday, Oct. 14.
On weekends, sign up in advance for "behind-the-scenes" Experiences with a naturalist or wildlife expert.
Bring some layers in the car. Fall days at Grandfather are usually crisp and cool! (Tip: Visit our gift shops, located in the Wilson Center for Nature Discovery and Top Shop, for Grandfather Mountain apparel.)
Look for fresh ways to see the color show. The views up top are nice, but also check out the vantage points from the viewing areas around the bear and elk habitats. The Woods Walk is also nice!
Look down. Fall is a great time to enjoy wildflowers and spot interesting fungi on the trails. Remember to leave nature for others to enjoy!
Pack a picnic, or plan to eat lunch at Mildred's Grill. Need to recharge after a hike? Pick up a fall treat like fudge, a slice of pie or hot cocoa. (Tip: You can also get your food to-go so you can still enjoy the fresh air and views!)
Speaking of a picnic, Grandfather has over 100 picnic spots – some with grills, ALL scenic! See our Picnic Guide for details.
Enjoy a wonderful windshield tour as you drive up our 2-mile Scenic Drive to the Top – on of the most beautiful drives in the Blue Ridge with plenty of stops along the way.
Visit our gift shops, located in the Wilson Center for Nature Discovery and Top Shop, for Grandfather Mountain apparel and souvenirs.
Posting your photos to social media? Be sure to tag #grandfathermtn, and your photo may just make it onto our website home page!
When is peak color? Leaves begin changing color at the highest elevations and gradually work down the slopes into the valleys over several weeks. Typically, the first fall colors appear on Grandfather Mountain in mid to late September. Peak color toward the summit is usually early October. The lower sections of the park peak in mid October. Color views into the much lower valleys extend into late October. Learn more about the science behind our leaf season!
Fall 2023 Grandfather Mountain Events
Check the schedule of events before your visit to plan what you'd like to do. Some require advance registration and fill up quickly. Here's a sampling:
More info: Plan Your Visit here!