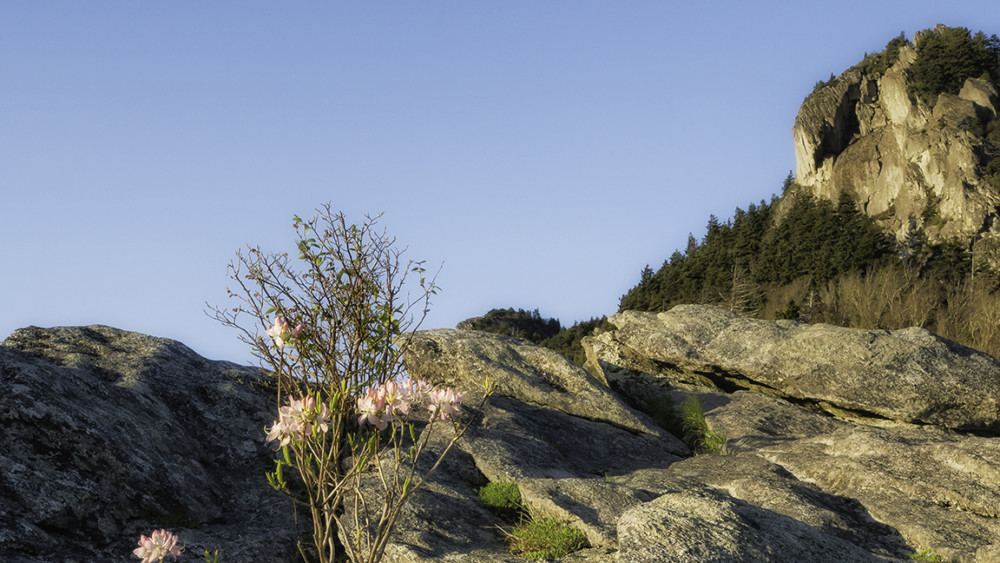 Changes in terrain, soil, vegetation, wind, water and sunlight create conditions to support 16 distinct natural communities on Grandfather Mountain.
Hiking in the Blue Ridge is always memorable, but the backcountry of Grandfather Mountain is an unexpected treat because it is a haven for some of the most biologically diverse wild places in the Southeast. Among the highest in the southern Appalachians, Grandfather's dramatic cliffs and steep slopes greatly increase people's awareness of its height.
Grandfather is an extraordinarily rugged mountain with more exposed rocks and crags than any other mountain in the Southern Appalachians. Its position, unusual height, high pH soil types, density of vegetation, moist cool climate and other features combine to produce a mosaic of specialized habitats.
As mentioned above, there are 16 different classifications of natural communities on Grandfather, which means that as you hike the backcountry trails you will remain constantly enchanted with the diversity of life around you. It would normally take several days of backpacking through another wilderness area to encounter as many distinct natural communities as you will see in a single day's hike on Grandfather.
To illustrate the diversity on this mountain let me take you just 2.7 miles on Profile Trail. We begin at the trailhead on NC 105, walking beside a rocky mountain stream shrouded by rhododendron, while a dense, deciduous canopy looms overhead. The lower sections of this trail will weave in and out of Rich Cove and Acid Cove Forests. Rich Coves are open and airy, the ground covered with lush herbs (ferns and other non-woody vegetation), while acid coves harbor a dense shrub layer, dominated by rhododendron, with few herbs.
The trail continually gains altitude as it winds like a ribbon up the hillside. Transitions are subtle as the coves give way to a Northern Hardwood Forest, with the growing presence of red spruce in the canopy. Expect to see an understory of mountain maples and rhododendron; an herb layer also thrives in this moist forest reminiscent of more northerly climates. While hiking this part of the trail you will also encounter a section of Canadian Hemlock Forest, the shrub layer once again dominated by rhododendron.
As the "Profile View" draws near, so does the transition into Boulderfield Forest. Three different habitats are interwoven here. The forest is cool and wet due to water seeping from just below the surface. At first the dominant tree is yellow birch, known for its ability to grow atop rocks and logs. The many boulders around you are alive with mosses, ferns and other vegetation. As you continue climbing you enter the High Elevation Seeps with their own dense beds of wetland herbs. Melded into this section of the trail is the beginning of the Red Spruce and Fraser Fir Forest.
As we reach the top of Profile Trail we have walked only 2.7 miles, yet we have passed through seven different natural communities. The Calloway Trail beckons you to continue; Heath Balds, Montane Acid Cliffs and High Elevation Rocky Summits are among the many habitats that enchant and amaze those who choose to trek onward.
If you would like to learn more about the natural communities at Grandfather and other natural areas in North Carolina, contact the NC Natural Heritage Program at 919-733-4181. Grandfather Mountain also provides guided hikes (available by appointment) emphasizing the birds and wildflowers of the mountain.
by Judy Jessup, Nature Conservancy Volunteer