After passing by Half Moon Overlook and the Woods Walk Picnic Area as you drive up Grandfather Mountain, the next popular photo spots near the Wilson Center for Nature Discovery are more than 640 million years old. Sphinx and Split Rock have greeted guests since the park was founded in 1952 and well before that time. In fact, these rock formations are older than the mountain itself.
Exploring Split Rock is best done on foot in order to get the best vantage point of the great split or crack in the rock that runs all the way down the formation. This huge split in the rock is due to weathering over millions of years that resulted in small cracks in the rock due to the formation of ice. Walk down the pathway to see additional vantage points of Sphinx Rock, as well. Please note that climbing on these ancient monoliths is not permitted.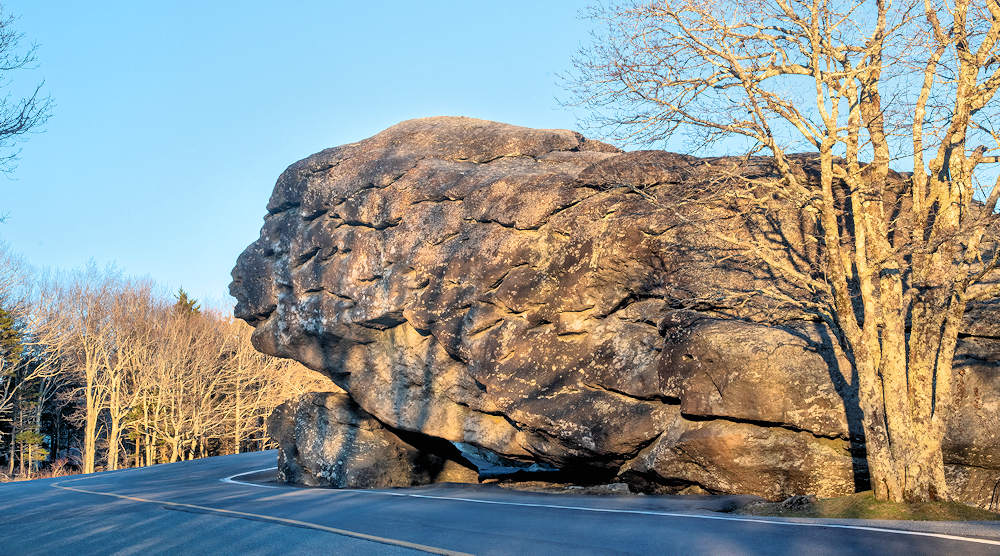 Similar to how Grandfather Mountain's rocky peaks and ridgelines resemble the face of an old man looking toward the heavens, Sphinx Rock also best resembles its namesake: the ancient Egyptian monolith of a pharaoh's head on top of a lion's body. While it may take some squinting and a little imagination upon first glance, you may see a face stuck in a perennial kissing motion!
The Sphinx Rock is much older than the man-made Egyptian Sphinx — and weighs more than 2 million pounds. The best view of Sphinx Rock is roadside. In fact, you drive underneath the Sphinx's ancient profile as the road snakes around it. Find parking adjacent to the rocks, along with a walkway to the Wildlife Habitats and the Wilson Center for Nature Discovery. Picnic tables are also scattered throughout these locations.
These rocks likely formed in an ancient riverbed in a mountain formation older than the Appalachians through millions of years of stone and sediment deposits. It is believed that these rocks once resided at a much higher elevation when Grandfather Mountain was as tall as the Himalayas before tumbling down eons ago to their current location. Read more about how Grandfather was formed.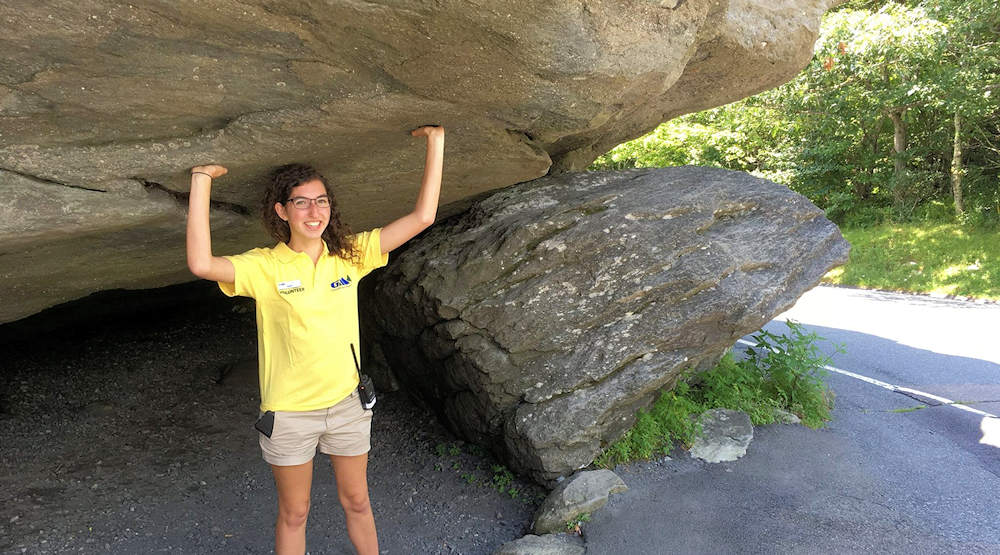 For generations, guests have loved taking photos of their friends and family having fun holding up the giant boulders or capturing the split and face in the rocks. During the month of May, Flame Azaleas bloom here. Autumn is a great time to capture natural color pallets during the months of October.
When posting photos to social media, be sure to use the #grandfathermtn hashtag for a chance to be featured on Grandfather Mountain's website and social media accounts!
Read more: Grandfather's Unique Ecology | International Biosphere Preserve | Things to Do