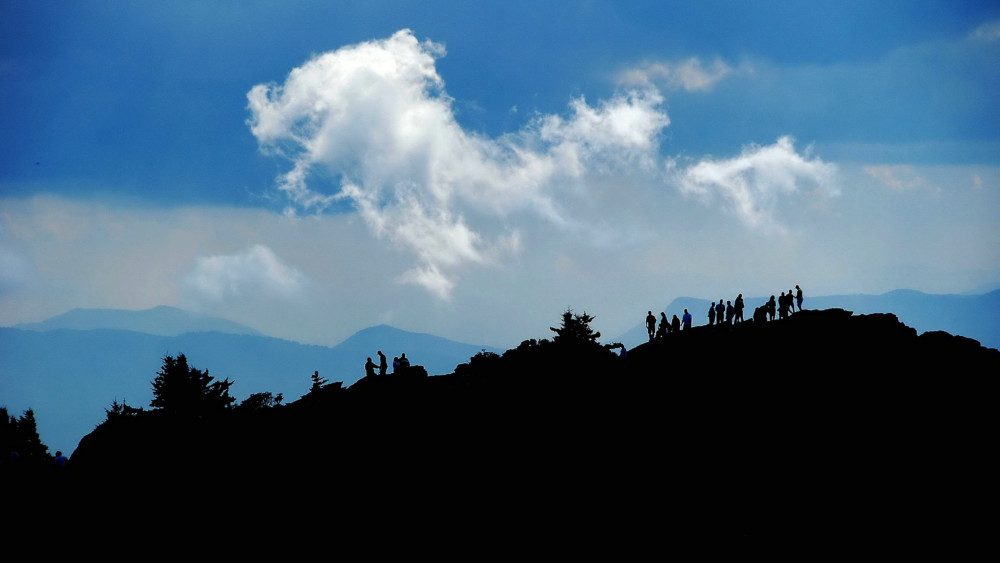 Ownership
The 720-acre Grandfather Mountain travel attraction is operated by the Grandfather Mountain Stewardship Foundation, a not-for-profit corporation that was established in 2009 and aims to "Inspire conservation of the natural world by helping guests explore, understand and value the wonders of Grandfather Mountain." All proceeds from sales of tickets and souvenirs go toward caring for and presenting Grandfather Mountain in a manner that inspires good stewardship in others.
The State of North Carolina owns 2,500 acres of Grandfather's undeveloped backcountry, which it operates as Grandfather Mountain State Park. The Grandfather Mountain Stewardship Foundation maintains an active role in the protection and maintenance of Grandfather Mountain State Park area.
Key Personnel
Jesse Pope, Executive Director
Jesse Pope, a 14-year employee of Grandfather Mountain, most recently served as assistant vice president and director of education and natural resources. During his time at Grandfather Mountain, Jesse also worked as a seasonal trail ranger and on the animal habitats staff before launching the park's naturalist program, which he led for six years. As executive director, Jesse is responsible for the overall management of the park's staff and programs and execution of the organization's strategic plan. He also serves as the public face of the Stewardship Foundation, while educating the public about its purpose, deepening its community involvement and embarking on a targeted fundraising campaign to raise the organization to the next level.
Harris Prevost, Vice President
Harris joined Grandfather Mountain Inc. in 1978 and became a Vice President in 1992. Over the years, he served as President of the N.C. Travel Industry Association, North Carolina High Country Host, the Blue Ridge Parkway Association and the Southern Highlands Attractions Association. He also served as Chairman of the Appalachian Regional Healthcare System Foundation Board and Vice Chairman of the North Carolina Mountain Resources Commission
Elevation
Geologic Age
Grandfather Mountain and its rocks reveal a long history of rock formation and mountain-building that dates back to 1.1 billion years ago. Today the mountain you see is the end product of two things: the mountain-building that culminated 300 million years ago and the erosion that has been ongoing for over 100 million years and continues today.
Acreage
Approximately 3,200 acres. About 2,500 acres of that is Grandfather Mountain State Park, and 720 acres is the scenic travel attraction operated by the Grandfather Mountain Stewardship Foundation.
Geologically and biologically, the Grandfather Mountain Biosphere Reserve is much larger and includes lands owned and managed by The Nature Conservancy, the US Park Service and the US Forest Service.
Location
Located on US 221, one mile south of the intersection of US 221 and the Blue Ridge Parkway and two miles north of Linville, North Carolina
Traveling Distances
75 miles northeast of Asheville, 100 miles northwest of Charlotte, 50 east of Johnson City, TN, 19 miles south of Boone, 15 miles south of Blowing Rock
Season
Open all year, weather permitting. Hours vary seasonally. Closed Christmas Day and Thanksgiving Day.
2019 Admission Rates
$22 adults (13-59); $20 seniors 60+; and $9 children 4-12. Under 4 free. Discount rates available for groups of 20 or more when booked in advance.
Attendance
Approximately 300,000 people per year.
Employees
36 full time, approximately 55 additional seasonal employees
Mile High Swinging Bridge
The Mile High Swinging Bridge is named for its elevation above sea level (5,280 feet). The bridge is 228 feet long and spans a chasm that is 80 feet deep.
The bridge was built in 1952. It was first constructed in a plant in Greensboro, NC, and later erected on Grandfather over a three-week period in the late summer of 1952.
The first person to cross the bridge was Merle Umstead, the 9-year-old daughter of dedication speaker Gov. William B. Umstead.
The Bridge was rebuilt in 1999 using the original towers. The cables, floor boards and side rails were all replaced using galvanized steel.
The new design was prepared by Sutton, Kennerly & Associates Engineering of Asheville, N.C. Construction was completed by Taylor & Murphy Construction Company of Asheville at a cost of $300,000.
One of the main advantages of the modern building materials is that they do not have to be painted. Now Grandfather Mountain employees will not have to hang out over the gorge to paint the span.
UN Biosphere Reserve
In 1971, the United Nations Educational, Scientific and Cultural Organization (UNESCO) began a worldwide program designed to help land managers share scientific knowledge and practical experiences.
In 1992, Grandfather Mountain was accepted into the international network of biosphere reserves. As of May 2009, there were 553 biosphere reserves in 107 countries.
Criteria for selection as a Biosphere Reserve are that the property must be:
a sample of a unique ecological community
permanently protected from uncontrolled development
with a history of scientific research and monitoring
that provides for training of resource management professionals
and is dedicated to consciousness-raising with respect to current ecological issues.
The Nature Conservancy
The Nature Conservancy considers Grandfather Mountain an ecological site of global significance, as it provides habitat for more globally rare species than any mountain east of the Rockies.
Grandfather's partnership with The Nature Conservancy began in 1990 when Grandfather Mountain, Inc. began donating or selling a series of conservation easements that forever protect the Grandfather Mountain backcountry from development.
| | | |
| --- | --- | --- |
| Year | Obtained by TNC From: | Acreage |
| 1990 to 2001 | Grandfather Mountain, Inc. donated conservation easements (legally binding agreements not to change the natural character of the property) | 1,460 acres from the crest of GM to the Blue Ridge Parkway in what is known as the GM Backcountry |
| 1993 | Property donated by the Wilmor Corp., of which Hugh Morton was a junior partner | 357 acres on the north slope of GM near the intersection of NC 105 and NC 184 |
| 1993 | Property purchased from the Wilmor Corp. with a grant from the Stanback Foundation | 291 acres on the north slope of GM near the intersection of NC 105 and NC 184 |
| 1993 | Property purchased from a group of local investors with a grant from the Stanback Foundation | 300 acres on the north slope of GM above Inverlea resort. |
| 1996 | Property donated by the Wilmor Corp. | 47 acres on the north slope of GM near the intersection of NC 105 and NC 184 |
| 2000 | Linville Resorts | 322 acres on the south slope of Grandfather at the headwaters of Grandmother Creek |
| 2004 | Easement sold by Grandfather Mountain, Inc. to TNC at one half its fair-market value. The sale was financed by a grant from the Clean Water Management Trust Fund, a fund established by the General Assembly of North Carolina to protect and restore water quality in the Tar Heel state. | 925 acres at Boone Fork Creek (the headwaters of the Watauga River running from the top of Calloway Peak to the Blue Ridge Parkway near Julian Price Park) |
| 2006 | Easement sold by Grandfather Mountain, Inc. to TNC at one half its fair-market value. Funds for the purchase were awarded to the Conservancy by the state's Clean Water Management Trust Fund. | 73 acres that encompass the Profile Trail, including 3,000 feet on both sides of the Watauga River. |
| June 2009 | Grandfather Mountain sold 2,700 acres of the Grandfather Mountain backcountry to the state of North Carolina for the Grandfather Mountain State Park. All of those acres are under the permanent protection of Nature Conservancy easements. |   |
In all, The Nature Conservancy manages almost 1,300 acres on Grandfather Mountain – with an additional 2,700 acres protected by Nature Conservancy easements and managed by North Carolina State Parks.
Ecological Communities
Grandfather Mountain supports 16 distinct ecological communities, each supporting its own unique web of life. It is Grandfather's abrupt rise above the valley floor that causes the change in elevation and climate conditions that supports such a diversity of life.
Fraser Fir Forest
Red Spruce-Fraser Fir Forest
Heath Bald
High Elevation Red Oak Forest
Montane White Oak Forest
Northern Hardwood Forest – Typic Subtype
Northern Hardwood Forest – Beech Gap Subtype
Bolderfield Forest
Rich Cove Forest
Acidic Cove Forest
Canada Hemlock Forest
Montane Calcareous Cliff
High Elevation Seep
Spray Cliff
High Elevation Rocky Summit
High Elevation Granitic Dome
Elevation Change
To the North and West, Grandfather rises 1,500 feet above the Linville River Valley. To the South and East, Grandfather rises 4,000 feet above the Catawba River Valley.
Longitude & Latitude of Bridge
The north end of the Mile High Swinging Bridge is located at 36 degrees 05 minutes 43.088 seconds north latitude, 81 degrees 49 minutes 55.406 seconds west longitude. The other end of the bridge is positioned at 36 degrees 05 minutes 41.079 seconds north, 81 degrees 49 minutes 56.749 seconds west.
Rare Species
Grandfather Mountain is habitat for 73 rare or endangered species. Of these, 32 are globally imperiled:
G1 – (5 or fewer occurrences worldwide)
Spruce Fir Moss Spider (arachnid)
Blue Ridge Goldenrod (vascular plant)
Frullania appalachiana (liverwort)
G2 – (6 to 20 occurrences worldwide)
Spreading Avens (vascular plant)
Rock Gnome Lichen (lichen)
Bazzania nudicaulis (liverwort)
Plagiochila sullivantii (liverwort)
Sphenolobopsis personii (liverwort)
Grandfather Mountain Lepodontium (moss)
Bent Avens (vascular plant)
Roan Mountain Bluet (vascular plant)
Heller's Blazing Star (vascular plant)
Velvet Covert (mollusk)
High Mountain Supercoil (mollusk)
G3 – (21 to 100 occurrences worldwide)
Bog Turtle (reptile)
Eastern Small-footed Bat (mammal)
Appalachian Woodrat (mammal)
Weller's Salamander (amphibian)
Waterfan (lichen)
Plagiochila virginica (liverwort)
Plagiochila austinii (liverwort)
Trailing Wolfsbane (vascular plant)
Wretched Sedge (vascular plant)
Tall Larkspur (vascular plant)
Gray's Lily (vascular plant)
Azalea vaseyi(vascular plant)
Rota's Feather Moss (moss)
Pigmy Salamander (amphibian)
Mountain Bittercress (vascular plant)
Carolina Saxifrage (vascular plant)
Roan Rattlesnakeroot (vascular plant)
Appalachian Golden-banner (vascular plant)