The traveling exhibition "Photographs by Hugh Morton: An Uncommon Retrospective" opened in the Wilson Center for Nature Discovery on January 18, 2023. See it daily in the Classroom in the Clouds through March 16, followed by weekends, March 18 through May 14. From May 15 to Memorial Day, the exhibition will be on display every day before coming to a close. This photography exhibition features close to 100 framed photographs, including one 7-foot-long panorama. Access to the exhibition is included with the price of admission.
The exhibition is provided courtesy of the University of North Carolina at Chapel Hill's North Carolina Collection and features a vast collection of signature photography, as well as lesser-known shots, taken by the founder of Grandfather Mountain and one of the most prolific photographers in North Carolina history.
Morton's photography throughout his lifetime not only highlighted the wonders of Grandfather Mountain, such as park icons Mildred the Bear and the Mile High Swinging Bridge, but also expanded into his other areas of interest, including sports, wildlife, conservation, politics and current events of his day. These latter themes take center stage in the traveling exhibition.
Some of Morton's most important work that he engaged in during his lifetime is reflected and captured in the collection, as well, including his participation in the Pacific Theater during World War II, saving the USS North Carolina Battleship at Wilmington and working as the official sports photographer for UNC-Chapel Hill, among other ventures.
Jesse Pope, president and executive director of the Grandfather Mountain Stewardship Foundation, expressed his excitement not only for the park's new capacity to host traveling exhibits due to the opening of the Wilson Center last year, but also for the significance of being able to honor Grandfather's founder by hosting his collection of iconic photography on the mountain.
"We're very excited to bring the Hugh Morton collection to Grandfather Mountain," Pope said. "For it to be here at Grandfather Mountain has a really special meaning both for the collection and also for the park. Being able to keep his memory alive and his life's work alive and relevant is exciting. We're looking forward to bringing his photographs to a new audience."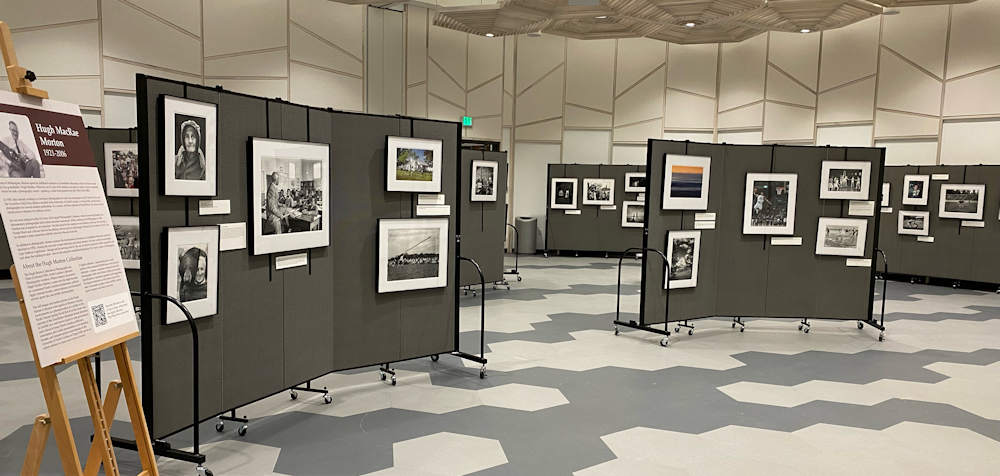 The subject material of the collection is not unfamiliar to Catherine Morton, Morton's youngest daughter and a member of the Grandfather Mountain Stewardship Foundation's board of directors. While working at Grandfather, Catherine took on the challenge of curating his vast photo archive and finding the best way to represent her father's life's work.
"When I went to work at Grandfather Mountain in the early 1980s, the first task assigned to me was to organize all of the slides and photographic prints Mr. Morton had stacked all over his home and office," Catherine said. "I spent the next 30 years as the de facto curator of the Hugh Morton collection. It is always interesting to me to see what story another curator will choose to tell when selecting from the quarter-million photographs my dad took over his 70-plus years behind a camera!"
Judy Morton, Morton's eldest daughter who is also a member of the board of directors, reflected on what made her father's photography so distinctive and reflective of the time period in which he lived and the many places he visited.
"I think the variety and breadth of these photos proves again that Hugh Morton took pictures of what interested him, from his adolescence into his mid-80s," Judy said. "He never ran out of curiosity, which led to the fact that he had less interest in the picture he had just taken than the one he was getting ready to take."
Hugh Morton, who was the founder and preserver of Grandfather Mountain from the time he inherited the mountain in 1952 to his passing in 2006, was one of North Carolina's most important photographers who created an estimated 250,000 negatives and transparencies during his lifetime.
A native of Wilmington, N.C., Morton learned photography during his childhood at Camp Yonahnoka near Grandfather Mountain in Avery County. His photographs would come to be seen in countless publications, including books, magazines, newspapers and calendars, to name only a few.
The content of these photos includes some of Morton's most popular and classic prints alongside dozens of photographs that have rarely been seen. By early February, the Grandfather Mountain Stewardship Foundation will add some of Morton's iconic images of the mountain to the display.
The exhibit at Grandfather Mountain presents the unique opportunity to witness the Hugh Morton photo collection at the very place where many of his famous photos were captured. Special events and guest speakers related to the visiting exhibition will be announced at a later date.
Read more on the work and legacy of Hugh Morton
Photos of Hugh Morton at top & photographs below courtesy of the North Carolina Collection, University of North Carolina at Chapel Hill Libraries