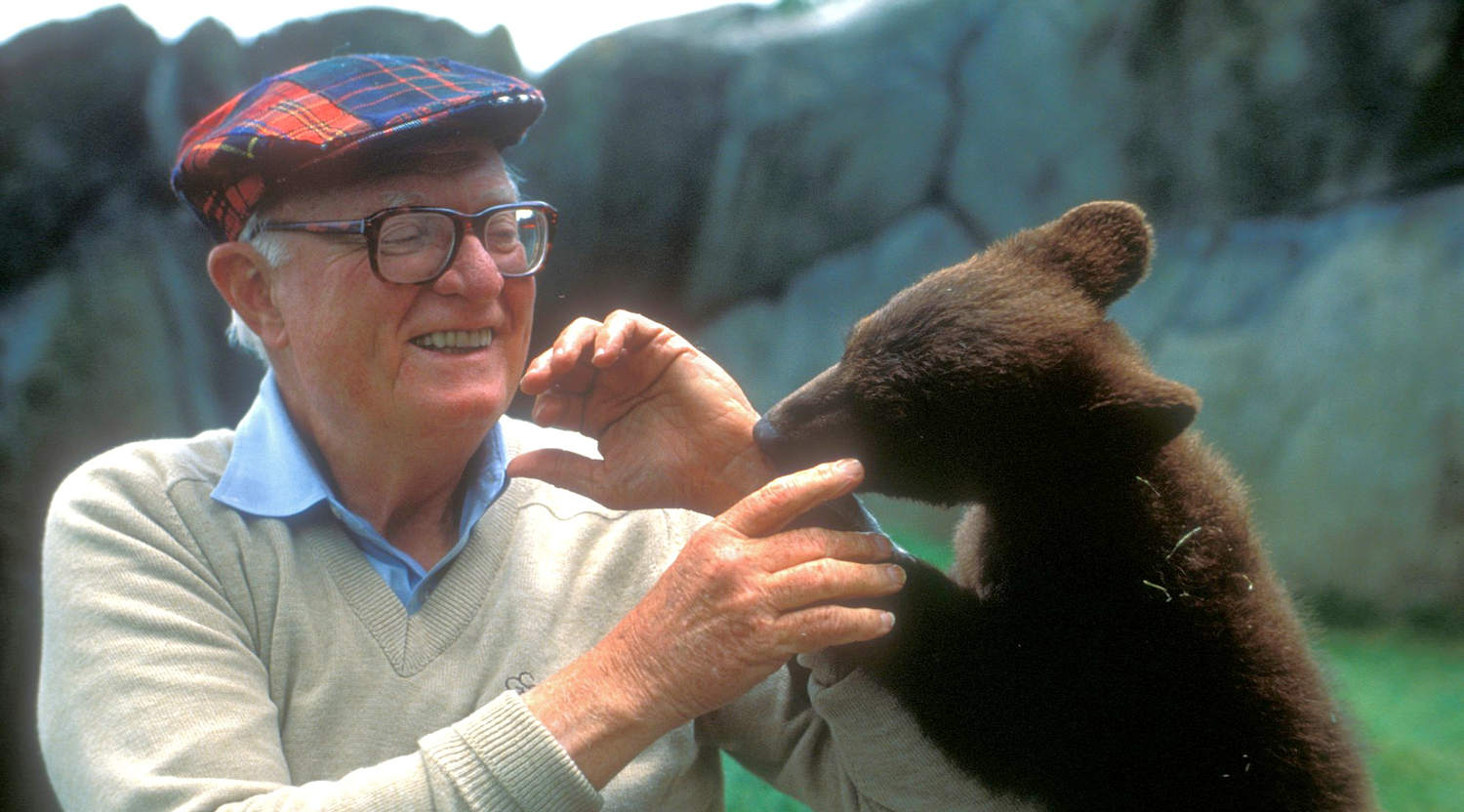 Hugh Morton (1921-2006) opened the Grandfather Mountain travel attraction after inheriting the mountain from his grandfather. He never considered himself its "owner," but rather its legal guardian, fiercely protecting and preserving it as a priceless treasure for future generations to enjoy. Shortly after assuming this guardianship, Morton immediately went to work on fulfilling his dream — building a road to the summit and a suspension bridge to Linville Peak. Six months later, the Mile High Swinging Bridge became a reality.
Even before Grandfather Mountain achieved its nonprofit status, Morton saw to it that the overwhelming majority of profits were reinvested into the mountain itself, improving its facilities and preserving its environment. When Morton passed away in June 2006, he was known throughout North Carolina and beyond as a visionary, a talented photographer, a passionate environmentalist and a dedicated conservationist — a true mountain of a man.
Morton's photographs were first published in TIME Magazine almost 70 years ago and he has been published in every major national magazine since. Specializing in scenic photography, sports action and politics, in 2004 Morton published a book of his photographs titled Hugh Morton's North Carolina. A second volume, Hugh Morton: North Carolina Photographer, was also published
Visitors to Grandfather Mountain also appreciated Morton's reputation as an environmentalist. He was one of the few people who ever fought the federal government and won. When engineers wanted to build the Blue Ridge Parkway across Grandfather Mountain at 5,000 feet above sea level with a tunnel at the highest point, Morton forced a compromise that resulted in the building of the Linn Cove Viaduct.
Morton also donated scenic easements to the North Carolina Nature Conservancy that protected 1766 acres of Grandfather Mountain's wilderness backcountry for posterity. When combined with other donations and purchases from Morton and business-partner John Williams, The Conservancy now owns or manages more than 4,000 acres of Grandfather Mountain.
Morton's other accomplishments include chairing Western North Carolina Tomorrow (1981-1983), the mountain leadership organization that secured passage of the Ridge Law to protect the state's highest peaks. In 1995-1996 the North Carolina Year of the Mountains Commission, with Hugh Morton as its Chair, launched the continuing mission to protect the scenic view-shed of the Blue Ridge Parkway by purchasing or negotiating scenic easements from landholders whose property borders the ridgetop highway.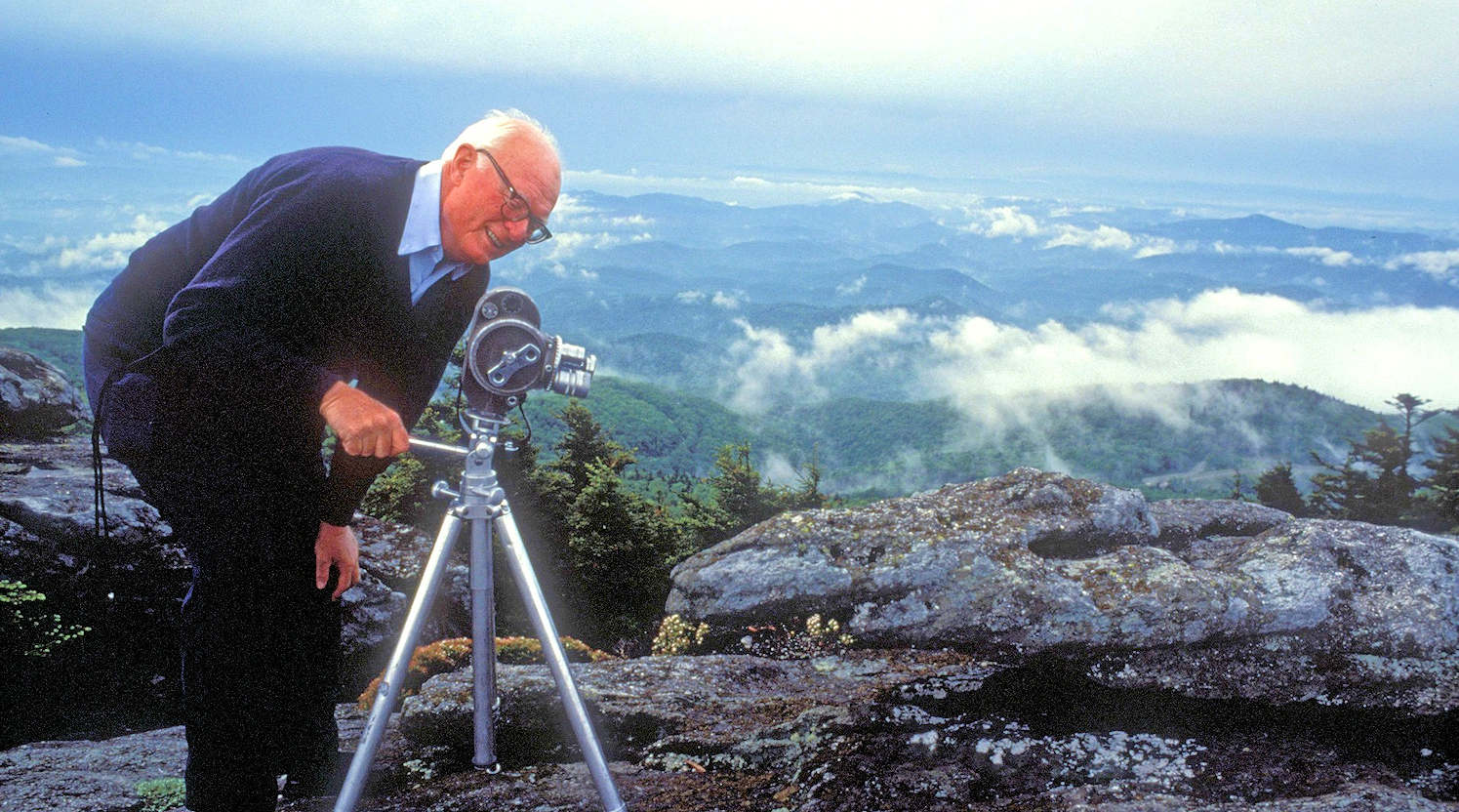 One of Hugh Morton's passions was photography and one of the many great legacies he left when he passed away in 2006 was approximately 500,000 images.
At Grandfather Mountain
Inherited Grandfather Mountain from his grandfather, Hugh MacRae, in 1952
Extended road to top of the mountain in 1952
Built the Mile High Swinging Bridge in 1952
Built Visitor Center on top in 1961
Established a National Weather Service Weather Reporting Station in 1956
Built seven native wildlife habitats for adult bears, mother bear and cubs, golden eagles, bald eagles, cougars, white-tail deer and river otters
Built nature museum and theater
Promoted the mountain for over 50 years through his photography
Chairman of the board and president of the mountain until June 2005, when he made his grandson, Crae Morton, president.

Made preservation of Grandfather Mountain his primary focus

Donated conservation easements for over 3,000 acres of Grandfather Mountain to the Nature Conservancy, and sold additional acres and conservation easements to the Nature Conservancy to insure Grandfather Mountain is protected in the future

Protected the mountain from a "high route" of the Blue Ridge Parkway that would have harmed the scenic beauty and ecosystem of the mountain (1954-1966)
Travel & Tourism Related
President of the 1st North Carolina Azalea Festival in Wilmington (1948)
Member of NC Board of Conservation & Development (1951-61)
Served on the board as chairman of State Advertising Committee and vice-chairman of State Parks Committee
Helped save the battleship USS North Carolina and was the first chairman of the battleship commission (1961)
President of G.F. Company, developer of Grandfather Golf & Country Club (beginning 1967)
Chairman of Governor's Advisory Committee on Travel & Tourism
Served as president or chairman of:

Blue Ridge Parkway Association,
Travel Council of North Carolina (now North Carolina Travel Industry Association),
Southern Highlands Attractions Association,
North Carolina Botanical Garden Foundation, and
NC Sports Hall of Fame (1975)

Honored as one of the "Top 20 Tourism Leaders of the 20th Century" by Appalachian State University.
Received the Eagle Award from the Blue Ridge Parkway Association for exceptional contributions in preserving and promoting the Parkway. This special award that has been given to only three people (1983)
First recipient of the Travel Council of North Carolina's highest award for individual contributions to the North Carolina travel industry (1965)
First recipient of the Charles Kuralt Award for bringing exceptional, positive national attention to the state of North Carolina by the NC Travel Industry Association (2000)
Winners Circle Award from Governor Michael Easley (2004)
Received the Sue Wilmoth Award for the Advancement of Tourism from the Boone Area Chamber of Commerce (2006)
First inductee into the newly formed North Carolina Tourism Hall of Fame (2006)
Civic
Past board member (1959-1998) and chairman of the Carolina Motor Club, AAA for NC and SC
Briefly considered a run for governor of North Carolina in 1972 (but dropped out before filing because he would have had to put Grandfather Mountain up as collateral to help finance the campaign)
Chairman of Businessmen's Committee in support of a constitutional amendment allowing North Carolina governors to be re-elected (1977)
Chairman of "Good Roads Committee" in 1981 to provide funding for highway improvements through a 3 cents increase in gasoline tax
Chairman of Western Carolina Tomorrow leadership group (1981-83)
Received the NORTH CAROLINA AWARD, the state's highest honor, in the category of public service (1983)
Received the Community Recognition Award from the Boone Area Chamber of Commerce (1984)
Member of the NC Global Transpark Authority (1994-98)
Chairman of North Carolina Year of the Mountains Commission, (1995-96)
Received Citizen Of The Carolinas Award

 

from the Charlotte Chamber of Commerce (1995)
Citation for Distinguished Public Service, NC Citizens For Business & Industry (1996)
Laurel Leaves Award from the Appalachian Consortium (1996)
North Caroliniana Society Award (1996)
Leadership North Carolina's Governor's Award (1997)
NC Press Association's North Carolinian of the Year (1997)
Wilmington Walk of Fame Award (1998)
Received the Alfred Adams Award for Economic Development from the Boone Area Chamber of Commerce (2000)
North Carolina Business Hall of Fame (2002)
John Caldwell Award from NC Humanities Council (2003)
Honored by the North Carolina Society of New York (2005)
Photography
Served as combat newsreel cameraman in World War II in the Pacific Theater, receiving the Purple Heart and Bronze Star
Photography of North Carolina people, places, events and scenery has been used in national publications since he was 14 years old
President of the Carolinas Press Photographers Association (1949)
One of the founders and Chairman of the Southern Short Course in Press Photography (1950-1965)
Recipient of the Skeeter Frances Award by the Atlantic Coast Sports Media Association for his photographic contributions to the Atlantic Coast Conference
Author of two books featuring his photography published by the University of North Carolina Press titled: Hugh Morton's North Carolina

 

(2003) and Hugh Morton: North Carolina Photographer(to be published in the fall of 2006).
Was co-author/photographer of Making A Difference In North Carolina

 

with Ed Rankin (1988) and The ACC Basketball Tournament Classic with Smith Barrier (1981).
Photographer/producer of eight films that won CINE's highest award, the Golden Award, for sports and nature films:
Those films are: "Masters of Hang Gliding," "Winning At Hang Gliding," "Hang Gliding Around The World," "The Hawk & John McNeely," the Richard Evans Younger Wildlife Artist series: "The Black Bear" and "The Cougar" and "Shore Birds," and "The Highland Games at Grandfather."
Morton also filmed and produced "Grandfather of the Blue Ridge" and "Wild Turkeys in the North Carolina Mountains."
He was photographer/producer of "The Search For Clean Air," a documentary narrated by Walter Cronkite that ran nationally on the PBS Network (1995)
Founded the Grandfather Mountain Camera Clinic (1950) and the Grandfather Mountain Nature Photographers Weekend (1986)
Kodak's Award for Excellence in Photography (1989)
Member, UNC School of Journalism Hall of Fame (1990)
Phoenix Award from American Society of Travel Writers (2004)
Donated a photographic portfolio spanning 60 years to the North Carolina Collection of the University of North Carolina Library (2006)
Educational
State chairman to raise North Carolina's funds for the John Fitzgerald Kennedy Library (1964)
President of UNC General Alumni Association (1964-65)
Chairman of the committee to establish the Luther H. Hodges Chair in Business Ethics at UNC (1977)
William R. Davie Award from UNC (1991)
Distinguished Alumnus Award, UNC (1997)
University Award, UNC System Board of Governors, presented jointly to Hugh and Julia Morton (2003)
Received honorary doctorate degrees from Belmont Abbey (1988), Lees-McRae College (1988) Queens College (2002), UNC-Asheville (2003), UNC-Wilmington (2004), Appalachian State (2005) and NC State (2005)
Chairman of the committee to raise funds and erect a statue honoring Charlie "Choo Choo" Justice at Kenan Football Stadium (2004)
Honored with the Hugh Morton Distinguished Professorship in Journalism and Mass Communication (2006)
Environmental
Battled the National Park Service to prevent the Blue Ridge Parkway from using "cut & fill" road-building techniques to take a high route across Grandfather Mountain. The result was a compromise route that gave the public the award-winning Linn Cove Viaduct. (1954-1966)
Leader in organizing efforts to get NC DOT to plant wildflowers along primary North Carolina highways
As Chairman of WNC Tomorrow, led the effort to pass the "Ridge Law" which outlawed the building of structures taller than 30 feet above the ridge line. (1983)
Organizer and Chair of the Save Cape Lighthouse Committee (1981-1999)
Presented the Theodore Roosevelt Award for Conservation at the White House by President George H. W. Bush (1990)
Mountain Heritage Award from Western Carolina University (1991)
Leader in the fight to protect North Carolina against air pollution and acid rain. Photographed and produced "The Search for Clean Air," narrated by Walter Cronkite and aired nationally on PBS to develop grass roots support for clean air. (1995)
Recipient of the Outstanding Conservationist Award by the US Fish & Wildlife Service (1996)
As Chairman of the Year of the Mountains Commission, led efforts to get land donations and conservation easements along the Blue Ridge Parkway totaling thousands of acres in order to protect the Parkway's scenic views. Also, led the fight to eliminate the practice of "straight piping" sewage into mountain streams to protect the water supply. (1995-1996)