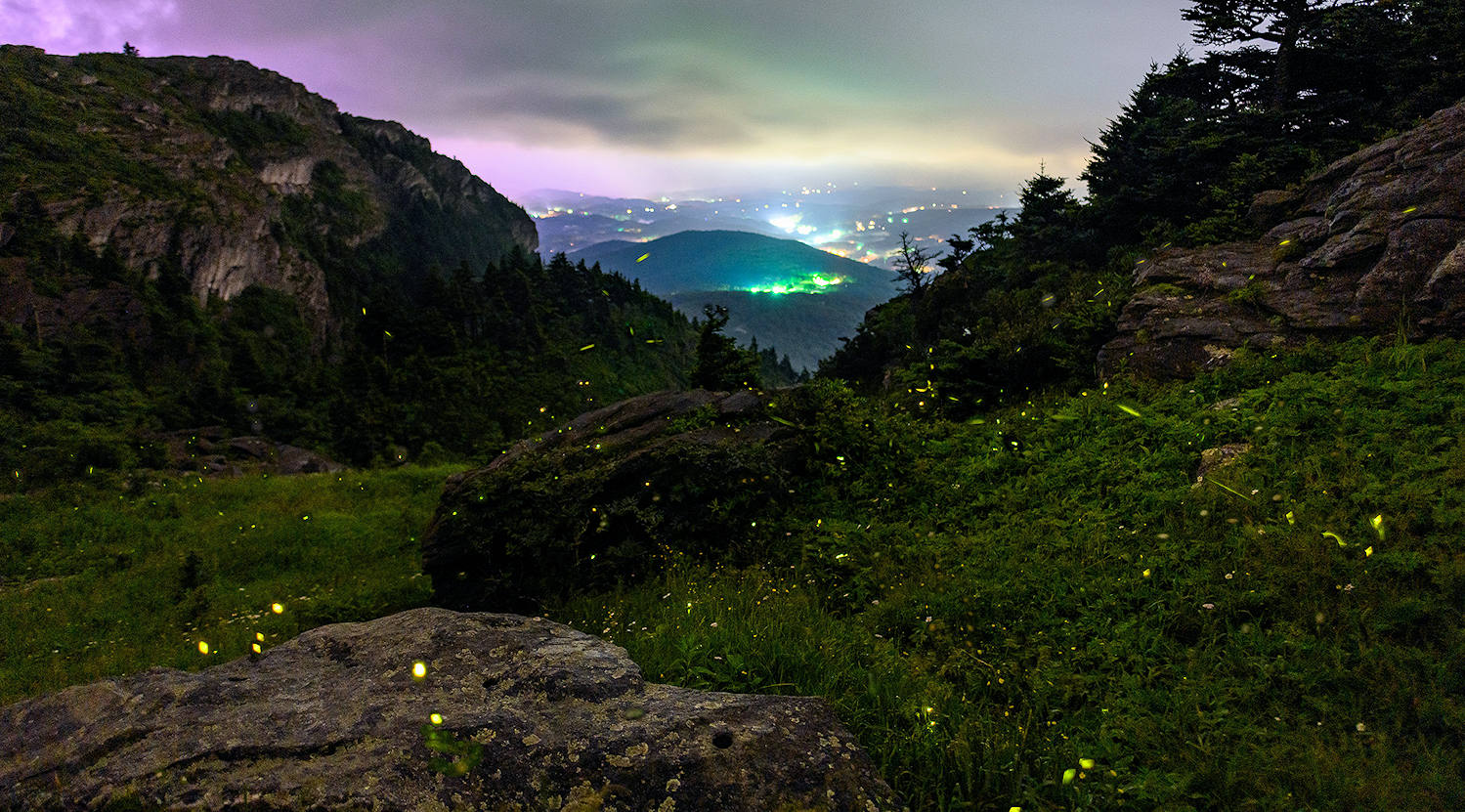 Grandfather Glows: Firefly Viewing
Research on Grandfather Mountain has confirmed the presence of 10 species of fireflies or illumining insects, including Photinus carolinus, Blue Ghost fireflies, and Glowworms. Synchronous fireflies are habitat specialists and thrive in Northern Hardwood Forests, such as those found around the peaks of Grandfather Mountain.
These glowing wonders only appear for a few weeks each year. Our annual Grandfather Glows event opens our nature park several nights in late June and early July during the peak glow times for special bioluminescent evenings, weather and conditions permitting.
Sign up to Receive 2024 Grandfather Glows Information
Firefly Forecasting Q&A
Here's a look into the process of trying to predict this natural phenomenon with Grandfather Mountain Stewardship Foundation Director of Conservation and Education John Caveny.
What occurs during Grandfather Glows? Why is that THE time to observe the fireflies?
Each year, different species of fireflies emerge from the forest floor in order to find mates. Depending on the species, the firefly larvae may stay in the leaf litter for a couple of years until they mature and metamorphose into adults. Adult fireflies only live for a couple weeks, and their sole focus is to mate and lay eggs for the next generation of fireflies. The best time to observe fireflies is when they are at the peak of their mating period.
What bioluminescent insects can potentially be seen at Grandfather during the event?
We have confirmed 10 different species of fireflies on Grandfather Mountain (read more). The most common species seen during the Grandfather Glows event are the synchronous fireflies (Photinus carolinus), blue ghost fireflies (Phausis reticulata), variable triple flash fireflies (Photuris versicolor) and glowworms (Orfelia fultoni).
How do you predict the dates of the event? What conditions are you monitoring to predict the "peak" time to see fireflies at the mountain?
There are many abiotic factors that play into when fireflies emerge from the forest floor – things such as soil temperature and moisture, rainfall, ambient air temperature, etc. The main thing that we monitor is the air temperature. There is a formula that is widely accepted in the scientific community that is used to predict when the synchronous fireflies will emerge and begin mating.
This year we are announcing event dates three weeks later than we announced them last year. What benefits are we hoping this brings our guests?
By pushing back the announcement of the dates of the events, we are trying to get a more accurate prediction of when the peak mating time of the synchronous fireflies will be. It is extremely hard to predict what the weather conditions will be months in advance. These three extra weeks give us a better snapshot of what our weather a month out will look like. If you were to ask your local meteorologist to predict the weather conditions for three specific dates a month and a half out, they will not likely give you a very confident answer. We are in the same boat. In order to provide the best experience for our participants, we want to be as accurate as possible.
Is GMSF conservation and education staff monitoring conditions all year long or is it for a certain time period?
We begin monitoring the weather on Jan. 1 each year and continue to monitor until the firefly activity has ended. By doing yearly weather monitoring and on-the-ground monitoring during the firefly seasons, we start to get a better picture of what different trends look like at our location.
How confident are we in our event dates? Can we ever really predict a natural phenomenon like this?
We do the very best that we can to be as accurate as possible in predicting the firefly mating period, but like anything in nature – nature is going to do what nature does. We can't measure (nor do we exactly know) all of the factors that go into firefly emergence, so we use all the resources we can to the best of our abilities. Nature is on its own schedule, and even when things line up the way we THINK they should, we may miss it. Luckily, our prediction model has been tested in several different locations and we are confident in it.
What weather conditions could impact firefly activity during the events?
How active the fireflies are can be impacted by current weather conditions. If the nightly temperatures are too cold, they won't flash as much. If the wind is too strong, they won't fly. And sometimes, if it rains right before it gets dark and then stops, it will make the flashing activity stronger.
The Discovery of the Synchronous Fireflies
As a UNESCO International Biosphere Reserve­­­­­, Grandfather Mountain has long been known for its natural wonders and as a haven for more than 70 rare or endangered species. However, it was only recently discovered that a rare species of firefly. In 2019, the existence of Photinus carolinus' was discovered on Grandfather Mountain by Dr. Clyde Sorenson, an entomologist from N.C. State University. While hosting a workshop on the mountain, Sorenson was invited to stay the night in the park's guest cottage.
What makes Grandfather Mountain such a unique location, Sorenson said, is its elevation range. Starting at a relatively low elevation of 3,000 feet, the mountain reaches up to nearly 6,000 feet. And while conducting a research survey near the Mile High Swinging Bridge, Grandfather Mountain's director of education observed the same fireflies blinking synchronously.
At the top of the mountain, they blinked in a slower cadence, because the temperature was colder. Males were observed flying low to the ground, and females were perched along the ground. The groups of fireflies would totally sync light rhythms with each other. During one survey, more than 1,000 fireflies were observed from one overlook on the mountain.
Read more: Firefly Species on Grandfather | Grandfather's Unique Ecology | Preserving Grandfather
Photo by Jim Magruder | Magruder Photography