Grandfather Presents: Conor Knighton
September 29th, 2022 @5:30 pm

-

8:00 pm

$50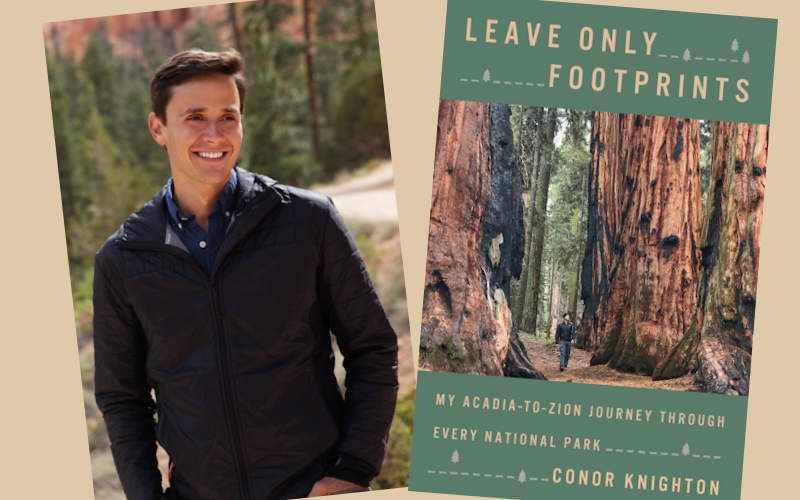 The third speaker in our 2022 Grandfather Presents Thursday evening speaker series is Conor Knighton. Conor is a correspondent for CBS Sunday Morning, America's #1 Sunday news morning program. His debut nonfiction book, Leave Only Footprints: My Acadia-to-Zion Journey Through Every National Park was recently certified as a New York Times bestseller. A behind-the-scenes account of the year Knighton spent visiting America's national parks, the book features fascinating tidbits about our parks' past and reflections on their fragile future. It will be available for purchase at the book signing.
Knighton is the creator and producer of "On the Trail," a series of CBS Sunday Morning stories on the national parks. He is also the creator of "Island Hopping," an on-going series of Sunday Morning segments set on islands all across the world, from St. Pierre to the Seychelles. His reports—seen by more than six million viewers a week—have covered everything from the Scandinavian obsession with salty licorice to what it's like to wake up on Wake Island, one of America's most remote military bases.
Conor recently won his third Daytime Emmy as part of the Sunday Morning team, and has won a Los Angeles Area Emmy for his work on KCET's SoCal Connected. He has been nominated for two additional Los Angeles Emmys, and was the recipient of a 2015 LA Press Club award.
An avid traveler, Conor has produced pieces from India, Nicaragua, The United Arab Emirates, Czech Republic, Iceland, and Austria. His commentary has been featured on CNN, HLN, TV Guide, MTV, E!, Oxygen, and KNBC. Born in Charleston, West Virginia, Conor remains especially fond of Tudor's Biscuit World, Pepperoni Rolls, and Mountain Stage.
More About Grandfather Presents
Our 2022 speaker series at the Wilson Center for Nature Discovery includes three big Thursday night events with internationally and nationally known presenters. Presented by the Grandfather Mountain Stewardship Foundation, the series also includes three Saturday afternoon presentations focused on nature, adventure or conservation-related topics on a local or regional scale. Read more.
Schedule
5 – 6 p.m.: Entrance Gate opens for event. Proceed about one mile to Wilson Center for Nature Discovery
5:15 – 5:45 p.m.: VIP event in the sunroom (holders of Pro Series Pass) to meet Conor.
5:30 – 6 p.m.: Reception for all ticket holders inside Wilson Center for Nature Discovery
6 – 7 p.m.: Presentation in Classroom in the Clouds event space
7 – 8 p.m.: Book Signing & Exhibits Open
Tickets
$50 per person (purchase below starting August 24)
Grandfather Presents Series Pass available for Bridge Club Members. Read more.
Refunds/Cancelations
The majority of Grandfather Mountain events generally sell out and have a waiting list. If you cannot attend the event that you registered for please let us know. Full refunds will be given to individuals who reach out to us at least five days before the event. This allows time for individuals on the waiting list to make accommodations to attend the event. To cancel your registration please call 828-733-2013 Monday-Friday 9 a.m. – 5 p.m.
Related Events