Grandfather Glows: June 29
June 29, 2022 @7:00 pm

-

11:00 pm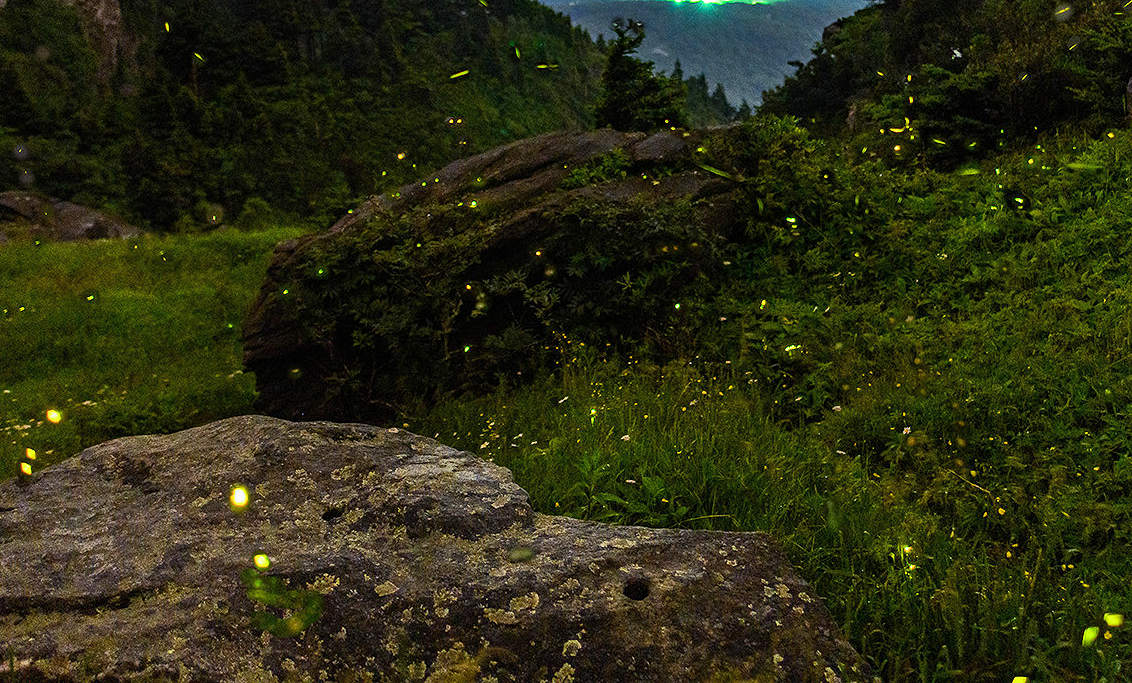 SOLD OUT: Bioluminescent Evenings on Grandfather Mountain! Have the rare opportunity to see Synchronous Fireflies, Blue Ghost Fireflies and Glowworms, weather and conditions permitting (rain date is June 30). Grandfather Mountain is home to the Photinus carolinus, one of the few species of firefly in North America whose individuals can synchronize their lighting display, meaning they can flash in unison. Read more about them!
Grandfather Glows Schedule
7:00 p.m.: MacRae Meadows (Gate 3) opens for parking. Navigate to Grandfather Mountain (2050 Blowing Rock Hwy, Linville, NC). MacRae Meadows is just south of the Grandfather Mountain Entrance Gate on US 221.
7:00-8:00 p.m.: Educators roving to answer questions. Picnics are welcome, but please pack away all trash since we have bears in the park.
7:25 p.m: 20-minute fireflies program by park naturalists in parking area
8:00 p.m.: Begin walking or riding the shuttle to the viewing area
8:00-9:00 p.m.: Interpretive tables set up with information about night critters, astronomy and more, plus kid's activities
8:25 p.m.: 20-minute program by park naturalists in viewing area
9:00-11:00 p.m.: Viewing time, sitting in your chair or on a blanket
11:00 p.m.: Walk or shuttle back to car. Those wanting to walk back to their car before 11 p.m. may do so.
Rain Date: June 30
When purchasing a ticket for a Grandfather Glows event date it is important to understand that your firefly viewing opportunity may occur on the event date or back-up rain date (the day immediately following the event date). If the June 30 back-up event was also canceled by GMSF you would receive a full refund for your ticket.
Event Admission: SOLD OUT. There is no waiting list.
Adult: $60
Child (4-12): $35
Bridge Club Adult: $51
Bridge Club Child: $29
Children under 4 are free and do not require a ticket.
What to Bring
The firefly viewing area and all activities will happen along the park road. Participants should bring easy-to-carry chairs for the viewing event. Picnics (small coolers and baskets) are also welcome at this event. Alcohol is strictly prohibited. Blankets would also be helpful for seating or to help stay warm. We will provide red-light flashlights and/or red cellophane to cover your flashlight.
What to Wear
You should be prepared for a variety of mountain weather conditions and temperatures. Summer nights on Grandfather Mountain are often much cooler than folks expect. Bring layers! Appropriate clothing and footwear are very important. Events will be held in the event of light rain or drizzle. Rain gear is recommended.
Accessibility
Grandfather Glows is a nighttime event on a mountain and we unfortunately aren't able to accommodate wheelchairs this year. We are looking into options to improve what we can offer for future events. This year, we will be able to offer a designated firefly viewing area for those with limited mobility, close to where shuttles drop off and pick up on the mountain. Please note that to get to this area some walking will be required, as is the ability to climb onto and out of a shuttle bus.
Event participants will have the option of walking to the viewing area (approximately 300 yards of walking) or taking a shuttle. The firefly viewing area is located on a quarter mile section of the park's road. Programming opportunities will be scattered throughout this quarter mile.
Rules/Expectations
– Walking is required for this event. Participants must stick to the paved path and designated areas.
– Flash photography is prohibited.
– Red-light flashlights will be provided. Red cellophane is another good alternate to use to cover any lights you must use. The mountain will have some red cellophane, but participants are also welcome to bring their own. No "white" light will be allowed as it disrupts the fireflies.
– Noise during the event should be kept to a minimum
– Do not capture fireflies
– Alcohol is prohibited
– No pets
– Participants will be provided with a more detailed set of rules and firefly viewing etiquette prior to the event.
Refunds/Cancelations Made by Guests
The majority of Grandfather Mountain events generally sell out and have a waiting list. Full refunds for this event will be given to individuals who reach out to us at least 7 days before the event date.
If you purchased your ticket on the Grandfather Mountain website, to cancel your registration please call 828-733-2013 Monday-Friday 9 a.m. – 5 p.m.
If you purchased your ticket via Eventbrite, you will need to cancel your registrations via the Eventbrite platform.
Refunds/Cancelations Made by GMSF
Each Grandfather Glows event date comes with a back-up rain date the following day. Meaning, if Grandfather Mountain Stewardship Foundation (GMSF) cancels an event due to adverse weather or conditions, the event will be held the following day. Grandfather Mountain will notify ticket holders by noon, if that day's event is canceled.
Related Events