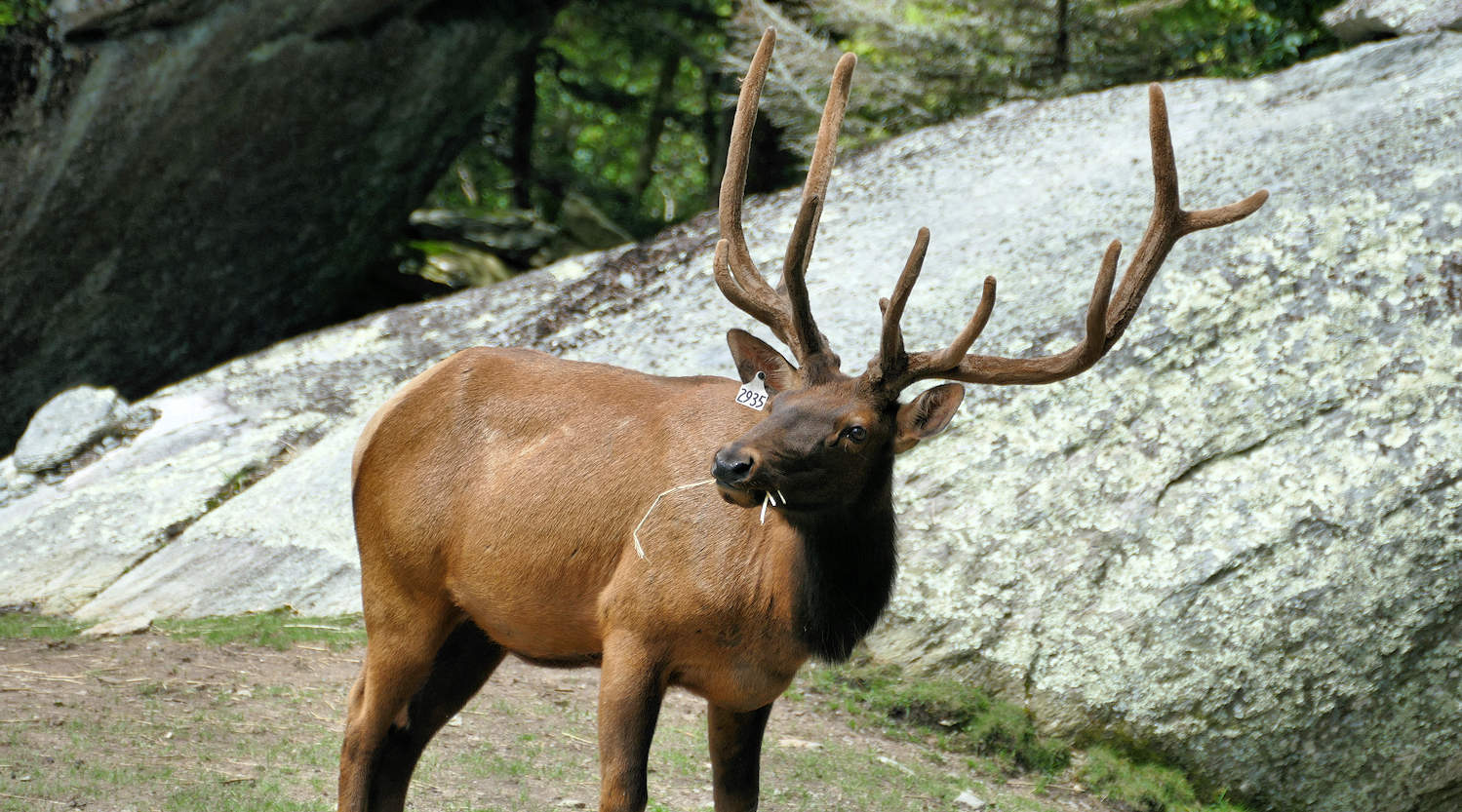 Elk population once thrived in the High Country, with the animals' lending their name to numerous towns and landmarks such as Banner Elk, Elk Park and Elk River Falls. Their numbers were decimated by over-hunting and loss of habitat in the 18th and 19th centuries, and they were eventually eradicated entirely from the region. See our elk in the Wildlife Habitats.
Merle and Watson were born in August 2017 on the ranch of Tom Smith, an elk farmer in Salisbury, NC. They arrived on Grandfather Mountain in December 2017. Although the first few days for the boys were spent hanging out on a large rock in their habitat, they quickly started exploring and getting used to their new surroundings. Watson is the friendliest and boldest of the two and very quickly began taking treats offered to him by his keepers. Over the next several weeks, Watson's excitement about his keepers' presence and the potential for treats grew, and he now grows impatient if he knows we're keeping something tasty from him. He is always the first one in the paddock for grain and the first one to leave for alfalfa—usually at a run. They enjoy chewing the bark off trees and playing with each other. 
Grandfather Mountain had not previously housed elk, but decided to bring these former residents of the mountain back to for guests to see and learn about. The mountain opted to adopt male elk, based on research and expert recommendation. While members of bachelor herds are known to live together peacefully, that's not necessarily the case with mixed herds, in which bull elk can grow aggressive during mating season. Since the elk will be residing in an environmental wildlife habitat, the mountain's habitat keepers felt it would be best to instead welcome a bachelor herd.
To learn more about elk, attend an Animal Encounter daily April-October.
Looking for a special gift? Adopt one of our Elk.