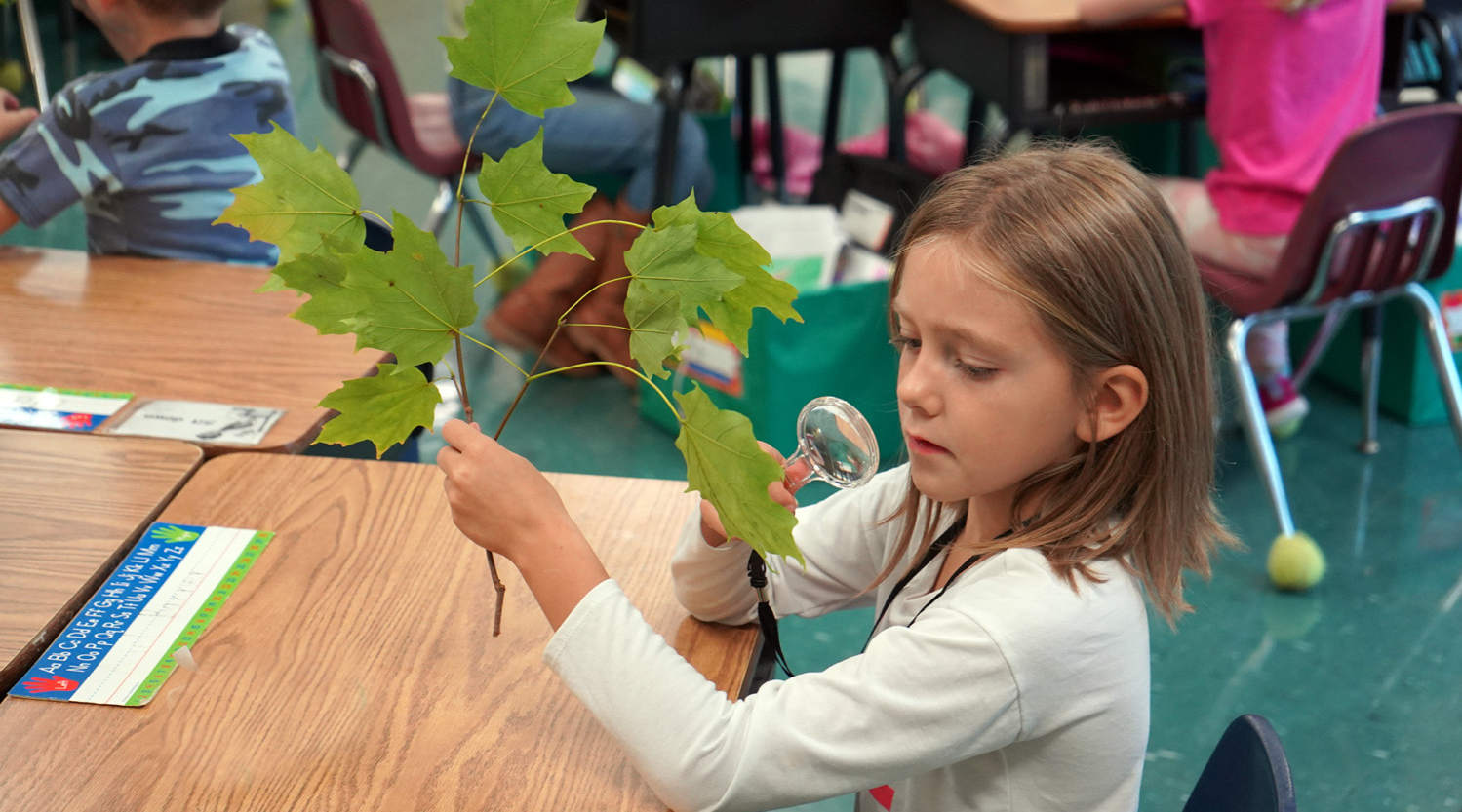 Educators from the Grandfather Mountain Stewardship Foundation are collaborating with Avery County Schools to provide significant educational enrichment opportunities for students through a program called Wild Watch. The program is engaging every first-grade student in the county and supporting the instructional efforts of nine teachers in their classrooms.
Wild Watch provides hands-on, experiential learning in line with the North Carolina Standard Course of Study curriculum for students being introduced to key concepts in biology and science for the first time.
It includes six in-depth interactions with Grandfather Mountain's education staff. The program's goals are to increase student understanding in five key areas: basic ecological concepts, the joys of exploration, interconnectedness to nature, the impact of humans on their environment and the benefits of working together.
Cassie Petrilla, education specialist with the Grandfather Mountain Stewardship Foundation, the nonprofit organization that owns and operates the Linville, N.C., nature park, oversees Wild Watch.
Hailing from western Pennsylvania, Petrilla holds a degree in environmental studies and has experience teaching schoolchildren in Sonora, Calif., and Hendersonville, N.C. She said her love for the environment was curated during family trips to national parks, as well as from her experience growing up and witnessing the negative consequences that mining had on her local environment.
"My passion is to share my love for the environment to school children," Petrilla said.
That same passion is palpable to the kids with whom Petrilla shares the Wild Watch program each month. When she enters the classroom, the children's faces immediately light up, and the excitement and intrigue continue as Petrilla presents her lesson for the month.
"The rules of Wild Watch are we always go outside, we always share with our classmates, and we always start and end with a song," Petrilla said.
The program began in August 2021 with the children learning about the importance of making observations and scientific inquiry. During each lesson, the kids stay engaged by waving their arms like a tree, peering through magnifying glasses in nearby gardens or by singing the Wild Watch song.
The itinerary throughout the rest of the school year sees children learning about what plants need to survive, using tools to learn about geography and mapmaking, recognizing the needs of animals and learning about the different types of soils. In April, the program culminates in a field trip to Grandfather Mountain to see the mountain's plants and animals up close and to learn about the different ways people work to protect and improve their environments.
Additionally, each classroom "adopts" an animal from Grandfather Mountain, who they learn about during the school year and get a chance to visit when they come to the mountain in April.
"I love the Wild Watch program," Loretta Sluder, first-grade teacher at Crossnore Elementary, said. "It takes our science curriculum to another level, and having an expert, such as Miss Cassie, here to guide us and answer questions from the students has been great and has expanded their knowledge tremendously. They look forward to it, and it gets them engaged."
Numerous studies, such as one published in 2002 entitled "Closing the Achievement," show that environment-based education helps produce student gains in standardized tests scores and grade-point averages, while developing skills related to problem solving, critical thinking and decision making.
Petrilla said she has seen first-hand how hands-on learning and adventuring outdoors help stimulate the minds of schoolchildren at a young age.
"Kids have an innate curiosity to learn and discover," she said. "They do that in the classroom, but when you take them outside, that's when their minds really begin to expand and grow."
Read about other education programs presented by Grandfather Mountain Stewardship Foundation. The Eco Watch program reaches fifth grade students.