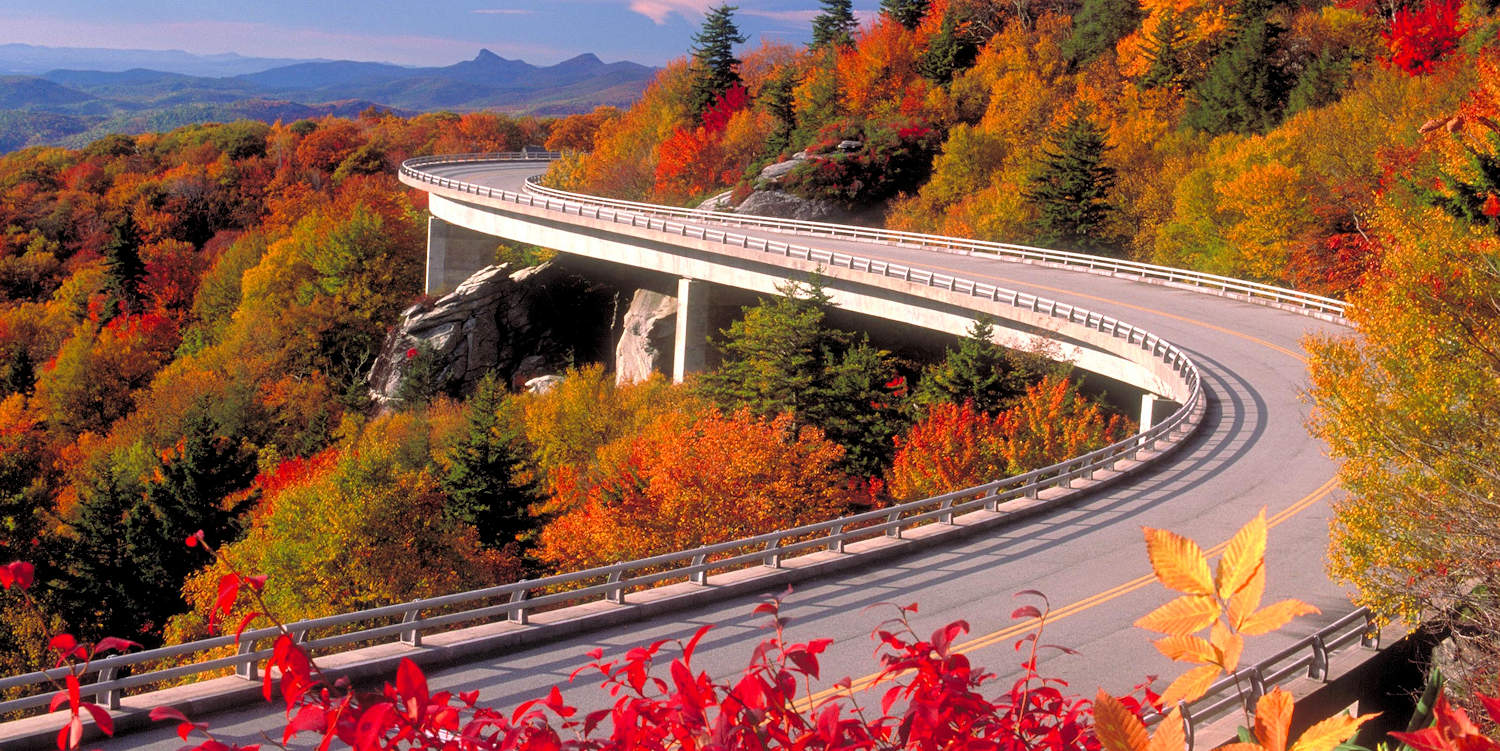 Grandfather Mountain is located in the High Country of Western North Carolina, adjacent to the Blue Ridge Parkway. We are surrounded by fun and friendly small towns filled with hotels, vacation rentals, shopping, dining and other attractions. Below is a list of places to find more information about the many things to do nearby.
Blue Ridge Parkway: This beloved scenic drive, a unit of the National Park Service, hugs the east slopes of Grandfather Mountain. The entrance to our nature park is located on U.S. 221, one mile south of the Blue Ridge Parkway at Milepost 305. The Grandfather area of the Parkway includes the famous Linn Cove Viaduct (photo above) and spectacular scenery from the many overlooks. You are also able to access Backcountry Hiking Trails to hike up the east ridge of the mountain.
Here are some top stops along our 10-mile section of Parkway, listed north to south use milepost mileage.
296.7: Price Lake Overlook
297: Price Lake Loop Trail
297.1: Julian Price Memorial Park – camping, boating, hiking
299.7: View Calloway Peak Overlook
299.9: Boone Fork Parking Area – Grandfather Backcountry Hiking Access
300.6: Green Mountain Overlook
301.8: Pilot Ridge Overlook
302.8: Rough Ridge Trail Hiking Trail
304.4: Linn Cove Viaduct Visitor Center
304.8: Stack Rock Parking Area
305: U.S. 221 Crosses (Grandfather entrance gate is one mile south)
305.2: Beacon Heights Trail
306.6: Grandfather Mountain Overlook
Go to the Blue Ridge Parkway Association Guide to plan your Parkway drive.
Towns, Lodging, Shopping & Attractions Near Grandfather Mountain
High Country Host: Regional Travel Information Center for Northwest North Carolina. Visitor Center phone: 800-438-7500
Avery County Chamber of Commerce: Features local businesses in Linville, Newland, Crossnore and other communities in our home county. Their visitor center is 6 miles from the entrance gate (corner of N.C. Highway 105 & 184)
Village of Sugar Mountain: This ski resort town has summer public golf and tennis and a variety of winter sports, along with many vacation rentals with views of Grandfather Mountain. Also home to an alpine coaster, restaurants and grocery stores. 7 miles from entrance gate
Banner Elk Travel Guide: Located on the west side of Grandfather, find dozens of restaurants along with accommodation and local shops. 10 miles from entrance gate.
Banner Elk Chamber of Commerce: Local business directory for the Banner Elk area. Their Visitor Center is downtown.
Seven Devils: This mountain resort community is home to winter snow tubing, zip lines, a waterfall hike and vacation rentals. 10 miles from entrance gate.
Blowing Rock: The charming mountain resort town has a popular Main Street with many shops, galleries, hotels, restaurants and park. 16 miles from entrance gate
Beech Mountain: The highest town in the eastern United States towers above the town of Banner Elk and features a ski resort, summer hiking, mountain biking and many vacation homes. 17 miles from entrance gate
Boone: Home of Appalachian State University, Boone is the largest city in the High Country with many hotels and a bustling downtown. 19 miles from entrance gate
Asheville: Grandfather Mountain is a great daytrip (90-minute drive) for those in the Asheville area. If you are heading to Asheville, the Asheville Chamber of Commerce operates a Visitor Center at 36 Montford Ave.
VisitNC: There is so much to see and do in North Carolina! Plan more adventures with the official NC Travel Guide.
Southern Highlands Attractions: For more fun in the Southern Appalachian Mountain range, visit 18 iconic and long established attractions from northern Virginia south to Chattanooga.