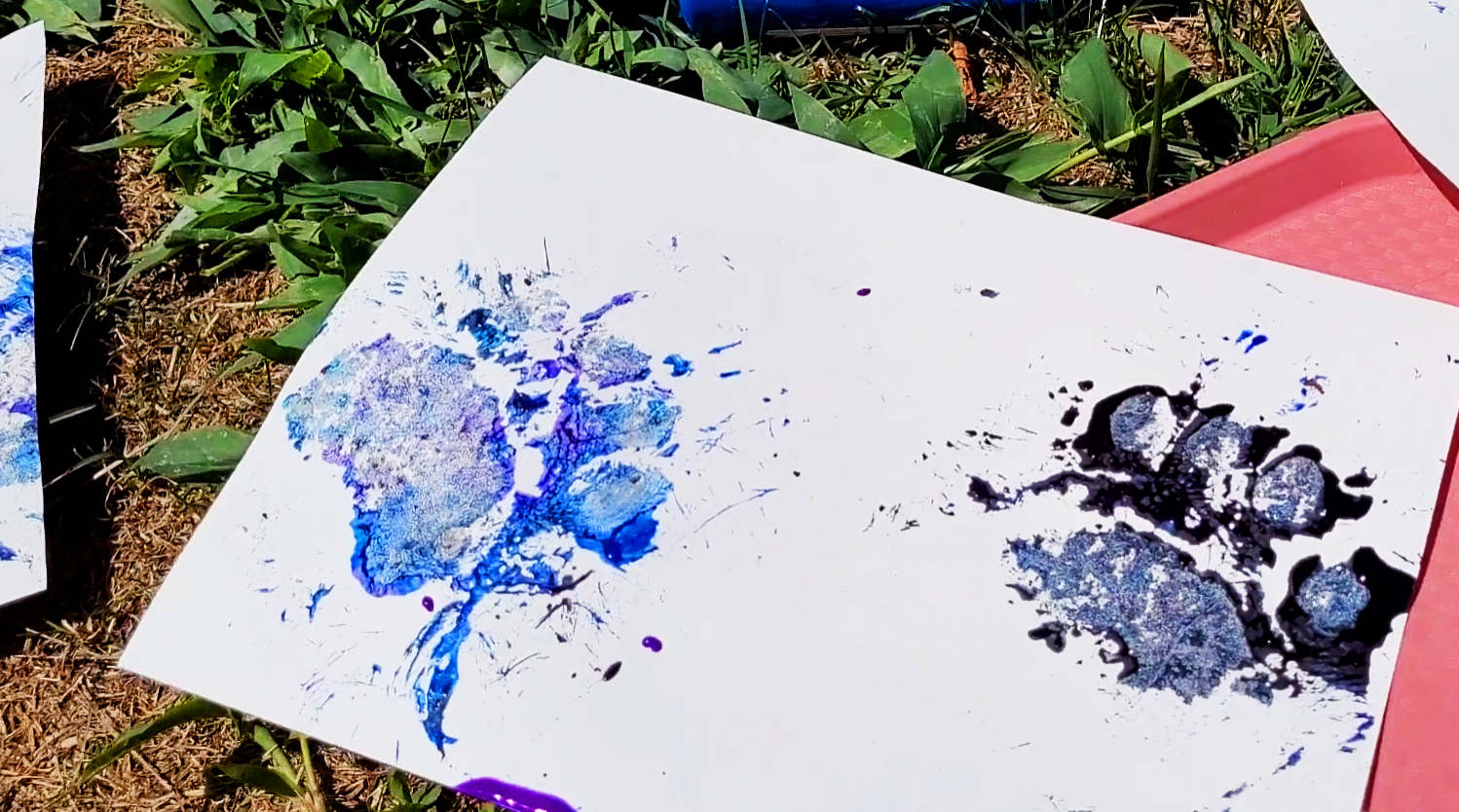 New in 2022! Create some lifetime memories by watching a bear create a painting for you to take home. Available Saturday and Sundays at 11:30 AM in May-October, your Paint with a Bear experience begins at the Wilson Center for Nature Discovery. After paying at the gift shop, meet your naturalist nearby by the Mildred the Bear statue by 11:25 AM.
Take a short walk with the guide to a behind-the-scenes area when bears often interact with their keepers. After the guide introduces you to the bear, your group will select an assortment of paint colors. Then the guide sprays some of the non-toxic paint on the ground along with sheets of paper inside the bear holding area. From a safe distance behind a fence, watch your bear walk and paint for a few minutes to create one-of-a-kind paintings. After the paintings dry, you select one.
Cost is $50 per person in addition to park admission, including children, ($42 for Bridge Club members). There is a minimum of two people and maximum of 4 people for this 30-minute intimate experience. As with our environmental wildlife habitats area, pets are not allowed. Due to the confined area, strollers are not allowed. Please wear shoes with good soles. Tours will be cancelled in the event of rain.
Photography is permitted on this tour except when the bear is in his/her feeding cage to do the painting. We ask that guests don't share images from the behind-the-scenes area on social media.
Make reservations by emailing or calling the Grandfather Mountain Habitats Office at habitats@grandfather.com or 828-733-8715 in advance. Or stop by the Gift Shop in the Wilson Center for Nature Discovery during your visit for last minute availability.
See other Experiences and Daily Programs.