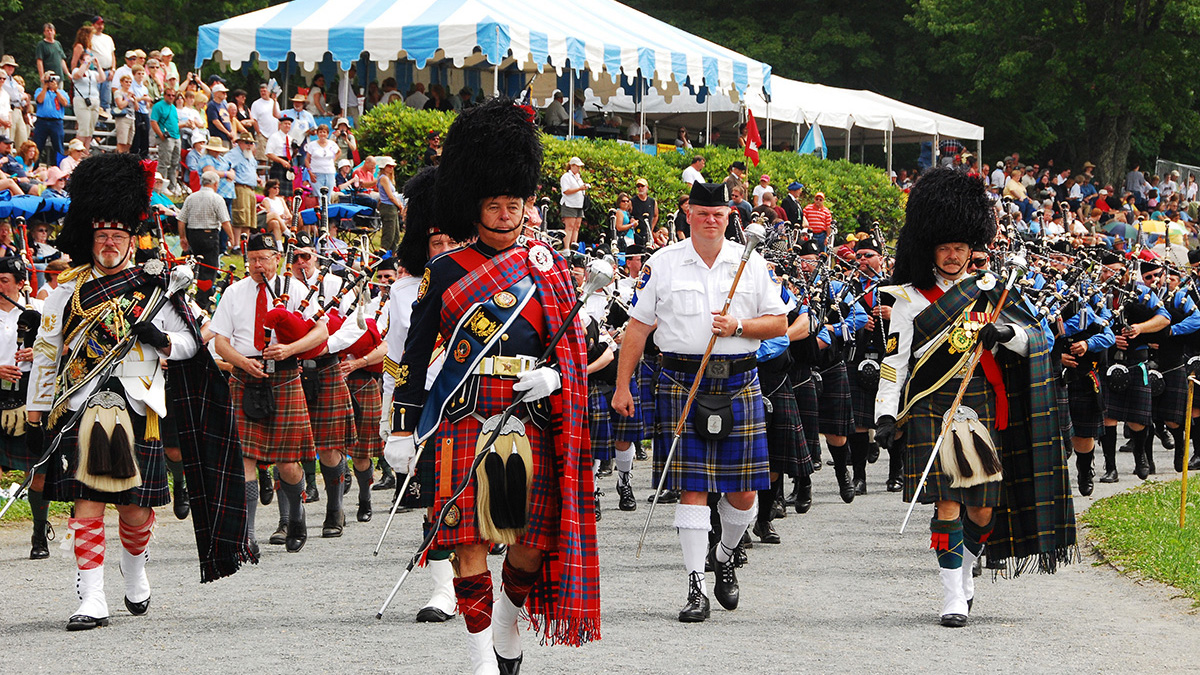 Highland Games Press Room
The 67th annual Grandfather Mountain Highland Games return to Western North Carolina July 6-9, 2023. Please visit us in the Press Tent during the Highland Games for more information and to pick up your complimentary copy of the Highland Games program, featuring extensive information on the individual events, music, honored guests and history. For more information and press credentials for the Highland Games, please contact media@grandfather.com.
2023 Press Release for Grandfather Mountain Highland Games
Founded: 1956 by Agnes MacRae Morton and former Charlotte News reporter Donald MacDonald.
Operated By: Grandfather Mountain Highland Games, Inc. Go to their website.
Mission: GMHG is a nonprofit, non-stock corporation licensed under the laws of North Carolina to carry on and promote the annual Grandfather Mountain Highland Games and Gathering of Scottish Clans, to foster and restore interest in traditional dancing, piping, athletic achievement and Gaelic culture, and to create and establish scholarship funds to assist students from Avery County High School to study at American colleges and universities.
Event Dates: Always held on the second full weekend in July. The earliest the Games will occur is July 6-9 (in years when the first of July falls on a Saturday), and the latest it occurs is July 9-12 (in years when the first of July falls on a Sunday).
The Grandfather Mountain Highland Games once again will begin with Thursday night's Torchlight Ceremony, where the clans officially come together to celebrate their Scottish heritage. Friday and Saturday are filled with highland dancing competition, border collie demonstrations, Scottish fiddle and harp competitions, Gaelic singing, Scottish country dancing, piping and drumming competitions, Scottish spinning and weaving, track and field events including the popular kilted mile, and Scottish athletic events including the caber toss. 
Location: MacRae Meadows, U.S. Highway 221, two miles north of Linville, N.C., and one mile south of the Blue Ridge Parkway at milepost 305.
Number of Scottish Clans and Societies Participating: More than 100
Number of Clan Tents Ringing the Field: Approximately 150
Estimated Annual Attendance: 30,000-40,000
Featured Highland Bagpipe Bands: The Grandfather Mountain Highlanders (GMH) celebrates 47 years as the host band for the Grandfather Mountain Highland Games. Founded in 1974 by Harvey Ritch and Agnes MacRae Morton, GMH wears the MacRae tartan in honor of its co-founder and continues a close association with Clan MacRae.
Additional pipe bands often include The Harvey E. Ritch Memorial Pipe Band, Jamestown Pipes and Drums, Loch Norman Pipe Band, Montreat Scottish Pipes and Drums, North Carolina State University Pipes and Drums and Blue Ridge Brass Pipes and Drums.