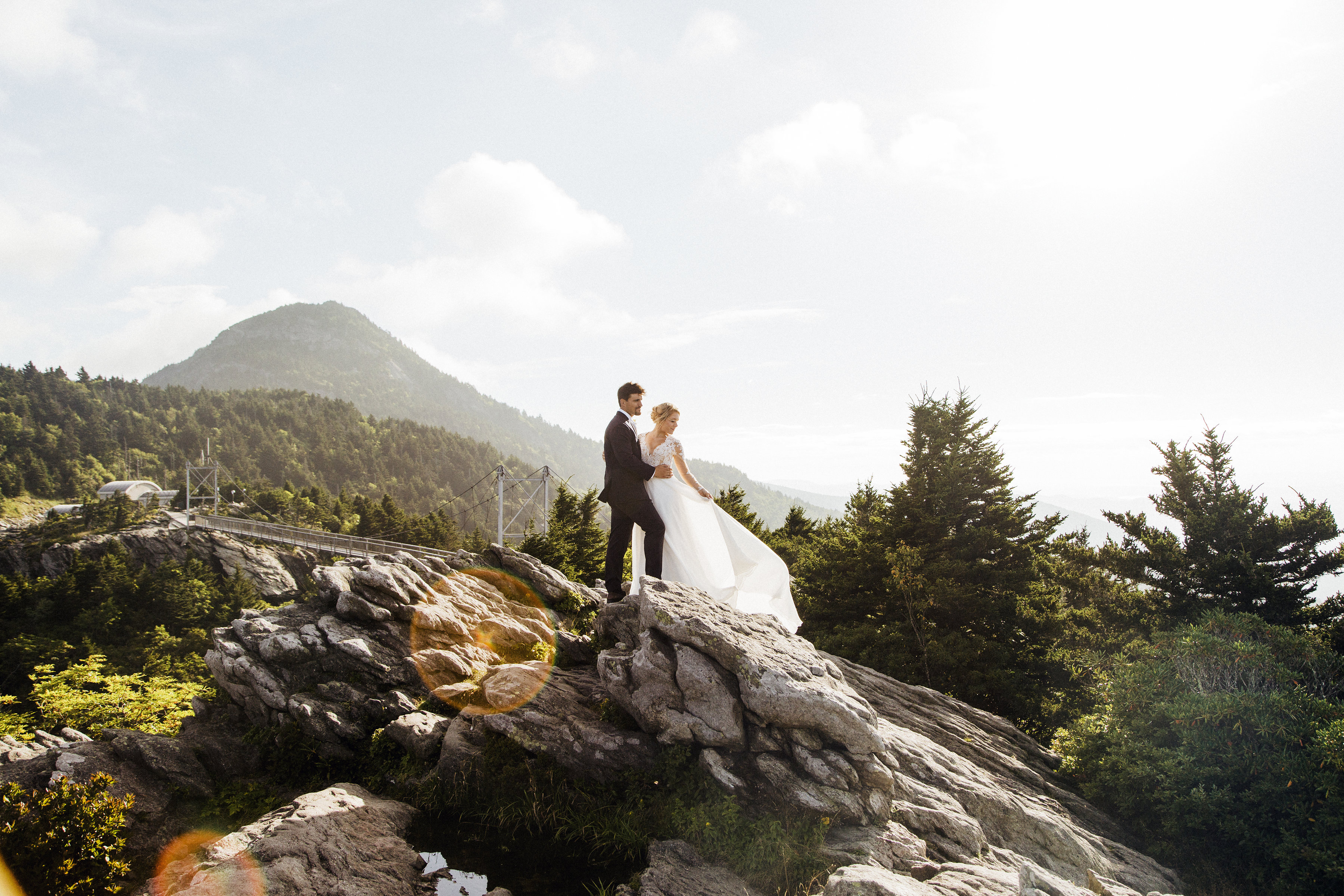 A ceremony on Grandfather Mountain will delight your guests and fill your special day with the awe and splendor of this majestic mountain. Hold an intimate ceremony in the park itself, or for a larger ceremony, welcome guests to MacRae Meadows. Please contact the Group Tour Coordinator at 800-468-7325 to plan the details of your wedding.
MacRae Meadows
 
NOTE: Due to COVID-19, Grandfather Mountain is temporarily suspending weddings and gatherings in MacRae Meadows.
MacRae Meadows is a large grassy area at the base of Grandfather Mountain. It's used for the Singing on the Mountain and the Grandfather Mountain Highland Games, but it can also host your next special event, from a family reunion to a corporate picnic to a wedding. You'll have access to the meadow area, plus the space across from the Meadows on U.S. 221, and ample space for parking.
Alcohol is not permitted, and the rental is for the property only: amenities are not included. Event participants must depart before sundown, and event insurance is required.
Contact the Group Tour Coordinator at (828) 733-2013 for pricing, scheduling and details. You can also schedule an appointment to tour the property.
In the Park
Grandfather Mountain welcomes small wedding ceremonies inside the park. Please contact Todd Jones at (828) 733-2013 or todd@grandfather.com in advance to discuss your plans and details. If arranged in advance, the bride, groom and clergy can enter the park for free. Discounted admission will be available for the extended wedding party (up to 10 people).
The Grandfather Mountain Stewardship Foundation regrets that we cannot make special accommodations for the ceremony or wedding party. We ask that the ceremony and wedding party not interfere with our other guests' experience or enjoyment of the park. All Grandfather Mountain rules and regulations must be followed.
View the Grandfather Mountain Photo Policy for details on wedding and engagement photography at Grandfather Mountain.
Photo by Common Dove Photography.