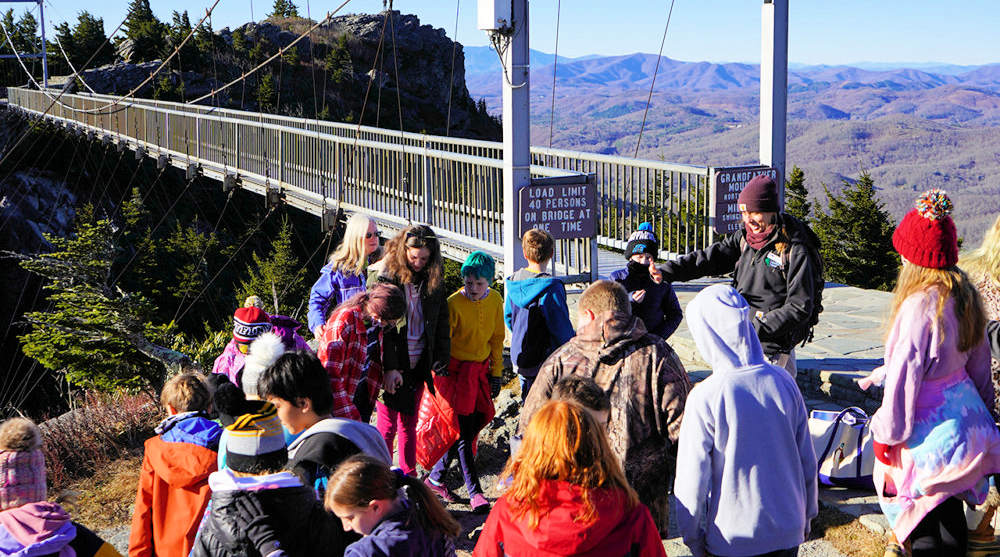 This Giving Tuesday, November 29, you can inspire the next generation to learn about, love and protect the wonders of the natural world. Your gift to Grandfather Mountain Stewardship Foundation will provide hands-on science instruction for students in public schools. And your donation will be matched, dollar for dollar, and have double the impact! 100% of your gift will support our Wild Watch and Eco Watch programs, which provide educational enrichment to more than 330 first- and fifth-grade students in Avery and Watauga counties. Donate online below!
Wild Watch and Eco Watch bring Grandfather Mountain educators into the classroom to provide hands-on, experiential learning in line with the North Carolina Standard Course of Study throughout the academic year. Best of all, the kids always get outside. Despite beginning only three years ago, these programs are already having a seismic impact in the classroom with a remarkable 67% increase in students' understanding of the STEM concepts covered in Wild Watch. Currently, Wild Watch is taught at all five of the elementary schools in Avery County and has recently expanded into the Watauga County School System at Cove Creek and Mabel Elementary.
Eco Watch is taught at four Avery County elementary schools and includes six in-depth interactions with one of the mountain's expert naturalists, plus two field trips to Grandfather. To find out more about learning from the mountain, Grandfather Mountain Stewardship Foundation Education Programs.
Generous donors have offered to match donations on Giving Tuesday with a goal of raising $9,500 to fully fund these programs through this school year.
Donate Now to Giving Tuesday 2022