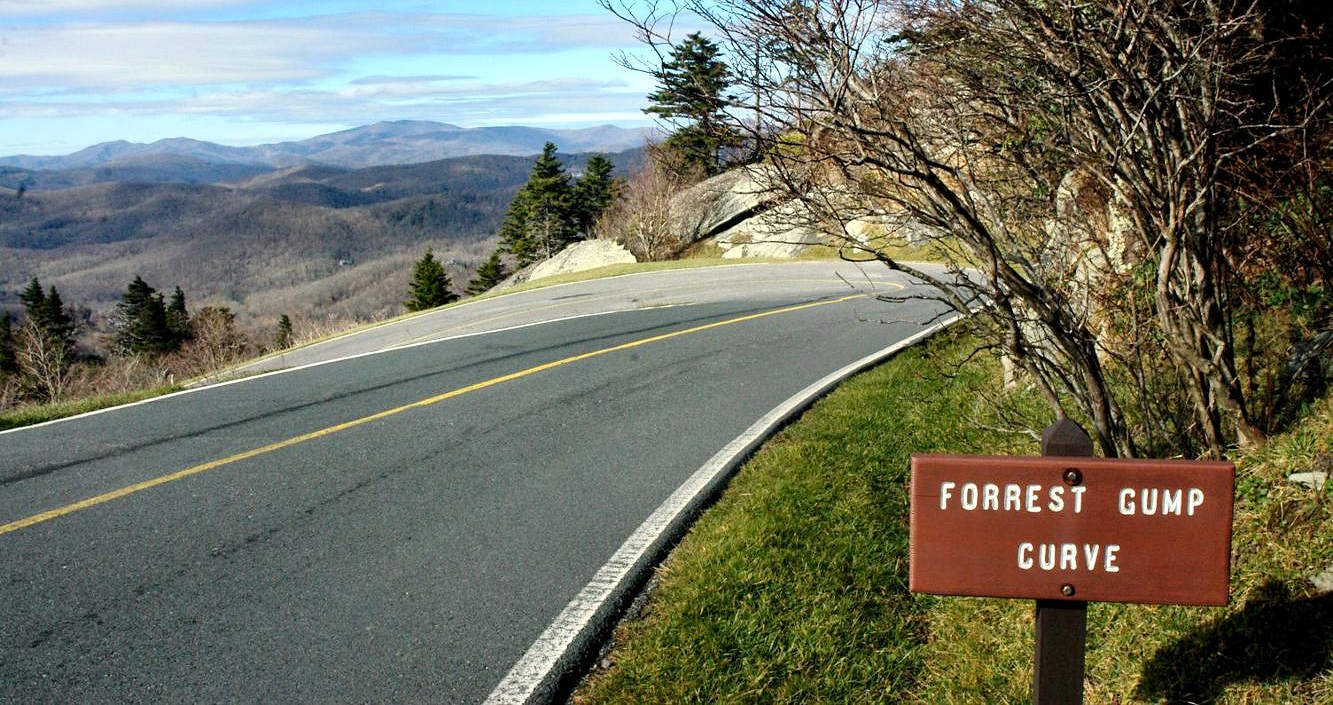 Despite running at only five seconds within the entire film, the scene of Forrest Gump running up Grandfather Mountain has left an indelible mark on moviegoers since the Academy Award winning film premiered in 1994. Gump's ascent up Grandfather Mountain comes a little after the halfway mark of the iconic sequence of him running across the country. It is during his run up what is now known today as Forrest Gump Curve that first depicts a crowd of followers pursuing Gump as a vibrant, evening sky illuminates the Blue Ridge Mountains in the background.
In the film, Gump's run begins after Jenny leaves him, and he ends up running for three years, two months, 14 days and 16 hours. His inspirational journey across America teaches the viewing audience that in order to move on, you must first put the past behind you.
The impact of the film and Grandfather Mountain's role in it has been felt to such an extent that even to this day, Grandfather Mountain staff are occasionally met by people retracing Forrest Gump's long-distance journey across the country. More common, however, are the multitude of guests who drive up this famous switchback every day and yell, "Run, Forrest, Run!" out the window as they pass by.
Forrest Gump Curve is located on the main road to the summit, between the Wilson Center for Nature Discovery and the Mile High Swinging Bridge. A parking and picnic area is conveniently located just before this iconic stretch of road. Walking or running on the road is not permitted.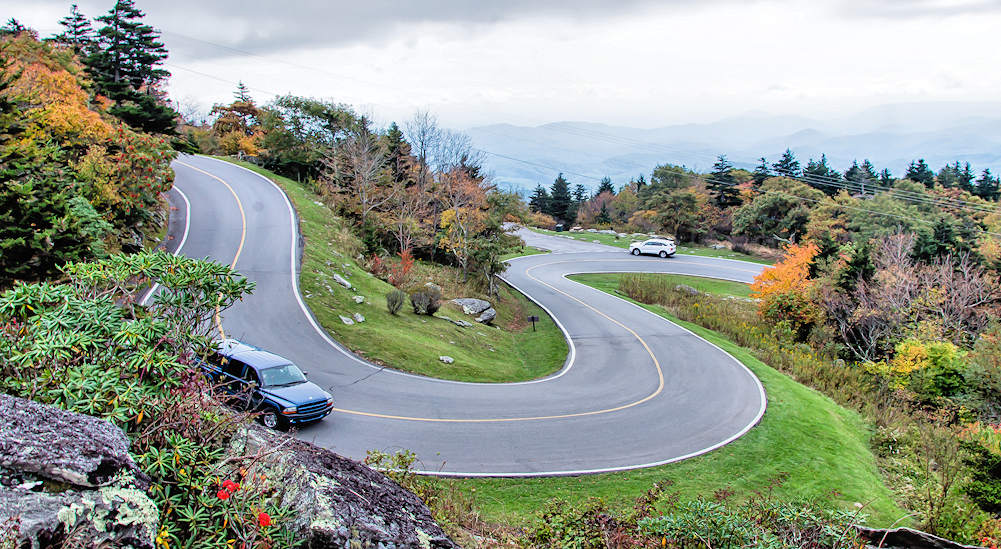 'Forrest Gump' Filming at Grandfather
Did you know that the film's star, Tom Hanks, is not actually depicted running up Grandfather Mountain in the movie? Due to a scheduling conflict, Tom Hanks' brother, Jim Hanks, filled in for the movie star during a clear October Saturday in 1993 when the filming took place.
That day, Grandfather Mountain staff had been informed that Tom Hanks' brother was going to be his running double since the actor was working on a film in South Carolina at the time. Yet much to the surprise of Grandfather Mountain staff, Tom Hanks showed up anyway. He ended up having a day off from filming and was so inconspicuous that only one staff member actually spoke with him. She wouldn't have known who he was if he had not introduced himself.
Grandfather Mountain has long been the apple in the eyes of filmmakers and marketers looking to use the mountain's distinct beauty and scenic settings to sell or promote their products to a mass audience. Therefore, it came as no surprise when filming location scouts in Asheville recommended Grandfather Mountain to Hollywood film crews who were searching for locations to film scenes for "Forrest Gump."
Previously, Grandfather Mountain had been the location for several national car commercials featuring Lexus and Cadillac. In the Lexus commercial, which aired in the 1970s, a police car is depicted pursuing a Lexus up and down Grandfather Mountain's famous switchbacks and hairpin turns. The chase ends just outside the park as the two vehicles pull over to the side of the road. A police officer then exits the Lexus and another man exits the police car. They exchange keys as the policeman says, "Thanks, I've always wanted to drive a Lexus!"
Read more: Things to Do | Tickets & Hours | Hiking Trails