David Thompson moved to the United States from Ontario, Canada, at age 18. He's lived here ever since and loves it. But when he and wife Cathy first visited Grandfather Mountain in 2008, something significant happened.

He turned to his wife and said, "Cathy, I found my home."

David said he was emotional in that moment. It is similar to where he grew up—the trees, the terrain, the kind of flowers, the rocks, the moss, the mushrooms, the temperature. And there was something more.

"I think Grandfather is a special place," he said. "And I think anyone who thinks this is simply an attraction with a toll gate hasn't spent time here. It's a nature conservation and education place; that's what it is."

Over the past three summers, David has participated in almost every Adult Field Course offered by the team of naturalists at Grandfather. When he and Cathy learned about the vision for the new Conservation Campus, they wanted to be a part of it. The pandemic has only strengthened their belief in how important it will be for visitors and future generations.

"A lot of families and people and schools and states and governments are waking up to the need to go outside and ride a bike or go for a walk through the woods," David said. "I think the timing of that facility is perfect for where we are today and for what we really need. And it really inspired us. We first made a commitment and then we got so excited, we added to it."

They value their connection to the Mountain, the dedicated staff members and the many people who are coming together to expand the conservation and environmental mission of the Grandfather Mountain Stewardship Foundation.

"I think making that investment made Cathy and me feel like a part of the team," he said. "That's what it did. We felt like, 'Hey, we're on the team. We're not just going up, walking around and bringing friends. We feel like we have ownership. That is a big deal."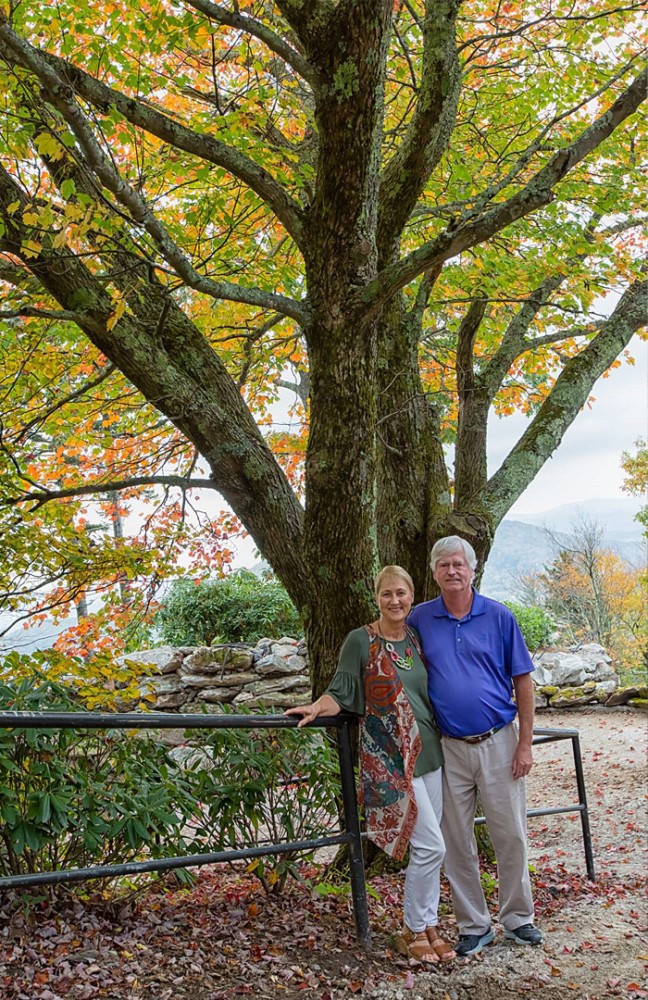 Acer rubrum, the red maple, is one of the most common and widespread deciduous trees of eastern and central North America. The U.S. Forest service recognizes it as the most abundant native tree in eastern North America. Over most of its range, red maple is adaptable to a very wide range of site conditions, perhaps more so than any other tree in eastern North America. It can be found growing in swamps, on poor dry soils and almost anywhere in between. The species is a vital part of forest regeneration. At maturity, it often attains a height of around 100 feet. Its flowers, petioles, twigs and seeds are all red to varying degrees. Many of its features, especially its leaves, are quite variable in form. Among these features, however, it is best known for its brilliant deep scarlet foliage in autumn. These trees are an important food source for wildlife. They are used commercially on a small scale for maple syrup production, as well as for furniture, flooring, woodwork, plywood and firewood.