It's been more than 50 years since Monty and Brenda Combs first visited Grandfather Mountain. Over the decades, their gifts of time, talent and treasure have inspired all who meet them. Enduring friendships, indelible photographs and a passion for conservation are just a few ways they have created a rich legacy at Grandfather that will impact generations to come.
Monty and Brenda first visited Grandfather in the early 1970s but didn't begin making regular trips to the mountain until 1995. They had moved back to Monty's hometown of Wilkesboro, N.C., in 1988, but life was busy with work and Brenda having started a master's program at Appalachian State University.
It was a particularly foggy day in 1995 that would ultimately become one of their most memorable experiences on the mountain.
"We wandered through the habitats and ended up by the bear cubs," says Brenda. "We couldn't see anything but fog, but we heard snoring! As the fog dissipated, a tree in the habitat appeared, and in the branches were three sleeping little bear cubs. We changed our day pass that day for a year pass and have been passholders ever since."
They continued to explore and rediscover Grandfather Mountain. Monty, especially, loved the opportunity to take photos of the flora and fauna.
Over time, their connection to this special place deepened. They got to know the people behind Grandfather and made friends with employees, including Jesse Pope, who is now the president and executive director of the Grandfather Mountain Stewardship Foundation, but at the time, was a seasonal ranger and still in school at Lees-McRae College.
"On one of our trips along the trails in search of a yellow lady's slipper, Monty was on his hands and knees photographing a plant that we hoped might be the elusive lady slipper," says Brenda. "A ranger, who turned out to be Jesse Pope, was curious about what we were looking for. He let us know where we might find the lady slipper and other beautiful wildflowers. Since that time, Jesse has remained a friend and mentor in our love of the mountain and the natural world."
Jesse also encouraged them to "look up" and learn about the birds all around, leading to Monty and Brenda volunteering with Grandfather Mountain's Hawk Watch, a vast citizen-science project to count and identify the numerous species of raptors during their annual journey to warmer climates each September.
Followers of the mountain on social media may also recognize Monty's name in the credit line for the countless photos he has taken of Grandfather and shared to support the foundation's mission to conserve nature and to nurture that spirit in everyone.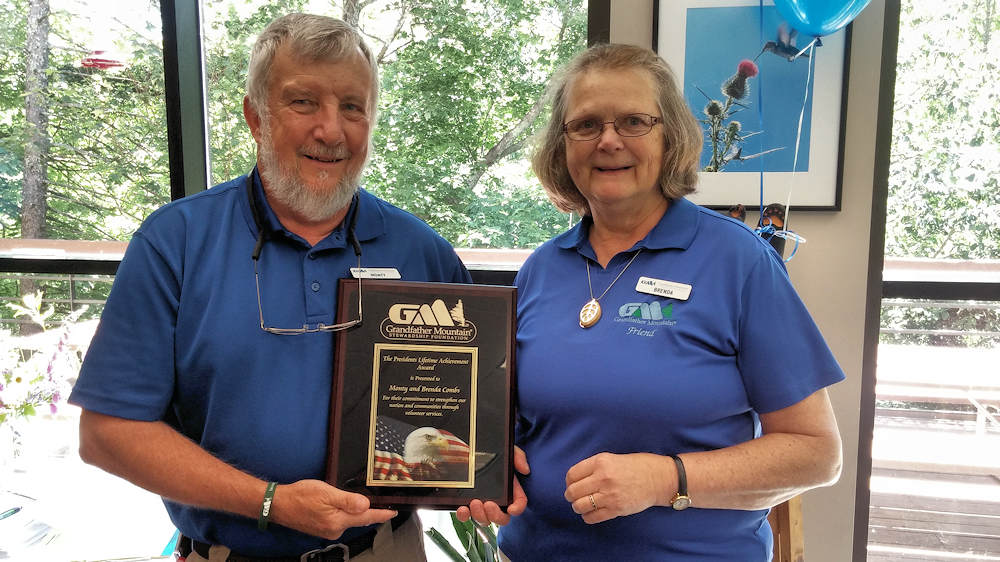 Monty and Brenda likewise participated in the mountain's volunteer program following its launch in 2014, even earning a President's Lifetime Achievement Award in 2016 for the extensive hours of service they put in on Grandfather Mountain, alone.
Throughout the years, the couple was also contributing financially to support the mission. In 2009, they decided to "adopt" Aspen, their favorite cougar at the time, through Grandfather's Adopt an Animal program. They have since adopted more resident animals, as well as trees through the Forest Keepers Club, and have also made regular donations.
After being involved with Grandfather for as long as they have, the Combses say they realized that, as a nonprofit, the mountain depends on donors to help make its vision a reality, particularly when it comes to the goal of bolstering its environmental-education efforts.
"Every small donation makes a difference in accomplishing that goal," Brenda said. "We feel honored to be a part of the Grandfather Mountain family."
Those interested in setting up a recurring donation can contact the Grandfather Mountain Stewardship Foundation Administrative Office at 828-733-2013, Monday through Friday, from 9 a.m. to 5 p.m.