Click here to see the rest of the 2011 Fall color Gallery.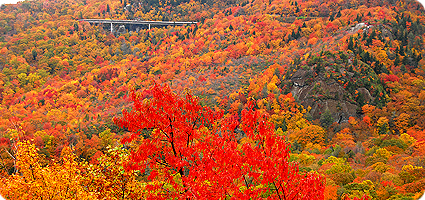 Oct. 13 –  It was foggy and wet at Grandfather today, but we expect it to clear up Friday afternoon and have a spectacularly sunny weekend.  The fall color is at its peak along the Blue Ridge Parkway between Grandfather and Blowing Rock, as illustrated in today's photograph by Helen Moss Davis of the Blue Ridge Parkway Viaduct.  Make your plans now to attend this weekend's Valle Country Fair and Woolly Worm Festival.  For lodging information phone NC High Country Host at 800-438-7500.
Tips for visiting Grandfather Mountain during peak fall color season.
The best route for color right now is the Blue Ridge Parkway from Spruce Pine to Virginia.
Other colorful routes are
NC 105 from Linville to Boone,
NC 184 from Tynecastle to Banner Elk,
Beech Mountain Parkway to the top of Beech Mountain,
NC 181 from Jonas Ridge to Newland,
NC 194 from Elk Park to Banner Elk (road construction between Banner Elk and Valle Crucis),
US 19E from Spruce Pine to Cranberry, US 321 from Boone to Watauga Lake and US 421 from Boone north to Trade, TN.