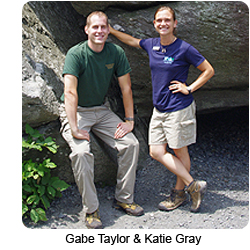 GRANDFATHER MOUNTAIN, N.C. – Now that Grandfather's backcountry trail system is maintained and patrolled by North Carolina State Park rangers, the Grandfather Mountain Stewardship Foundation is funneling its trails staff toward a more educational, interpretive role.
The merger of the Trails and Naturalist departments will provide visitors with additional ways to experience and learn about the mountain's diverse environment. Interpretive rangers will provide guided group hikes for those who are interested in learning general information about the mountain, or for more specialized interests such as birding, geology, flora and fauna. They will also work closely with local schools to provide educational programming on and off the mountain.
"Interpretive rangers will frequently be on hand near the Swinging Bridge to visit with guests and answer questions about the mountain," said Gabriel Taylor, chief interpretive ranger.  "Our goal is to provide visitors with the opportunity to leave the mountain with a more meaningful understanding of all that they saw while here."
Taylor was named Grandfather Mountain's Chief Interpretive Ranger this June when the Trails Department was formally merged into the Mountain's Naturalist and Educational Programs. Taylor's previous experience on the mountain includes one season working on the habitat staff and four years as Assistant Naturalist. Katie Gray was named Chief Naturalist, and has worked at Grandfather Mountain for a total of four years.
"I personally am thrilled to have Gabe and Katie in their current positions to help us move new offerings forward and to continue to provide our visitors the best possible educational experience that we can," said Jesse Pope, director of education.
Anyone interested in arranging for a guided hike or other ranger-led excursion can call 828-737-0833.
Grandfather Mountain is a globally recognized nature preserve famous for its 360-degree vistas, native wildlife habitats and Mile High Swinging Bridge. The attraction is located on US Highway 221, two miles north of Linville, NC, and one mile south of the Blue Ridge Parkway at milepost 305.
The Grandfather Mountain Stewardship Foundation is a not-for-profit corporation established to preserve Grandfather Mountain, operate the nature park in the public interest and participate in educational research activities.
For more information phone 800-468-7325 or plan a trip at www.grandfathermtn-staging.v38mw8dg-liquidwebsites.com.