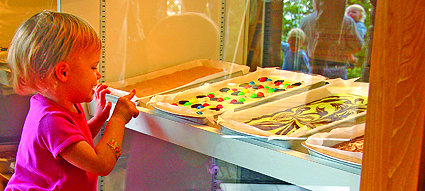 For a snack or a souvenir, the Fudge Shop can't be beat.
The Grandfather Mountain Fudge Shop opened in 2008 to serve freshly made delectable treats inside the mountain's most eco-friendly building.
Enjoy standard flavors like chocolate and cookies & cream, or ask about the seasonal flavors like pumpkin pie and peppermint candy. Ask for samples, and then take home your favorites to help you remember your day.
Now also serving Dippin' Dots ice cream!
Fudge Shop hours change seasonally.
Call the Grandfather Mountain Fudge Shop at (828) 733-6518 or (828) 733-1058 to order fresh fudge shipped to your destination of choice.