Click here to see the rest of the 2011 Fall color Gallery.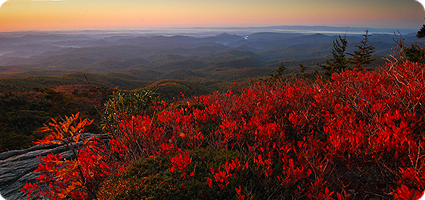 Oct. 5 — The sunny weather has turned up the volume and the color is coming on fast!  Expect this coming weekend to be the peak weekend for color above 4,000 feet.  Sunny days and seasonably warm temperatures are in the forecast for the next five days.  It doesn't get any better than this!
The best route for color right now is the Blue Ridge Parkway Beacon Heights at milepost 305 and Julian Price Park at milepost 295.  The sun is shining on all the maple trees along this section of the Parkway, telling the leaves to pump up the pigments and turn the flanks of Grandfather Mountain into a riot of color!
Other colorful routes are NC 105 from Seven Devils to Linville, NC 184 from Tynecastle to Banner Elk and Beech Mountain Parkway to the top of Beech Mountain.