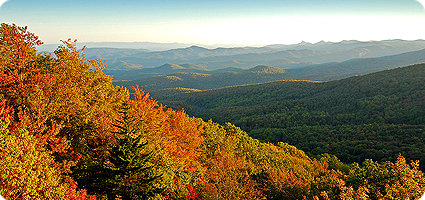 Tips for visiting Grandfather Mountain during peak fall color season.
Oct. 6 — The sunny weather has turned up the volume and the color is coming on fast!  The peak color for Grandfather's high elevations (above 4,000 feet) will be this weekend and next, Oct. 8-16.   Beyond that, there will still be plenty of good color to drive through in the High Country and on your way up to Grandfather.
The best route for color right now is the Blue Ridge Parkway from Beacon Heights at milepost 305 and Julian Price Park at milepost 295.  Today's photograph by Helen Moss Davis was taken from the Parkway looking southeast toward Linville Gorge.  There is color here in the high elevations (above 4,000 feet) but plenty more green leaves left to change in the days and weeks ahead.  It is going to be a great leaf-looking season!
Other colorful routes are NC 105 from Seven Devils to Linville, NC 184 from Tynecastle to Banner Elk and Beech Mountain Parkway to the top of Beech Mountain.